Entertainment
Yoanna House, Admits Plastic Surgery, Mother of a Son Keeps Personal Life Private
Some people find beauty in their soul while some find in skin. Some spend their life searching for a person with attractive lips, charming smile, lovely eyes, beautiful hair and slim figure while some search for an individual who speaks words of kindness, spread happiness even if he is not happy, and share his food with the hungry.
But in the showbiz, your beauty is essential as much as your talent. Some are born beautiful while some undergo plastic surgery. Likewise, American fashion model and television host Yoanna House, 36, has undergone under knives to enhance her beauty.
America's Next Top Model admits plastic surgery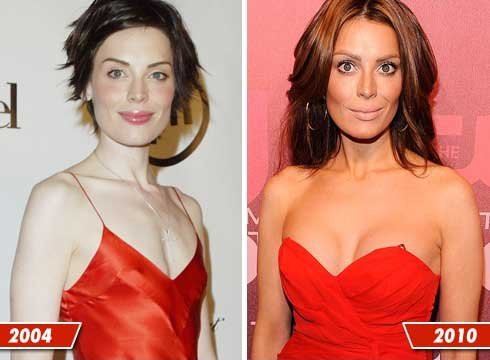 Caption: Yoanna looked tan and suspiciously full figured when she made her appearance after a long time. It seems that she had injections of Dysport, facial fillers like Perlane and breast augmentation.
Source: news.makemeheal.com
After disappearing for a while, Yoanna appeared on a red carpet in 2010 with a drastic change in her appearance. She looked tan and suspiciously full figured. To give some curves, she seemed to have gone through breast augmentation. She also appears to have facial fillers like Perlane and injections of Dysport.
She admitted in the red carpet:
"I know that I've changed. I just had a baby about a year ago, and I put on a lot of weight…My baby doesn't sleep through the night, so that might age you a little bit. Other than that, I've never done anything to my face, besides going a little too overboard with bronzer."
She also said:
"I think the face is such a delicate thing. I'm just going to stick with my bronzer and my great makeup artist who contours me."
Her Married Life: Husband and Son?
Despite being popular, runway model for Mercedes-Benz Fashion Week, Yoanna House has not revealed much about her married life and children. However, she has a husband and a son, Alastair, (born in August 2008) but she has not brought them to the limelight. After stalking her on social networks, we found her photograph with her son posted on Instagram.
Born on April 9, 1980, American fashion model Yoanna House showed a keen interest in fashion since her childhood days. Yoanna attended the University of North Florida, from where she majored in international relations and Asian studies. She is the winner of Cycle 2 of America's Next Top Model and has been a runway model for Mercedes-Benz Fashion Week. She was seen in Eve (TV Series) in 2004. She has also hosted The N's reality series "Queen Bees" in the summer of 2008. As she is one of the successful American models, her net worth is estimated to be $1.5 million.
Caption: Yoanna House on America's Next Top Model as constant no 23