Entertainment
Zachary Levi Transition From Dating To Married Life Felt Heavy; Is That The Reason For Divorce With Wife?
A relationship can't be that smooth as we see. There will be highs and lows which will bring flux in the course of time. When one puts the effort to make the relation make out, then high expectation comes along with it. And if the expectation doesn't meet the point, then that will devastate the relationship. It takes many attempts to make a relation but just a moment is enough to end a connection of years. Same might be the situation with the Chuck star Zachary Levi and his wife.
Dating for a long time and turning girlfriend into a wife, it seems Zachary Levi had to put extra effort to revive their chemistry. But is that the exact reason for the divorce with a wife? We shall find out!
From dating to faded married life:
The First Date actor Zachery Levi has been very top-notch when it comes to his personal life. He has kept his dating life out of the limelight for so long, but the secret couldn't be held for so long! His girlfriend Missy Peregrym shared the news when he finalized their wedding.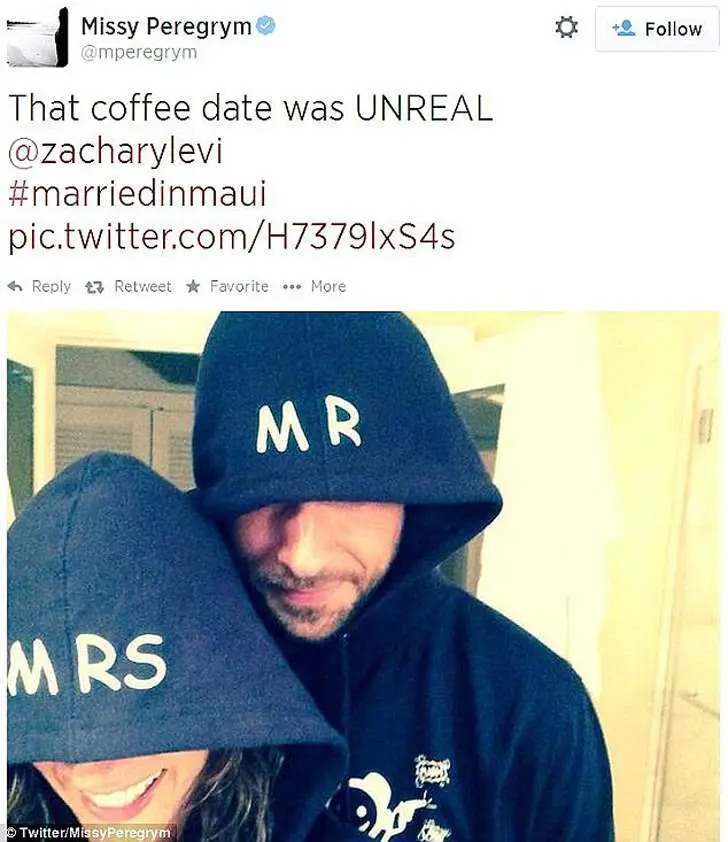 Caption: Missy Peregrym announced the news of her wedding with Zachery Levi through Twitter on June 10, 2014.
The couple's wedding commenced on 2014 at Maui. The pair looked euphoric and stunning on the dress which designed by the longtime stylish Warren Alfie Baker.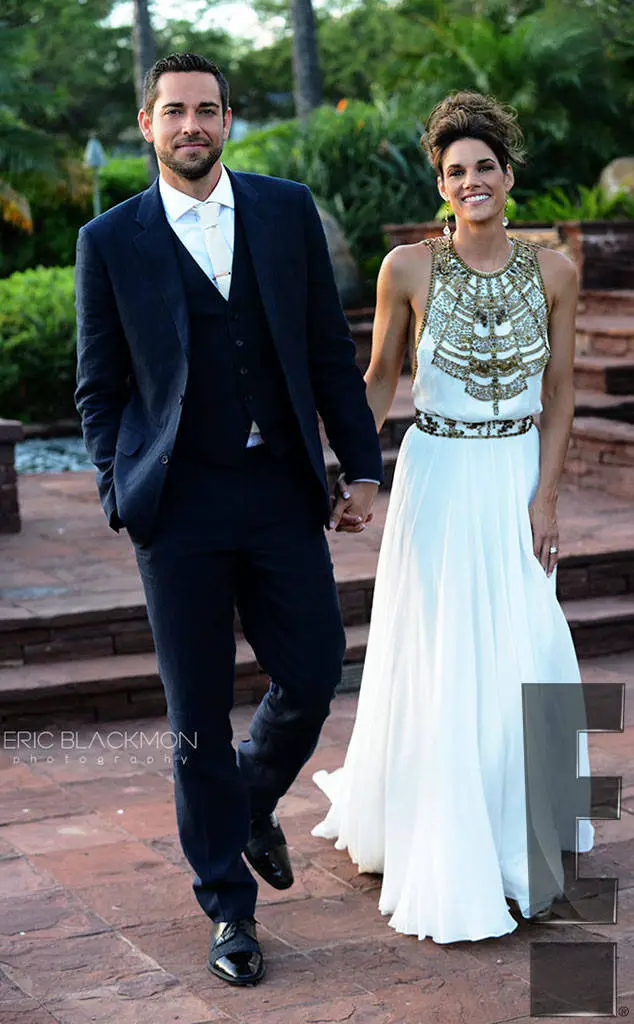 Caption: Zachery Levi got married to Missy Peregrym on June 2014.
Photo Credit: eonline.com
The pair were said to dating in 2004 but never mentioned that they have revived their chemistry.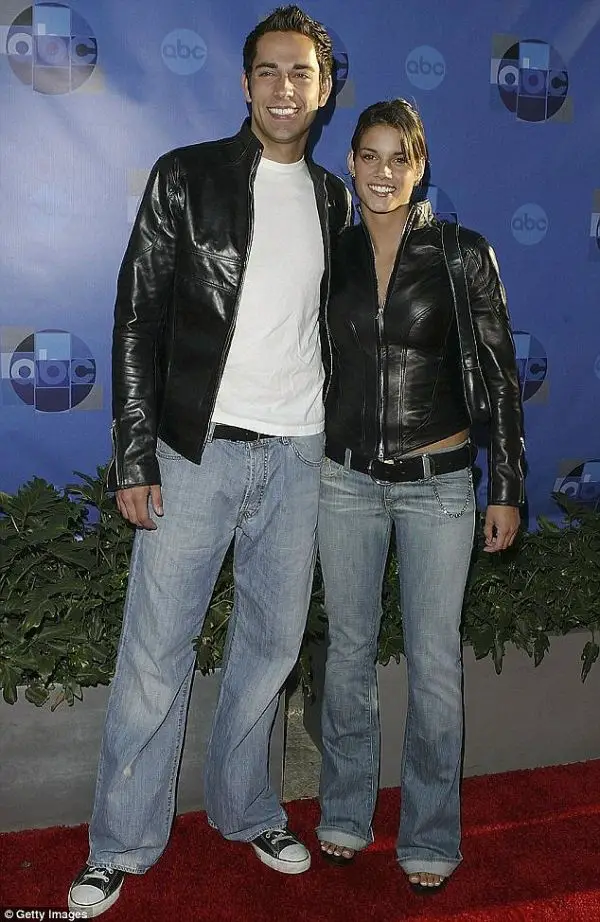 Caption: Zachery Levi and Miss Peregrym were together in 2004 and rekindled their love later on. (2015)
Photo Credit: dailymail.co.uk
And now it seems the Louisiana native could not go that further with his girlfriend turned wife, Missy Peregrym.
As reported, the pair separated on December 3 the same, after less than six months of marriage. And that again shocked many with the curiosity, what must have left them for a quickie divorce?
Looking at the documents provided, it is believed their separation is pretty amicable one. Neither of them asked for the spousal support and community property, so the legal battle didn't get nasty.
Back in 2015, this 36 years old actor shared how challenging marriage can be. He said,
"Nobody can prepa 2015re you for marriage. Marriage is a whole other animal!"
He further went on explaining,
"With dating you can be 'Hey, it's not working out,' and you're out. But marriage, you make a commitment. The easy outs you don't have any more. You're responsible for another person's life as they are yours,"
And it seems the pair couldn't stand out with the challenges of the wedding and had to call it quits.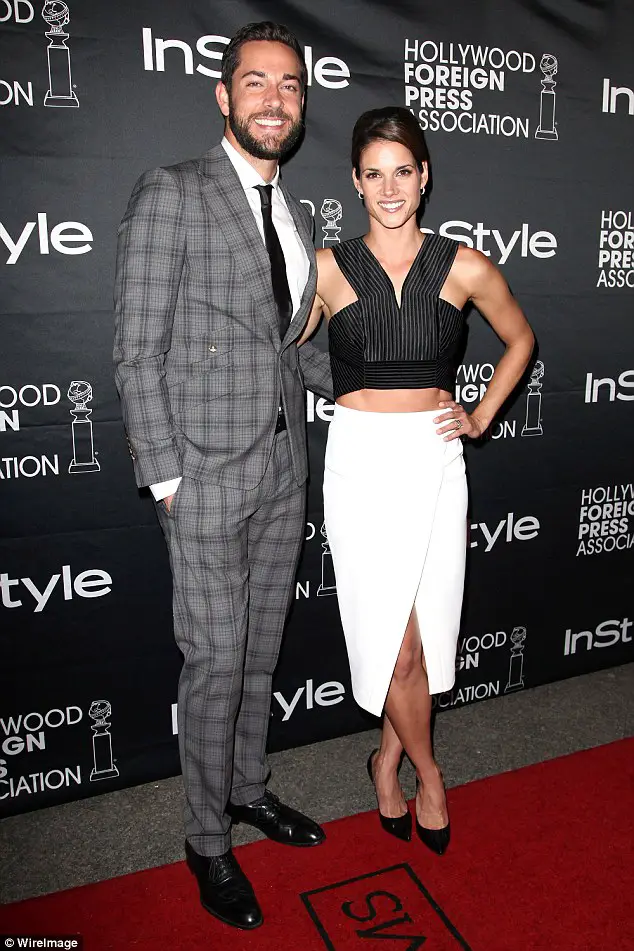 Caption: Zachary Levi and then wife Missy Peregrym in happier times, shared the smile. (2014)
Photo Credit: dailymail.co.uk
The not so clear of the end of their marriage gave birth to the speculation that Zachary Levi could be a gay. But as Levi hasn't said anything officially, the fact remains within the self.
Born on September 29, 1980, Zachary Levi started his career since 2001 working in the "Untitled Sisqo Project." Further, he landed in several roles in the movies and television. He has also given his voice in the movie "Tangled." He is popularly known for his work as Chuck Bartowski in the series "Chuck." His upcoming project for 2017 includes Office Uprising, The Star, and Alias Grace.
Stay with us for more news on Zachary Levi!