News
Who Is Jack Burkman? Lobbyist Who Money Fueled Mueller Sexual Assault
A huge update on the Robert Mueller controversy! American lobbyist Jack Burkman vows to present the first witness and victim of Mueller's sexual assault!
Conservative commentator and a registered lobbyist, Jack claimed via a tweet on 30 October 2018 that his team will reveal the first victim of the former FBI director's sexual misconduct at the Rosslyn Holiday Inn at noon on 1st November 2018 while also praising the courage and dignity of the witness.
Jack also wrote on his Twitter,
"Some sad news. On Thursday, November 1, at the Rosslyn Holiday Inn at noon, we will reveal the first of Special Counsel Robert Mueller's sex assault victims. I applaud the courage and dignity and grace and strength of my client."
Further, the lobbyist also offered a reward of $25,000 to any whistleblower willing to testify and provide concrete evidence against Mueller and the wrongdoings of FBI.
See Also:- Asha Rangappa Married Status At Age 42; Who Is Her Husband? Explicit Bio
Jack had recently advised President Trump to fire Mueller as Special Counsel including Deputy Attorney General Rod Rosenstein and Attorney General Jeff Sessions.
Earlier, the FBI had alleged that women were offered monetary rewards in return for making false claims against the Special Counsel. The spokesman for the FBI, Peter Carr previously released a statement to CNBC,
"When we learned last week of allegations that women were offered money to make false claims about the Special Counsel, we immediately referred the matter to the FBI for investigation."
In response, Mueller's office also came forward in his defense claiming they were aware of a scheme from reporters and journalists that a woman had been approached by Jack Burkman and was offered a reward of $20,000 for making accusations of workplace harassment and sexual assault against Mueller.
Who Is Jack Burkman?
Jack, age 46, is a radio talk show host who runs his radio show Behind The Curtain on Radio America. He is also a registered lobbyist who serves as the President and owner of a renowned lobbying firm in Washington named Burkman Associates, LLC.
He became a controversial figure in 2014 after he brought up a proposal to ban gay men from participating in the National Football League.
You May Also Like:- Is Mark Simone, The Savage Radio Host Married? Family, Salary & Facts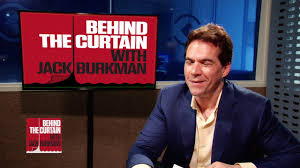 Jack Burkman talks on his radio show, Behind The Curtain (Photo: YouTube.com)
He has also held press conferences, once in November 2017 when he invited reporters promising to present a witness for uncovering the sexual assault of a Congress member. However, his witness never showed up.
The next press conference was held in July 2018 as he claimed to have found a witness who could bring an incite in the murder of Democratic National Committee employee Seth Rich.
From his career, Jack earns a salary ranging from $77,000 to $84,000 as a radio host and a salary between $62,000 to $108,000 as a lobbyist. He has also accumulated a substantial net worth from his professional career. Further, Jack is also a married man who is loyally committed to his wife Susan.