Viewers of "Worldwide Exchange" have been experiencing the change in format since January 2016, as Sara Eisen and Wilfred Frost became the new presenters of the CNBC's popular program.
Sara Eisen, who is one of the six co-anchors of CNBC's "Squawk on the Street", joined CNBC in December 2013 as a correspondent focusing on the global consumer. Sara replaced Susan Li, who had joined "Worldwide Exchange" in September 2015.
Wilfred Frost joined "Worldwide Exchange" as a co-anchor on September 1, 2014. Previously, Julia Chatterley was the sole host of the program.
Probably because of the decline in overall ratings since 2009, CNBC initiated the step to broadcast the program from its headquarters, Englewood Cliffs, the United States of America, starting from 2016.
Acclaimed as one of the popular programs in the States, Worldwide Exchange has received a positive response from its viewers after the change.
After the involvement of Sara and Wilfred, the program ratings have increased. Since then, the program has emphasized on analysis of economic trends around the world via interviews with political and economic personas such as Donald Trump and Ravin Gandhi.
Broadcasted from CNBC since 2005, "Worldwide Exchange" has interviewed numerous renowned financial personalities and analyzed their propositions on economic trends.
"Worldwide Exchange" has always met its motto to deliver essential information and analysis for anyone who wants to be the part of the global business conversation.

- CNBC
Not only that, the program has diversified its range from businesses to stock market. The program has also interviewed some distinguished stock market personalities such as Warren Buffett, Emily Sanders, and Phil Martens.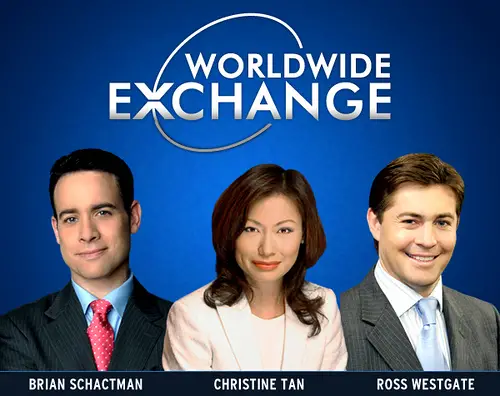 Caption: Brian Shactman, Christine Tan, Ross Westgate on "Worldwide Exchange.
Source: staticflickr.com
CNBC has never undermined the power of the program. It has always administered renowned presenters to the program. Renowned presenters from the world such as Christine Tan, Nicole Lapin, Kelly Evans and Ross Westgate have already been the co-anchors of the program.
#Sara Eisen
#Wilfred Frost
#Worldwide Exchange
#CNBC
---