News
Weather Reporter of NBC's Today, Al Roker's Marriage History. Find His Annual Salary and Net Worth
How often have you gone out with an umbrella just because you heard Al Roker, the weather reporter on NBC's Today, forecasting the rain? This personality has married twice. And here, we bring you with detailed marriage history.
1. Alice Bell:
He got married for the first time with the reporter, Alice Bell, on December 22, 1984. They met each other earlier at the start of their career and began to date. They stayed together for ten long years. They also had a baby girl together named Courtney, born on 1987. They got divorced in 1994 because they could not handle their relationship.
2. Deborah Roberts:
After having a divorce with his first wife, he moved on with another journalist named Deborah Roberts as the relation began to bloom. He married Deborah in 1995 after living together for few months. Around 20 years have passed since the couple tied the knot with each other. Deborah and Al have two more children, a daughter named Leila, born on 1998 and a son named Nicholas, born in the August of 2002. They are living together happily with their children.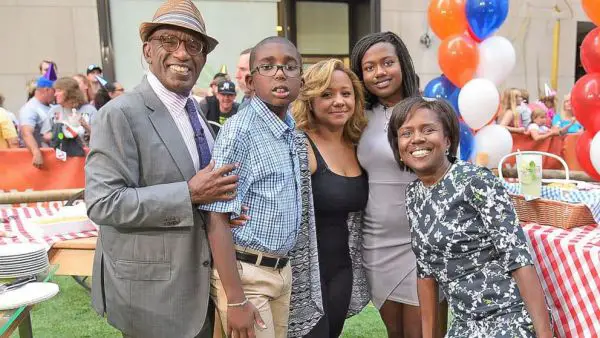 Caption: From left to right, Al Roker, Nicholas, Courtney, Leila and at last his wife, Deborah Roberts
Source: abcnews.go.com
In Today.com Al said about Deborah,"She's a very compassionate person and I think has instilled that in our kids, and a lot of it's rubbed off on me,"
Net Worth and Salary:
Al's estimated net worth is about 30 million US dollars. His versatility has allowed him to earn millions of money and fans. If you are not aware, he is a TV journalist, television meteorologist, Presenter, Television producer, voice actor, actor, writer and author. Therefore, his annual salary is approximately around $8 million.
On January 4, 2016, Al and Deborah Roberts published a new book called "Been There, Done That" in which they share the love, and the compromise the had to deal with in their relationship and showed their relationship through each other's perspective.
They talk about how they see each other's actions and their views on various activities.
They converse about how they are involved in the same line of work, but the way they work is completely different highlighting how Deborah works in an old schooled fashion and diligently goes through notes and old information for interviews and Al just flings it and just goes with the flow and adapts to the situation.
They also shared various experiences in their lives, both good and bad, from the time Al got Deborah's dream career of being a newsperson on Good Morning America to Deborah backing off from her news career for their kids and how they got through everything together and were grateful for each other.
Born on August 20, 1954, Albert Lincoln "Al" Roker Jr is an American television personality, weather forecaster, actor, and book author. He is probably best known as the weather anchor on NBC's Today from Monday, July 20, 2009.
Roker co-hosted his morning show, Wake Up with Al, on The Weather Channel on October 2, 2015. Roker also appears occasionally on NBC Nightly News. He has worked on NBC's flagship news Daily broadcast show 'NBC Today' beside known names such as Matt Lauer, Natalie Morales, Savannah Guthrie as well as Tamron Hall.