Entertainment
Is Charles Michael Davis Married And Nobody Knows About It? Know His Past Dating Affairs And Girlfriend
Actor, director, and model Charles Michael Davis is someone who is a hot name when it comes to the ladies around the globe. His professional accomplishments and accolades are something that makes him a dynamic personality in the showbiz.
But despite all that, people are a little more curious about his marital life, which he has possibly hidden so far. Well, the wait is over, as we provide you with the complete insight of Charles' personal life.
Charles, Secretly Married? Wife Out In The Shadow?
Although plenty of ladies' heart beats for this man, so far he has not been seen or heard publicizing that he is married and has a wife in his life.
But that does not mean that Charles has been single all life long. He might have had plenty of relationships during the course of his life, the relationship which was most famous amongst all is the dating relationship he shared with famous choreographer Katrina Amato. Amato is not only a choreographer but is also a model of high recognition, and sources claim that Charles and Amato were dating one another.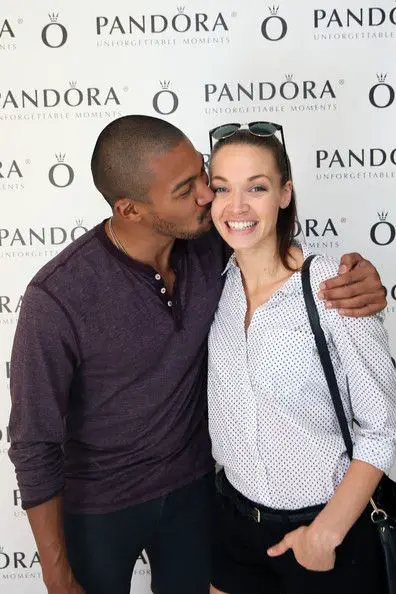 Caption: Charles' adorable kiss on Amaro's cheeks.
Photo Credit: whosdatedwho.com
Back in 2014, the fans and media were left in awe when the love relationship between the two was made public. Charles tweeted(which no longer exists), 
"Happy Valentines Day! I love you @KatrinaAmato,"
Moreover, Amato also posted a picture from her photo shoot and captioned it as,
"Happy Valentine's Day! Thanks @brand_models @seatbeltbags I love you @charlesmd."
The fact that both of them had their respective tweets deleted hints they might not be together or want their privacy on a maximum level. However, we can now assume the couple is not together and; moreover, are also silent regarding their relationship.
The reason, however, is yet to be disclosed and thus, we might need to wait for either of them to speak up about the relationship between this pair.
Now that we know about his interest in women and not men, the gay rumors that often surround him can be put aside. 
A Short Bio of Charles Michael Davis.
Born on December 1, 1984, in Tennesse, USA, Charles Michael Davis is an American actor and model best known for his roles in "The Originals," "Battle Scars," "Grey's Anatomy" and many others. Speaking of his parents, he has an African-American father and Filipino mother which is why people often wonder about his ethnicity which is said to be African American and Filipino.
Before he came to recognition, he started acting after signing with the agency, "Actors, Models, and Talent for Christ" and had also appeared in commercials and print ads which show that he has paved own his path in the industry and is walking on it currently with the success he thoroughly deserves.