Entertainment
After Getting Cozy With The Prince's Ex-Girlfriend, Douglas Booth Started Dating His Co-Star
While there are so many celebrities who find dating tricky, there are some whose affairs trick us instead. Sometimes, the privacy maintained in one's life creates confusion regarding their love life and sometimes, the way they go out with their alleged partner confuses.
In this context, handsome hunk Douglas Booth's love life makes up a fascinating read. The actor was found dating his co-star after getting cozy with Prince Harry's ex-girlfriend.
Linked to Prince Harry's Former Girlfriend:
Twenty-six-year-old Douglas Booth sparked the rumors of a romance with Prince Harry's ex-girlfriend Cressida Bonas in July 2016. They were spotted together at Wimbledon where Douglas was seen assisting her to seat on Center Court with a supportive hand on her back.
Similar: Vikings' Star Ben Robson: Found Success at Middle Adult Age, Rumors Of Dating with Prince Harry's Ex-Girlfriend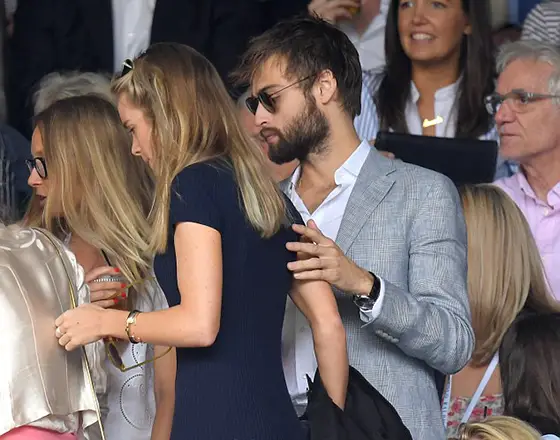 Douglas with Cressida Bonas at Wimbledon last year. (Photo: Dailymail)
Booth caused quite a few stirs following his association with the prince's former girlfriend. However, the Great Expectations actor has since then not been seen together with Bonas, making everyone believe that things have definitely staled between the two former lovers.
Not Gay: Dating His "A Storm In The Stars" Co-star
When everyone assumed Douglas got brave to spark his alleged romance in public, he created confusion with a new couple alert. Soon after Douglas was linked with Prince Harry's ex-girlfriend Cressida, he was spotted outside a bar in central London sharing a passionate kiss with his co-star Bel Powley, 24.
Read Also: Christian Cooke's Girlfriend Will Be Luckiest; If He Isn't Dating Already Or Is Gay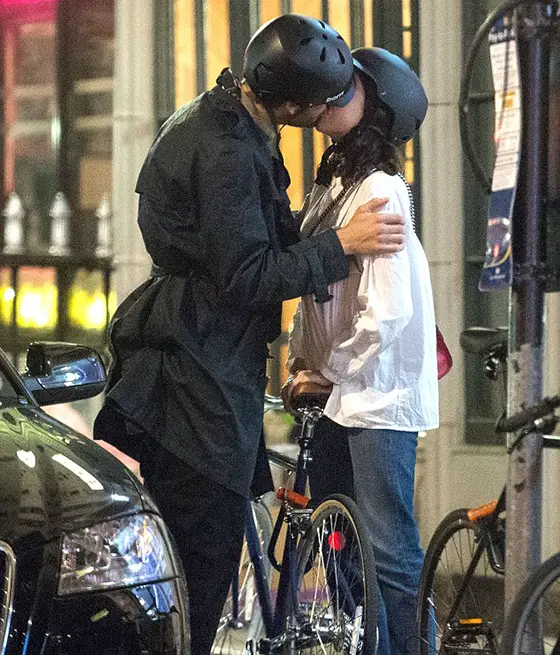 Douglas Booth and his co-star Bel Powley spotted kissing outside a bar in central London in July 2016. (Photo: Dailymail)
Douglas and Bel were with their bicycles and helmet on and were ready for the cycling trip. While they were about to head off on their ride, they locked their lips. They first met while filming A Storm In The Stars in Dublin in Luxembourg.
Their actions create speculation that they have taken their romance off of screen as well. In an interview in 2016, Douglas revealed that he would love to have a girlfriend.
He stated,
"I'd love to have a girlfriend. I don't think Tinder's the way I'm going to find her somehow, can't go on Tinder or anything like that so I'm missing out."
The good-looking actor who was previously in a relationship with his former co-stars Vanessa Kirby and Ellie Bamber has a long list of famous celebrities included in his dating list. The names also include the likes of Miley Cyrus and Alexa Chung.
Believed to be in a romantic relationship with Bel, David has gone quiet after publicly kissing his girlfriend in 2016. This has added fire to the rumor that the two stars might not be together anymore.
Furthermore, he was seen alongside a mysterious woman to watch Cinderella ballet show in London on December 2017. This has thus created more confusion regarding Douglas' dating status, with the actor suggested having moved on from Bel.
You May Also Like: Ellie Bamber's Wiki: Her Age, Height, Possible Dating Affairs, and Boyfriend!​​​​​​​
Pride And Prejudice And Zombies actor Douglas, who can portray a gay character with ease is however definitely not gay.
Nevertheless, he faces no difficulties in playing a gay character on-screen, as shown by his character portrayal of Jeremy in an erotic thriller A Guide for the Homesick, first performed on 18 October 2018.