Entertainment
A Once Fired From Job, Keith Olbermann Has List Of Off The Radar Girlfriend
In professional life, hiring and firing is a normal thing. Sports and political commentator Keith Olbermann also had to go through the similar experience as he was fired once. Let us find more about it.
Keith Olbermann Got Fired From The Job:
On 21 January 2011, anchor Keith Olbermann parted his way with MSNBC; the cable network where he had dedicated his eight years.
The network's highest-rated personality- Keith still had two years remaining on his contract of four years. The remaining two years contract had the value of $30 million.
Though an official statement came out that the breaking of the contract was mutual from both parties, many found it hard to believe that the parting was on the mutual ground. So, it was speculated that he had been fired.
The reason behind his separation from the network has not been out officially.
Before leaving the network, he addressed his audience for the last time as,
"This may be the only television programme wherein the host was much more in awe of the audience than vice versa. You will always be in my heart for that."
On Olbermann's departure, NBC also made a statement that read,
"MSNBC and Keith Olbermann have ended their contract. The last broadcast of Countdown with Keith Olbermann will be this evening. MSNBC thanks Keith for his integral role in MSNBC's success and we wish him well in his future endeavors."
Caption: Keith Olbermann hosting his last show on MSNBC and takes surprise exit on January 24, 2011.
In 2010 as well, he was suspended from hosting the night show by the network. The reason behind this was; he violated the station rules by giving donations to three Democratic candidates. NBC said the donations violated a policy that requires employees to obtain permission before any political donations or activities. However, at that time he was reinstated the following week.
Again in the year 2015, he left ESPN which he had joined in 2013. With his contract about to be finished, the company chose to fire him rather than re-signing. On his leaving the channel, ESPN released a cordial statement which said;
"Keith is a tremendous talent who has consistently done timely, entertaining and thought-provoking work since returning to ESPN. While the show's content was distinctive and extremely high quality, we ultimately made a business decision to move in another direction. We wish Keith nothing but the best and trust that his skill and ability will lead him to another promising endeavor."
Keith's Off Radar Girlfriends:
Keith has shared the romantic relationship with Katy Tur, Laura Ingraham, and Rebecca Lobo. They all made an off radar - not creating much hype relationship with him. The reason behind this has he kept his dating life in the low limelight without revealing any details about his relationship.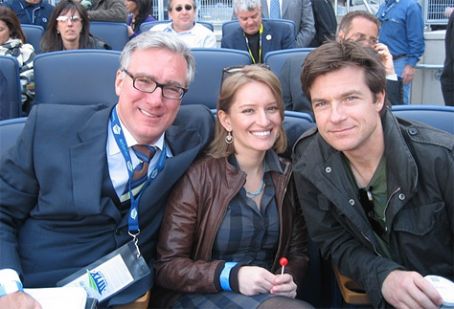 Caption: Keith Olbermann with his ex-girlfriend, Katy Tur, and friend (from L-R ).
Photo Credit: counterweights.ca
However, in the midst of this lack of information situation, it is known from some source that he dated Katy Tur from 2006 to 2009. Also, on Keith's recommendation, Tur got her big break in the media as she got the job of a reporter on NBC. Previously, she used to work on the weather channel.
He was in a relationship with Laura Ingraham in 1997 and with Rebecca Lobo in 1995.
It looks like romance is not Keith's forte because, till this age, his relationship status is single and is not married to anyone. So it's no surprise that he doesn't have a wife. Also, he seems to be not interested in dating and making girlfriends.
Olbermann has hosted ESPN's SportsCenter, MSNBC's White House in Crisis and The Big Show. He was also a CNN correspondent on News Night. In 2003, he was made a host of his own MSNBC program, "Countdown with Keith Olbermann." So, he has a successful career which has contributed him to have the net worth of $25 million.