Entertainment
Nancy Grace: A Tireless Advocate and Respected Journalist, Her Married life, Husband, Children. Divorce Rumors?
She faced tragedy at her young age which leads to focus on a career she never thought. She worked at famous crime TV show at HLN. You might have known. Yes, she is  Nancy Grace, a well-known journalist. Well, there is some strange fact as well as inspiring married life stories. Let's introduce some brief information about her.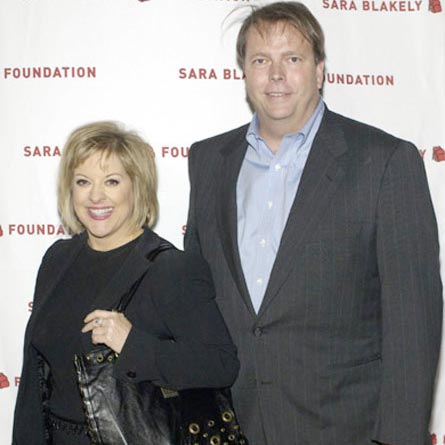 Nancy Grace has spent her life speaking for those who have suffered and have been oppressed. An advocate of peace, Nancy herself, however, hasn't lead the most glamorous life either, she has persevered a lot to get as far as she has and it is always nice to know you have your loved ones and your family behind you.
Let us see who these loved ones are who have supported Nancy Grace throughout her life.
Married Life Of A Decade; Twins Children
Nancy Grace is the star of the HLN network signature show Nancy Grace, a crime analysis show which was named after her. Before her work in media, she worked as a special prosecutor for nearly a decade at Atlanta-Fultan County, Georgia District Attorney's office.
During all these years, she fought alongside her beloved husband David Linch, whom she married in 2007. Nancy met the Atlanta-based investment banker in the 1970s when they both attended Mercer College.
See Also:-Tara Palmeri Married & Husband | Personal Status To Education & Salary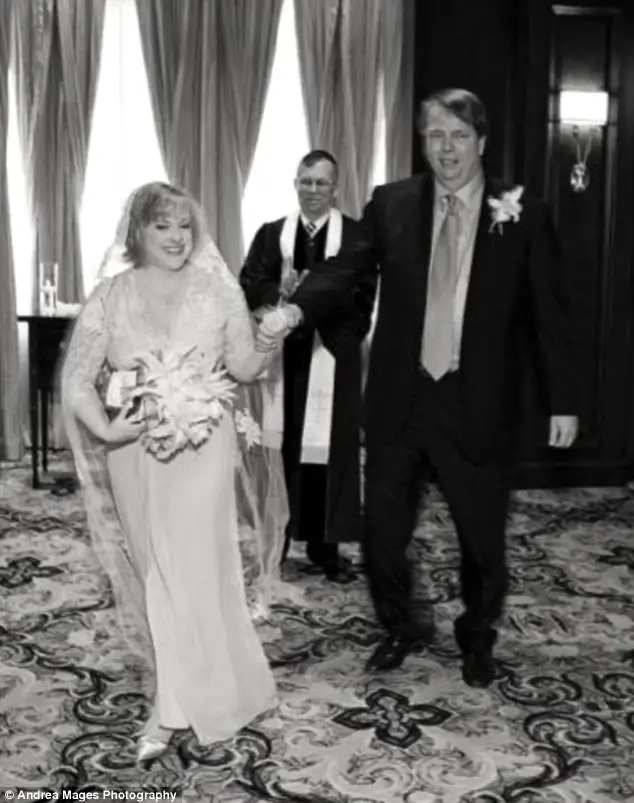 David Linch and Nancy Grace's wedding photo (circa 2007) (Photo: dailymail.co.uk)
Seven years later of their wedding, Nancy was bestowed with the double happiness with her husband. In November 2007, the couple welcomed their first child, a twin, baby boy named John David Linch and a baby girl named Lucy Elizabeth Linch.
And the happiest mom always features her growing children on her Instagram whether it would Sunday or Monday. She also expressed that her twins now stands taller than her, which leaves her in mesmerizing thoughts that her twins are no more little.
Recommended:- Mike Fisher & Wife Carrie Underwood Through Divorce Talks; Married Status
The twins are already 11-years of age and their proud mother could not resist herself from gushing about her "best 11 years of her life," on social media on 4 November 2018. Furthermore, she expressed her gratitude to her followers and well-wishers for their enormous love and affection.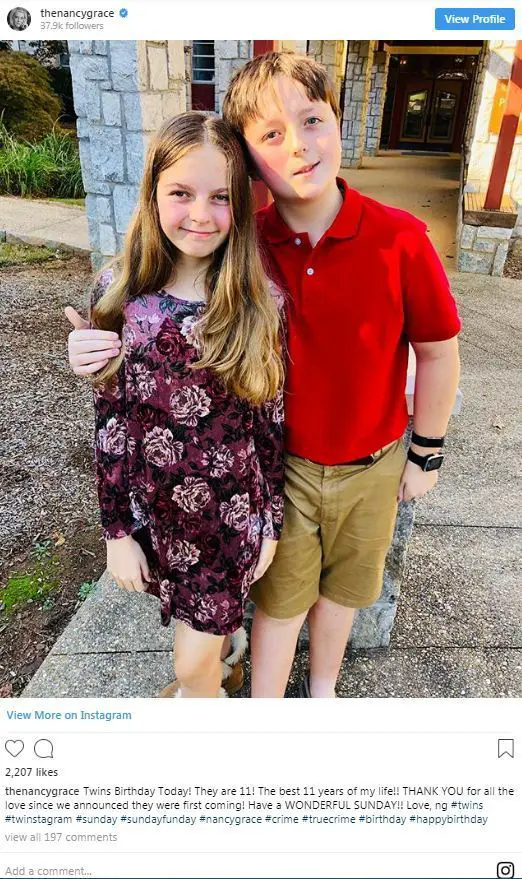 Nancy Grace announced her children's birthday (Photo: Nancy Grace's Instagram)
Similarly, with their married life of 11 years, Nancy and her husband are going strong with their relationship but some misconception had aroused about her married life that led to the divorce rumors.
Her husband who prefers to stay away from the publicity stunt gets less featured on her Instagram. And her followers soon realized this, which led to the rumors on her marriage bond.
Her divorce rumor started getting more heat after she was spotted without her wedding ring in 2011. Even one of anonymous person came forth about her married life. 
Don't Miss:- Is Dawn Staley Married? Relationships & Sexuality - Finally Discussed
During that time, Nancy stated that her married life was going strong with her relationship and about the wedding ring, she marked that she is yet to resize her ring after a weight loss of 25 pounds during her participation in Dancing With The Stars. 
She nearly lost the ring after her weight loss, and she claimed that she was "proud" of the ring.
Since her followers had made their instinct following her missing ring and less appearance of David on his Insta feed, the couple is no more in the conflicting subject of the followers.
While talking about her married life with a husband with Dailymail on December 10, 2015, she gushed about their strong bond:
"He's been with me through thick and thin. He's the rock in my life. He is silent but extremely self-confident, unassuming, and he goes along with all her crazy ideas."
On 23 November 2018, Nancy Instagrammed the glimpse from their Thanksgiving celebration with her family on 23 November 2018.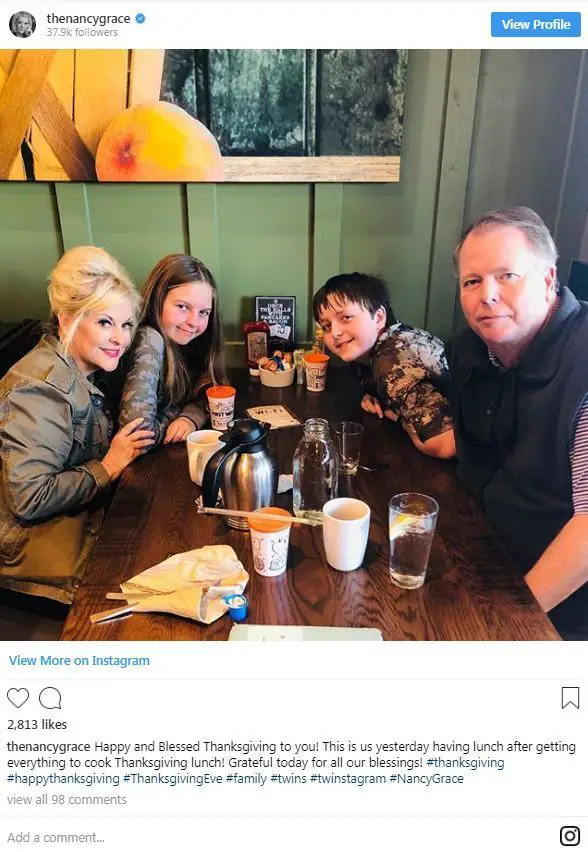 Nancy Grace celebrates Thanksgiving with family (Photo: Nancy Grace's Instagram)
While Nancy Grace seems to be happy with her family with husband and children, she had a bitter past which had made her weak mentally and physically. She lost her high-school fiance at a young age and had lost the hope of cherishing the life of a mother and a wife.
Death of Fiance leads Nancy down the path of Law and Order
Nancy's past relationship, however, did not end with just bitter smiles.
Her fiance Keith Griffin was murdered by an ex-coworker Tommy Mccoy when Nancy was but 19 years of age, and after going through such a painful experience, she turned towards the path of justice, fueled to help people who went through the same pain as she did.
During an interview with newsweek.com, she talked about the experience stating
"I think divine intervention changed my life and set me on a different course. After Keith died, I had to learn to control my thoughts. It was extremely depressing. In 2006 I wished I had been strong enough to relive the whole thing and go to the parole board. Even years later, I really had a hard time entertaining the thought of allowing myself to have a family."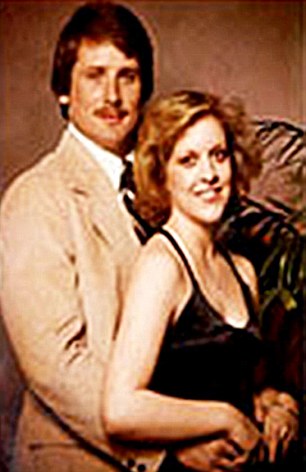 Nancy Grace with former fiancee Keith Griffin (Photo: dailymail.co.uk)
Eventually, she recovered and led a married life with her husband and staying far away from the concept of divorce.
Discover:- Who Is CNN's Symone Sanders Spouse? Married Status Amid Gay Rumors
Career- Lawyer And Journalist
Although she has quite a following, a significant population of the general public does not see her in a good light. Although she claims herself to be a prosecutor who sees crime through the eyes of the victim, she tends to be quite explosive and aggressive beyond measure.
Known for her tendencies to cross the borders of questioning and straight up turning interviews into interrogations, she has quite a polarizing character.
Some consider her a strict warrior of truth while others see her as no more than a bully who would try to gain profit from other's misery.
Read Also:- Sharyl Attkisson Age 57 Bio: Untold Married Life With Husband & Family Status
Nancy Grace has a career full of successful cases, but she has a handful of terrible disasters and even perhaps, blood in her hands. She has been criticized for her handling of the cases of Elizabeth Smart, Melinda Duckett interview and the Caylee Anthony case as well. Her character was well defined by George Washington University law professor Jonathan Turley who stated
"Grace, as an attorney and reporter, has managed to demean both professions with her hype, rabid persona, and sensational analysis. Some part of the public takes her seriously, and her show erodes the respect for basic rights."
Perhaps Nancy Grace isn't the saint she pretends to be. Maybe she is profiting from other's misery and crossing her boundaries of a Journalist. That isn't for us to decide but we can claim that she is far from perfect.
She has assured that she will still stay in the sector of Law and order and work to benefit for the people and we can only hope she will improve her behavior and repent on her past actions.