Entertainment
Adam Busby Bio Reveals Job Apart From Being Actor, What Is Net Worth?
American actor and reality star, Adam Busby is a hard-working man with a family to look after. While he is trying his best to settle himself in the acting business, it's not enough to provide for his family and Adam has to look after another job to fulfill his family's bellies.
Further, Adam has a great responsibility to look after his wife and six children. Well, what has the actor been doing lately?
Has he been working in his old job or starting a new business with his family?
The father of six has been doing all and everything on his own!
Jobs Other Than As An Actor; Net Worth, Age, Bio, And More
Adam, the father of six, has an added responsibility of providing his family of eight. So, apart from his job as an actor and a reality star, he ought to have a full-time profession.
The OutDaughtered star's bio suggested that he previously worked for Intrinsic Solutions and Sprint Safety as the key account manager and had been continuing with his job. While his wife takes care of the kids, providing food for the large family isn't an easy task for Adam.
See Also:- See How Michael Ray Got Engaged With Girlfriend Carly, Its Romantic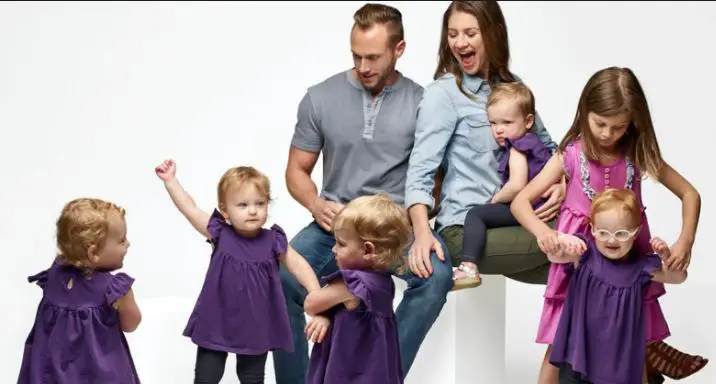 Adam Busby with wife Daniel Busby and children (Photo: USAToday)
Lately, the TV personality has been under immense pressure as his responsibilities.
Previously, his wife worked too, but with the arrival of the quintuplets in his family, Adam's wife Danielle has taken up the job of looking after the kids. Due to this, the family is dependent on the income of one man rather than two, and this even caused Adam to suffer from postpartum depression.
Talking about the financial backdrop, Adam's spouse of nearly a decade said,
"It's been a big drop because I used to work full-time and we had two incomes coming in."
Adam, aged 36, and Danielle have also been promoting their new business lately, a cycle studio named Rush Cycle in Texas, which the couple co-owns with two other couples.
Adam, who stands at a medium height, along with his wife has currently accumulated a net worth of $300,000. The married pair also has a source of income in the form of their YouTube channel, which earns them around $11K - $175.3K annually.
Take A Look At:- 'Aquaman' Director James Wan Facts: From Movies, Net Worth To Family Info
The couple had also donated $75,000 worth of toys to the victims of Hurricane Harvey in 2017, so it looks like the pair has not faced severe financial problems despite being the parents to six daughters.
The eldest child of the Busby family is named Blayke; whereas, the quintuplets are called Olivia Marie, Hazel Grace, Ava Lane, Riley Paige, and Parker Kate. Together, the six siblings look adorable and even share a strong bonding with each other.
Parents' Talk, Gay Rumors
Talking about Adam's postpartum depression, the sole reason he was able to cope up with that was that of his father. He decided to visit his parents and talk to his father before undergoing therapy from a psychiatrist.
His decision became fruitful to Adam as he was able to open up to his dad. He said to his father,
"I think Danielle and I are great, being able to manage and take care of the kids and stuff like that. But then you get through half the week and you realize you've barely told your wife 'hi' because you're just so busy. And then by the time all the girls are down to sleep, you've got to clean up the kitchen, wash dishes. You're just exhausted and done."
After listening to his son's problems, Adam's father replied,
"Part of the stuff that you're experiencing is normal parenting — times five. And you and Danielle, I'm sure people would feel that if y'all grabbed your shirts and opened them up, there'd be a big S [for superhero] right there. But I know there has to be days where you don't feel that way. We're all flawed, but when you start getting bogged down… you need some help."
His dad's suggestion was helpful to Adam and he even posted a tweet to appreciate his father.
"Everyone needs a dad like mine… He is something special."
However, managing his finances and depression aren't the only problems in Adam's life as he has been constantly subjected to gay rumors.
You May Also Like:- Who Is Nneka Ogwumike Boyfriend At Age 28? Supportive Parents & Facts
His fans often confuse him as a gay man despite him being the husband to a wife and a father to six children. One fan wrote on a blog,
"I do think Adam seems gay. I can't pinpoint exactly what it is about him, but he just doesn't seem all that into her. He is great with the kids, so [he] probably always wanted to be a dad and got married very young so he could have that 'normal' life."
While the fan provides a strong argument, it's just silly to suspect a husband and father as a gay man.