News
See How Michael Ray Got Engaged With Girlfriend Carly, Its Romantic
"Everybody Gonna Talk" about the impending wedding between Country singers Michael Ray, age 30, & Carly Pearce as they are now engaged!
The Kiss You In The Morning hitmaker and his girlfriend-turned-fiance Carly, age 28, took to their respective Instagram on 23 December 2018 to announce their engagement.
Engaged in the beautiful city of Tulum, Mexico during their romantic getaway, Michael had popped the big question four days earlier on 19 December 2018. Immortalizing the stated date on his Instagram alongside a snap of him proposing, the Florida native began his caption by writing:-
"Dec 19, 2018, My life forever changed for the better. I got down on one knee in one of the most beautiful places I have ever seen and looked into the eyes of the most beautiful soul I have ever known and asked her to be my wife!!... "
High Profile Engagement:- 'It's Official' Braison Cyrus & Girlfriend Are Engaged, Getting Married Soon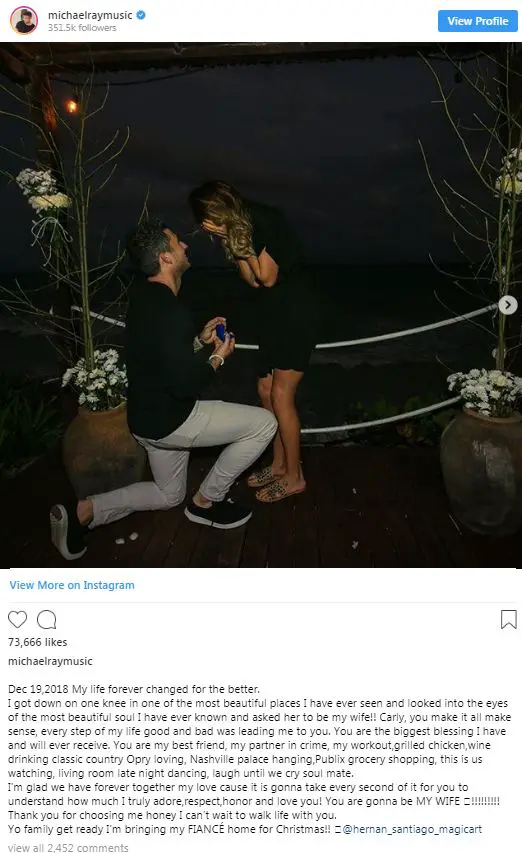 Michael announces that he's engaged (Photo:- Michael Ray's Instagram)
He then professed his love to his future wife by listing a plethora of titles. Michael continued:-
"Carly, you make it all make sense, every step of my life good and bad was leading me to you. You are the biggest blessing I have and will ever receive. You are my best friend, my partner in crime, my workout, grilled chicken, wine drinking classic country Opry loving, Nashville palace hanging, Publix grocery shopping, this is us watching, living room late night dancing, laugh until we cry soul mate... "
The latter part of the epic of a caption featured the 30-year-old musician professing an excitement about the impending wedding as well as him leaving a cheeky declaration toward his family. With pride, he wrote:-
"Thank you for choosing me honey I can't wait to walk life with you.  Yo family gets ready I'm bringing my FIANCÉ home for Christmas!!"
No sooner had Michael posted the said Instagram post, his wife-to-be Carly returned the favor by sharing the snaps as well as an equally emotional caption.
Michael Ray With Mond:- White Ethnicity Actor Michael Raymond-James: Is He Dating Someone? Or Is Secretly Married?
Unable to hide her excitement, the Hide The Wine hitmaker summed up her experience as "the man of her dreams got down on one knee" by writing:-
"All in one simple "yes", I said "yes" to love, "yes" to peace, "yes" to faithfulness, "yes" to respect, "yes" to kindness, "yes" to trust, "yes" to patience and "yes" to never settle."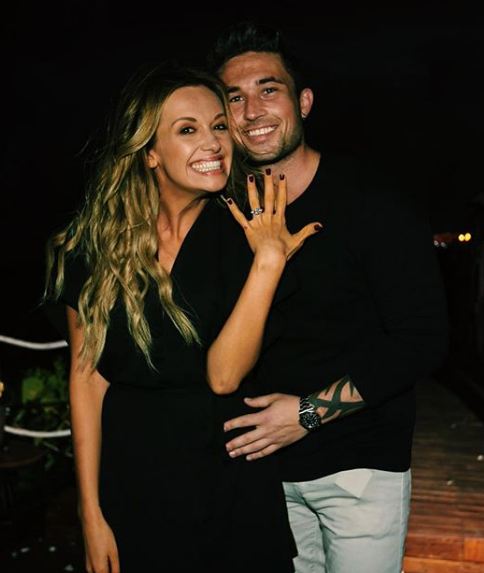 Carly shows off the engagement ring (Photo:- Carly Pearce's Instagram)
According to her, she would have married him on the first night they hung out. Thanking God and her new home in her fiancee, Carly concluded her caption by quoting a verse from the Bible as she penned:-
"WE ARE GETTIN' MARRIED, BABY! ❤️ John 13:7 Jesus replied, "You don't understand what I'm doing, but someday you will"."
The newly engaged duo was not the only one excited about the recent development. Fellow country musician Kelesa Ballerini, posting under Carly's post, "welcomed" the Kentucky native to "the club."
Additionally, JoJo Fletcher Lucy Hale & Karen Fairchild also congratulated the lovebirds on the impending wedding & married life after that.
Country Singer You Don't Want To Miss:- Did Ryan Upchurch Split From Girlfriend Turned Wife To-Be Or Married Her?
The news of Michale's engagement to now-fiance Carly comes less than six months after the pair had sparked dating rumors by posting an image on Instagram. The stated snap featuring the two in each other's arms accompanied a caption from the latter which read:-
"And then one random night at the Nashville Palace changed everything... "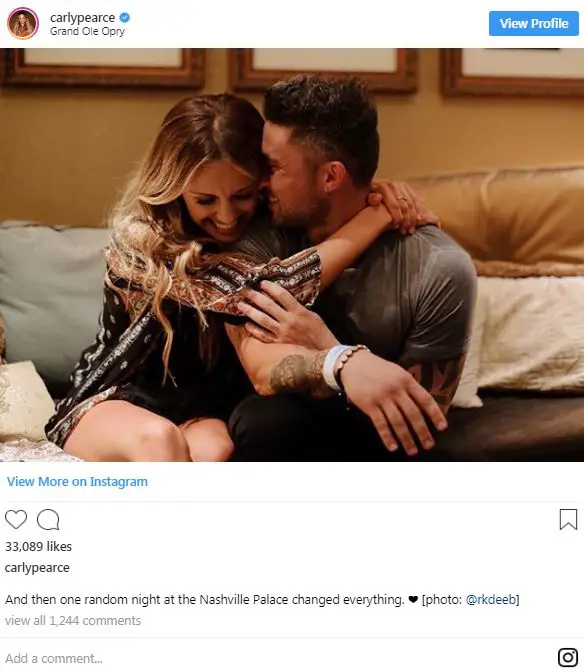 Carly fuels dating rumors (Photo:- Carly Pearce's Instagram)
The "Think A Little Less" singer has a lot to think about now that he's engaged-to-be married & planning the wedding.