Famous for The Great Gatsby and Parade's End, Adelaide Clemens is a British actress bred in Australia. Beginning her acting journey in the TV series, Blue Water High as a teenager in 2006, she has managed to hold up tight in the tough showbiz business. 
In 2019, she locked in the part of the lead in the pilot of the TV series, Tommy. Set in the crime thriller world, Adelaide will portray the role of Los Angeles' first female Chief of Police. 
Dating Status, Boyfriend Info
Adelaide is a master keeper when it comes to her dating life. She hasn't let single information slip about her dating or possible married life. Despite being in the showbiz for over a decade, not a single romantic linkup about Adelaide has come to light. It is unclear if she is involved with a boyfriend or a husband.
In the absence of her real dating status, fans can enjoy her reel romance on-screen. In 2012, she romanced one of the Hollywood's sought after star, Benedict Cumberbatch in the mini-series, Parade's End.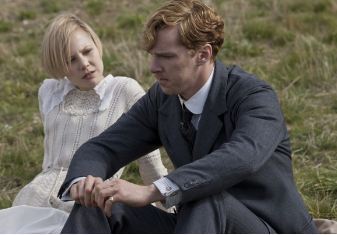 Adelaide Clemens with Benedict Cumberbatch in a still from Parade's End (Photo: collider.com)
Maybe Adelaide will come out in the open with her real dating life like her prominent onscreen romances. Till then, fans can only speculate about her dating status. 
Family Details 
Adelaide had a nomadic childhood. Born in Japan, she lived in France and then Hongkong. Finally, at the age of nine, she began living in Australia. The reason behind her country-hopping was the actress' father, Mark Clemens' job as a corporate marketer. 
Explore:- Francis Boulle Married, Girlfriend, Parents, Net Worth
Amidst, constant travel and exploring different cultures, Adelaide fell in love with performing arts. And her parents; Mark and Janea Clemens- cardiac nurse by profession - were fully on-board with it. 
Adelaide's other cheerleaders are her younger brothers; Sebastian Clemens and Felix Clemens. Sebastian has worked in an accounting firm.
Hair, Net Worth 
Along with Adelaide's acting choices, her hairstyles also make headlines. In such an instance, the media went into a frenzy when she debuted her bob hair in 2015. It so happened that the hairstyle was in contrast to the acting heavy-weights previous hair-do. 
Taking about the Brit actress' net worth, she boasts $4 million. The source of her net worth is her acting jobs. Thus, it is no surprise that the actress of height 5 feet 9 inches (1.75 m) has over 30 acting credits. 
Some of Adelaide's acting jobs include TV shows, All Saints, Pirate Islands: The Lost Treasure of Fiji, Love My Way and Out of the Blue. 
Excitingly, her three projects: movie After the Harvest II and TV series; Tommy and Watchmen, are in production as of September 2019.
Given Adelaide's busy acting career, her net worth will inevitably rise in the coming years.