Kiefer Sutherland's name sounds synonymous with the FOX's hit series, 24. Portraying secret agent Jack Bauer in the cult hit series, the actor has cemented his status in the TV industry.
Along with a glowing TV career, Kiefer has celebrated movies like The Sentinel, Stand by Me and A Few Good Men in his filmography. 
Wife Details, Children
The actor's personal life is a stark contrast to his professional life. While he boasts a sucessful career, the same cannot be said about his dating life. Kiefer's romantic relationships has seen significant ups and downs. 
The Young Guns star's life took a serious turn when he got married to his girlfriend, Camelia Kath in 1987. The marriage attracted significant media attention as the Terror on Tour actress was 12 years Kiefer's senior. Unfazed, the married pair increased their family shortly when they welcomed a daughter named Sarah Sutherland in 1988. The actor's daughter is also an actress known for Veep. 
Actress Mistaken As Kiefer's Daughter:- Alyssa Sutherland Husband, Parents, Net Worth
Sadly, Sarah's parents separated when she was much younger, and the divorced got finalized around her second birthday. 
Post the failed marriage, Kiefer got involved with Pretty Woman actress, Julia Roberts. The actor duo eventually got engaged in July 1990. But, the pair's romance became tabloid fodder and a significant media fanfare. Amidst such scrutiny, Kiefer and his A-list star fiancee' parted ways. The actor later revealed that it was Julia who broke the engagement. 
Despite huge break-ups, the actor didn't give up on love. He got linked to ladies, namely Amanda Rice and Lisa Stothard. But, the flings didn't last. Finally, Kiefer started dating his film's crewmember Kelly Winn in 1995. The relationship turned into a serious affair as the pair got married in 1996. 
Sadly, the actor's second marriage also failed as he separated with his second wife in 1999. 
Keifer continued trying his luck at the dating game, but nothing worked out for him. The actor became radio silent about his love life since 2014. During the period, he got linked to Cindy Vela. But, he kept mum on the alleged romance. 
Finally, after four years of secret dating, the actor of height 5 feet 8 and a half inches (1.74 m) revealed his secret romance with via public appearance at Mayfair in June 2018.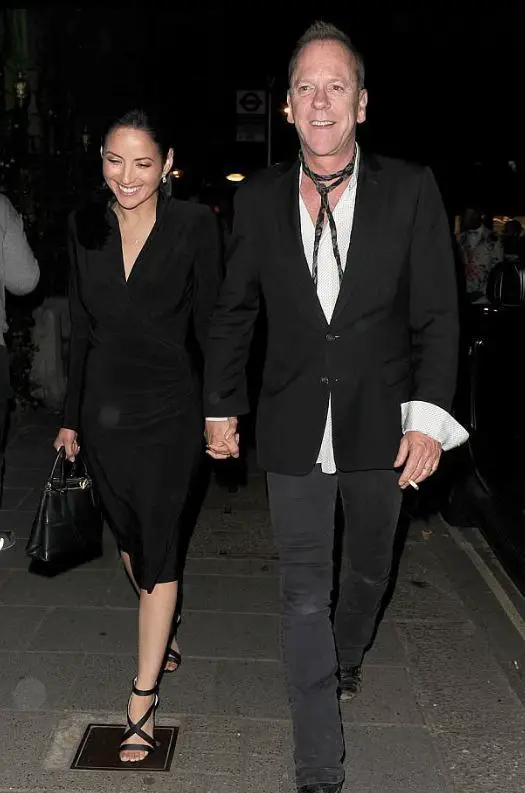 Kiefer Sutherland walks with girlfriend Cindy Vela on 20 June 2018 (Photo: dailymail.co.uk)
Interestingly, Keifer and his It's Gawd star girlfriend are engaged to be married. But, the pair has kept their wedding date a secret. 
Family: Father, Mother 
Kiefer belongs to the family of actors. His father is the legendary actor Donald Sutherland and mother Shirley Douglas - known for Degrassi. Growing up amidst creative people, Kiefer developed a liking towards acting and followed his parents' path. Although Keifer's parents separated when he was young, they supported him in his acting career. 
Explore:- Harry Lennix Wife, Children, Net Worth
Today, he has made them proud via a sucessful career in TV and movies career. The sucessful actor boasts a net worth of $75 million.