Entertainment
Agnes Hailstone Family After Husband Imprisonment, Who's Feeding Kids?
Surviving in the life-threatening conditions and freezing temperatures of Alaska was already a great challenge to the Hailstone family. Agnes Hailstone and her husband, the stars of the reality show "Life Below Zero," had to depend on their instincts and hunting skills regularly to provide food for their children. 
But, once her husband was thrown into prison, survival became harsher on the devastating conditions where if you don't hunt, you don't eat.
So, in her partner's absence, who was providing food for Agnes and her children? Did she found a new bread earner for the family or took the responsibility herself?
Whatever the case, one thing's for sure is that the Lord doesn't provide in Alaska! 
Feeding The Kids After Husband's Imprisonment
Agnes hailstone is married to Chip Hailstone, a Montana native, who moved and settled down in Alaska. The couple first met in the terrain of the unforgiving land and soon got married. 
Discover:- Joshua Brown & Girlfriend Allison Kagan Are Married, Rumors Or For Real?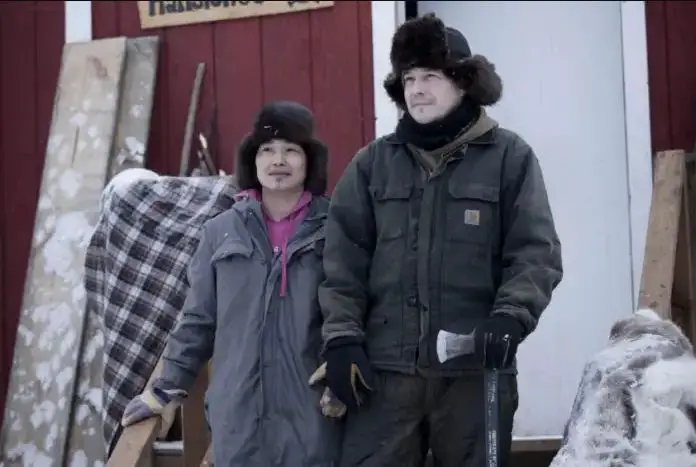 Agnes Hailstone with husband Chip Hailstone (Photo: Scotsman.com)
Together, the couple shares five daughters, who also excel in hunting and surviving in Alaska. Agnes also has two sons from her first husband namely John and Doug, who are both now adopted by Chip. 
The couple was maintaining a healthy marriage while also providing food for their family by the methods of hunting, fishing, and trapping despite the freezing conditions of Alaska.
However, when her husband was sentenced to prison and left for completing his jail sentence, Agnes was left alone to survive while also making sure that her children were well fed.
Agnes' husband was sent to Anchorage Correctional Complex for 15 months in mid-2017 during the filming of the 10th season of Life Below Zero after he was found guilty of two counts of perjury and lying to the police and two false reports for which he had earlier served three years probation.
Agnes took up the challenge herself and was supported by her daughters. In the first episode which aired in Chip's absence titled Unfamiliar Territory, the Inupiat Eskimo could be heard saying that she needed to hunt caribou to keep the family's belly full during the winter.
See Also:- Who is Eivin Kilcher Mother? Including Bio With Age, Education, Net Worth
Agnes along with her three youngest kids: Mary, Caroline, and Qutan even became successful in hunting two of those wild beasts. Although the family succeeded in surviving thanks to her skills, Agnes was still upset about her husband's absence. She said during one of the episodes of the show,
"While we been patiently waiting for Chip to come home, we've decided to go out hunting. So hopefully, when my husband finally gets home, we can have something fresh waiting for him. The last 10 months have been pretty long and sad with Chip being gone. Food didn't taste good, coffee didn't taste good. But I got through it. I had my daughters with me and they've actually gone from walking behind me to walking by my side and hunting with me. It's been really awesome watching these girl in the last year grow up... We survived, we've improved, and now we're just a lot stronger."
As of now, Chip is out of the prison and even appeared on the 11th season of Life Below Zero. He is proud of his wife to have taken care of their kids when he was not there to hunt and provide them with food.
Agnes Hailstone's Age, Tattoo Meaning, And Net Worth
Agnes Hailstone, aged 46, is a hunter, trapper, and reality star, who appears alongside her husband on the survival-themed show. Born in Noorvik, Alaska, she lost her mother, brother, and his girlfriend to the frigid temperatures and icy waters of Alaska. 
She has a unique tattoo on her chin, which is a part of the Eskimo women's ritual after they reach puberty and gives the meaning that she is matured and ready to work.
You May Also Like:- Is Model Stephen James Gay? The Tattoo Fanatic Hints Answers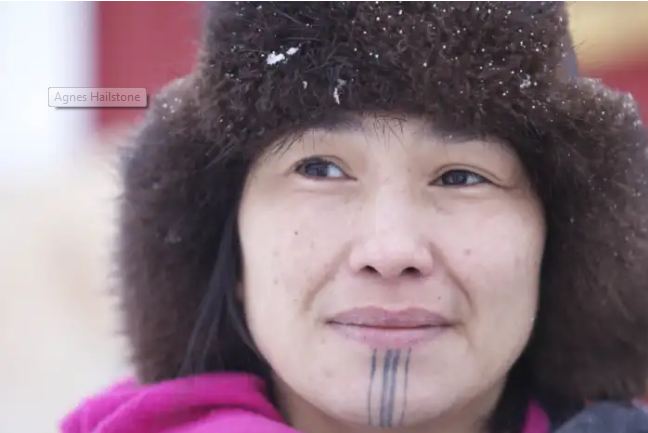 Agnes Hailstone's chin tattoo (Photo: Scotsman.com)
Agnes and her husband jointly claim a net worth of $100 thousand, but that isn't much help to the couple as the harsh conditions of Alaska doesn't provide many options for the Hailstone family to spend their money. Further, the duo also earns an estimated salary of $45,000, but that isn't of much help either.