Entertainment
Joshua Brown & Girlfriend Allison Kagan Are Married, Rumors Or For Real?
Joshua Brown and his girlfriend, Allison Kagan have been dating for a few years now, but do they ever intend ever to get married or have they already exchanged the wedding vows?
It's known that the reality star gave up his celebrity status to go live on a boat with his partner, but spending a lifetime with a single woman is a big decision to make. 
While there have been several rumors of the couple getting married, the duo's confirmation is vital as without them affirming the marriage, the gossips are just mere stories.
So, is there is any truth to Joshua and Allison Kagan's married rumors? The answer is about to intrigue the readers!
Bam Bam Married To Allison Kagan? Dating Details
Joshua "Bam Bam" Brown has been in a relationship with Allison Kagan since November 2016. The duo first met when Allison worked as a supervising field officer for Joshua's family show, Alaskan Bush People, but the two only started dating after a while.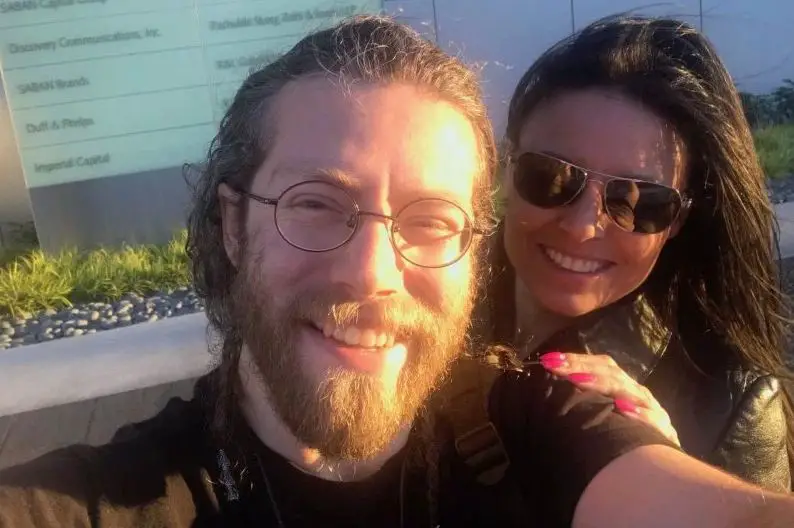 Joshua Brown with his girlfriend, Allison Kagan (Photo: Intouchweekly.com)
The reality star even left his family to go live with his girlfriend in late 2016 but rejoined his folks and his TV crew after his mother was diagnosed with lung cancer. 
You May Also Like:- See How Michael Ray Got Engaged With Girlfriend Carly, Its Romantic
Joshua and his partner even bought a ferry boat in 2018. He mentioned that thought of buying a boat first came to the couple when they were visiting New York as friends. He wrote on his Facebook,
"When I visited New York that summer we were still just friends. The boat idea came to us when we were on the Staten Island Ferry … How cool it would be to have a space that large and also be on the water! Alli searched and found the old ferry just before [the boat] was going to be sold for scrap! We have been gutting and renovating her ever since. It's been a blast … Alli has great artistic vision and huge plans for the renovation. My dad is excited to help us with the plumbing, and the rest of the family can't wait to come aboard."
The ferry, which was initially named Osprey, was later renamed by the pair to Fathom This. The duo even lived in the boat for some time while also repairing the old thing, which was made in 1986.
Joshua and his partner celebrated their dating anniversary and the boat anniversary on the same day on 1 November 2017. He wrote on Twitter,
"Celebrating 1 year with our little girl. All she needed was a little TLC and a new name. #boatanni versary #also starteddatingayearagotoday"
Over the years, there have been countless rumors of Joshua and Allison getting married which are not true. However, the couple has not split yet, which means the pair has kept the hopes of getting married in the future alive. 
Further, there has also been rumors of the dynamic pair getting engaged, but neither of the two has made confirmation on the matter. Another gossip suggests that Joshua and his girlfriend secretly married in a low-key wedding ceremony in Hawaii, however, it has been ruled out as no evidence supports the theory.
Apart from being a loving girlfriend, Allison Kagan has also befriended her boyfriend's parents and is close to Joshua's mother Ami Brown, who previously battled with stage 4 lung cancer.
Don't Miss:- Deborah Roberts Age 58 Longtime Husband & Cancer Battle In Family | Bio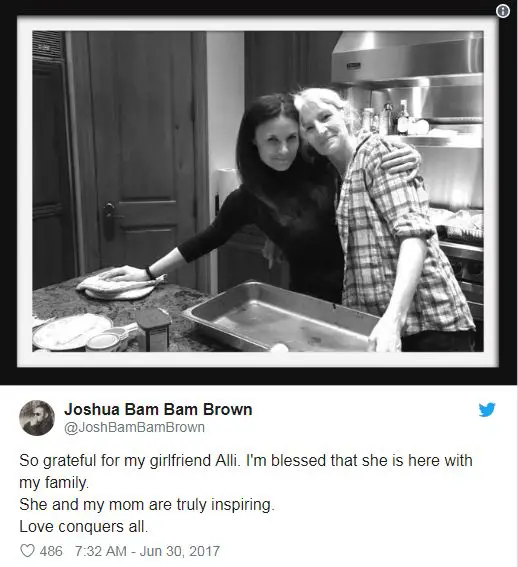 Joshua Brown's girlfriend Allison Kagan with his mother, Ami Brown (Photo: Joshua Brown's Twitter)
Waiting for Joshua and Allison to get married might lead to a disappointment for the fans as the pair is already living together like husband and wife, and may have no plans for an official wedding ceremony.
Joshua Brown's Bio Includes Height, Net Worth, And More
Joshua was born as the second child of Billy and Ami Brown. He was raised by his parents among his six siblings and started hunting at a young age.
More Alaskan Reality Stars:- Otto Kilcher, 66, Perfectly Balancing Work & Family With Wife; Assist By Children!
Joshua, aged 34, has worked as a reality star on his parents' show, Alaskan Bush People, which features the Brown family. His father, Billy, was the son of a Limo Company President in Texas and was raised in a wealthy family. However, after his dad died in a plane crash, Billy was forced to take up menial jobs to make a living.
Joshua, who stands at an average American height, shares a net worth of a few million with his family, according to his bio.
The Alaskan native was also sentenced to 30 days in prison along with his father after pleading guilty on counts of second-degree unsworn falsification. However, whether the two served their jail sentence has not been revealed.