Entertainment
Alec Burks Injury Cost Him Stats, How Long Is Contract & Who Is Wife?
Little over two months after being traded to Cleveland Cavaliers from Utah Jazz, shooting guard Alec Burks could be on the move as a part of the deal which sees him join Houston Rockets while Brandon Knight heads the opposite direction.
So far the 2018-19 NBA season, the Utah Jazz's 12th overall pick in the 2011 NBA Draft exploits on the court - given his phenomenon stats of 10.4 points, 4.2 rebounds, and 2.3 assists - is very reminiscent of abilities he showcased before a career-threatening injury that stunt his growth.
Stats Before & After Injury; Signed 4-Year Contract Extension
Active since the 2011-12 season, Alec participated in over 415 games, 66 of those in starting position. Overall, he averages 9.7 points, 3.1 rebounds, and 1.7 assists per game.
Basketball Athlete In Our Vault:- Kevin Love Injury Won't Affect Stats Or Contract! Reason Along With Personal Update
It is interesting to note that his most significant and most efficient - stats-wise came in the 2013-2014 season. Playing a total of 78 games, the star shooting guard registered 14 points, 3.3 rebounds and 2.7 assists per game.
On the back of his career-defining performances that year, his then-team Utah Jazz offered him a four-year, $42 million contract extension, which had the potential to reach $45 million.

Alec Brucks' NBA stats (Photo:- Espn.com)
A year after signing the said contract, Alec suffered an ankle fracture, which sidelined him from the games for six weeks. After undergoing surgery on his fractured left fibula, he returned to match fitness, only to be ruled out in seven months in November 2016 to cure for the injury on his left ankle.
Crippled With Injury:- Dallas Cowboys Linebacker Jaylon Smith Latest News On Injury & Contracts
Unsurprisingly though, the injury-laden period saw his stats take a severe hit. To his credit, the former Utah Jazz player did everything within his ability to reach a fitness peak. As a result, since his comeback from the significant injury, he has averaged atleast 40 games a season.
Utah Jazz's 2011 NBA Draft's College & High School Records
Like many basketball college athletes, Alec, age 27, too opted to forgo his two remaining eligible years to undertake the NBA draft.
Playing for the University of Colorado, the present Cleveland Cavaliers' shooting guard registered about 1200 points, averaging 18.9 points per game throughout two seasons.
He initially honed his skillsets during his time at Grandview High School. Named Gatorade Player of the Year in 2009, Alec - who boasts the height and weight of - six foot and six inches (198 cm) and 97 kgs respectively - signed with Colorado a year earlier.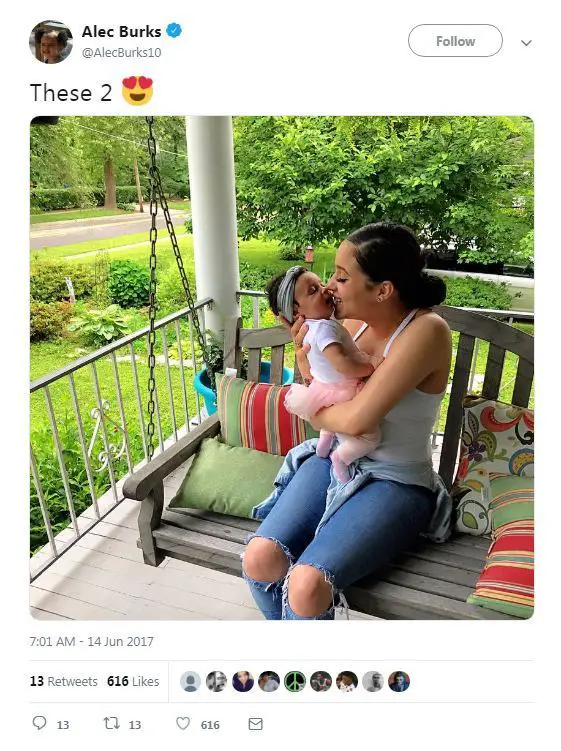 Alec Burks shares a snap of his partner Elyse Rose embracing their baby (Photo:- Alec Burks' Twitter)
There's no denying that the 28-year-old has come a long way. But, with the birth of a daughter in March 2017, he still has many things to look forward to in the future.
Married In 2019
The pair who welcomed their child in 2017, soon got engaged a year later on March 2018. Alec proposed his baby mama/longtime girlfriend Elyse by presenting her with a gorgeous diamond ring.
Alec and Elyse met five years ago on August 2014, and they were all set to marry in the same month on 10 August 2019.
As the date of their wedding appeared, so did their happiness. And, post-wedding, Alec's fiancee started sharing intimate moments of the wedding on her Instagram with fans, friends, and family altogether.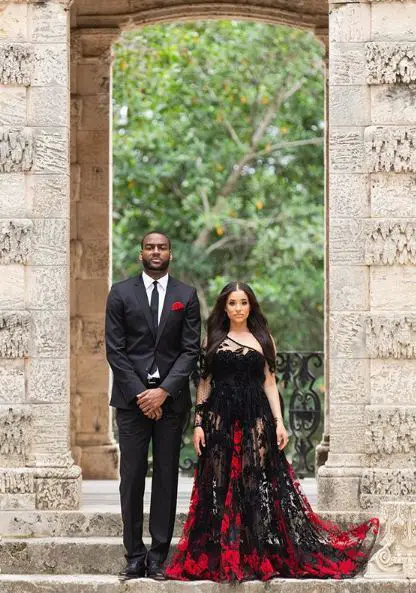 Alec Burk and fiance-wife Elyse Rose during their wedding day on 10th August 2019 (Photo: Elyse Rose Instagram)
Alec wore a formal black suit while Elyse donned a gorgeous black and red wedding dress for the wedding. They exchanged their vows in front of friends and family.
At the end of the wedding, the pair seemed very happy to have established a brand-new status as husband and wife.