Entertainment
Alex Guarnaschelli, Amazing Husband Story; Happily Married, Until Divorce Took Play
Celebrity chef Alex Guarnaschelli became a household name after winning the 2012 edition of The Next Iron Chef: Redemption and has contributed to the cooking field authoring two renowned cookbooks. The mother of one, she was maintaining a happy married life until the couple got separated. However, she has not lost her hope and still manages a perfect between work and personal life.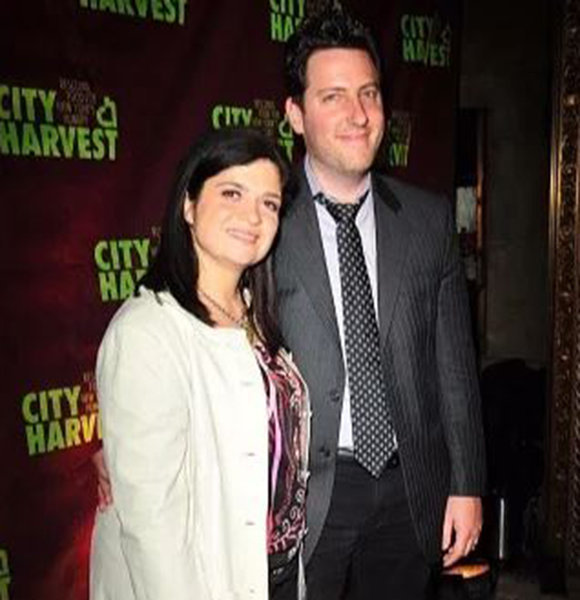 Quick Information
Ex-Husband

Brandon Clark (m. 2007–2015)

Weight Gain

75 pounds

Lesbian

No

Body Measurements

39-35-36 Inches

Eye Color

Brown

Hair Color

Black

Hair

Long

Weight Loss

55 pounds

Weight

74 kg

Height/ How Tall? 5' 1" (1.55 m)
College

Barnard College

Net Worth

$2 Million (Estimated)

Dating/Affair

No

Date of Birth Jun 20, 1972
Wedding Date

29 April 2007

Divorce/Split

Yes (Once)

Relationship Status

Single

Daughter/s

Ava Clark

Mother

Maria Guarnaschelli

Father

John Guarnaschelli

Ethnicity/Race

Italian

Religion

Christianity

Zodiac Sign

Gemini

Profession

Chef

Nationality

American
Celebrity chef Alex Guarnaschelli became a household name after winning the 2012 edition of The Next Iron Chef: Redemption and has contributed to the cooking field authoring two renowned cookbooks. 
The mother of one, she was maintaining a happy married life until the couple got separated. However, she has not lost her hope and still manages a perfect between work and personal life.
Married Life With Husband
Alex began her life's romantic chapter after she first met Brandon Clark, a personal injury lawyer while teaching a fish cooking class at the Institute of Culinary Education in New York. Brandon recalled his first image of Alex with NYTimes on May 2007 stating, 
"Some people found her intimidating. I found her funny, playful, exciting and adorable."
At the time, Brandon was on the verge of changing careers, becoming a professional chef and developed a crush on Alex too.
He "didn't want to mix romance and cooking" at the time but, instead requested for a part-time job in the American restaurant, Butter, where Alex is executive chef. Later, Brandon shared the kitchen fire with Alex as a part-time worker but, could never reveal his real feelings for Alex.
More Interesting:- Mario Batali's Content Married Life With Wife And Family That Is Also Into Cooking! Pays Restaurant Staffs For Alleged Pilferage
Confiding his school assignment problem, Brandon disappeared and Alex got an email, claiming he had decided in favor of a career change, after a week. Brandon also showed his index finger injury and the executive chef tried all to convince him to continue pursuing food making.
But, Brandon who is nine years younger than Alex, decided once for all and the duo were "no longer the chef and a student" but "as a man and a woman."
Soon, the couple started dating each other and one day, Brandon showed up in front of Alex's restaurant and proposed her by serenading her with a guitar. He further suggested that the couple should get married.
After dating for a while, The Home Cook: Recipes to Know by Heart author and Brandon tied the knot on 29 April 2007. The wedding ceremony was held in the subterranean tavern at Butter, where the bride and groom were accompanied by 125 guests including fellow chefs, friends, and family.
Alex with husband Brandon on their wedding day (Photo: New York Times)
Alex talked to NYTimes about the importance of Brandon in her life, a few days after the wedding, 
When I met Brandon I was borderline grieving that I would never have a family
Alex was already pregnant during the wedding, and she gave birth to the couple's daughter, Ava Simone, in September 2007.
The chef's marriage was going still strong until the signs of marriage problems showed up. On 10 July, she posted a tweet to share her daily routine with him and mentioned that despite being a chef, her husband was better at making coffee than her. Alex wrote in the tweet,
My husband makes the coffee at home simply because he's better at it than I am. I love La Colombe coffee made in a press pot.
However, by 2013, the once fairy-tale-like marriage had started to develop complications. On 1st February, Alex posted a sarcastic message on her Twitter pointing out that a married life reduces the risk of a heart attack. She wrote in the tweet,
Just read an article that claims being married reduces your risk for heart attack. #????
The couple eventually got divorced, and in a 2018 interview with Miami New Times, she described Brandon as her ex-husband.
Post Divorce; Maintaining Work-Life Balance And Guiding Daughter 
Although the date of the couple's divorce is not revealed, they got separated somewhere between 2013 and 2018. Despite the split, the 45-year-old has a lovely life maintaining the balance between her professional career and family. 
You May Also Like:- Blake Anderson Status After Divorce With Wife; Smiling Through Ruins?
Further, Ava is also growing as a smart kid. Alex dedicated a post to her daughter on 16 September 2017, writing about her daughter's plans to be a chef,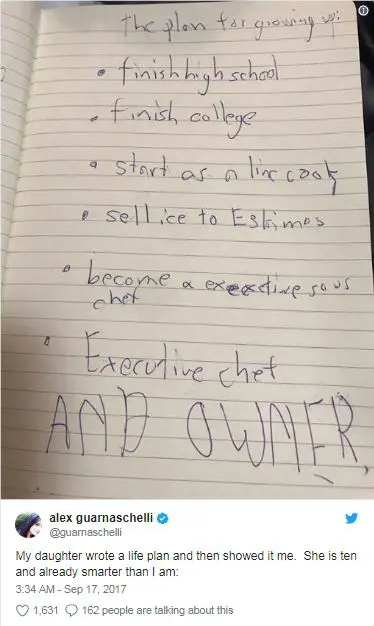 Alex posts daughter's plans to be a chef on 17 September 2017 (Alex Guarnaschelli's Twitter)
Further, in an interview with Miami New Times in February 2018, she revealed about 10-year-old Ava's interest in cooking,
My daughter is interested in cooking, so we'll roll dough together or I'll help her make dinner there
Moreover, Alex also teaches Ava essential life lessons. Her wise words include a strong message to her daughter about never underestimating one-self.
The Manhattan native is currently single, but with a busy schedule between her work and Ava, she hardly has any time to think about dating. 
Weight Gain To Weight Loss Journey
Although the arrival of Ava has brought much happiness to Alex's life, still the initial years of childbirth were still hard for her as she gained a lot of weight. While giving birth to her child, Alex gained 75 pounds. But after that, she began following a strict diet and workout; and lost about 55 pounds in nearly two years.
Similar Article:- Brittany Cartwright, Age 29, Unveils Weight Loss Secret! Before and After Pic Screams
Further, she trains with a fitness trainer for about four to five times a week. Alex also suggests her fans to not believe in the corporate ads that say eating low-fat foods can help in losing pounds.
Bad First Impression Left On Alex By Bobby Flay; Reasons Revealed
Following the divorce from her husband, Alex has opted to remain low-key about her romantic escapades while establishing her friendships as the front and centerpiece of her life.
Of all her acquaintances at the Food Network, the Fix Me A Plate host seems to have developed a special bond with fellow celebrity chef Bobby Flay over the years.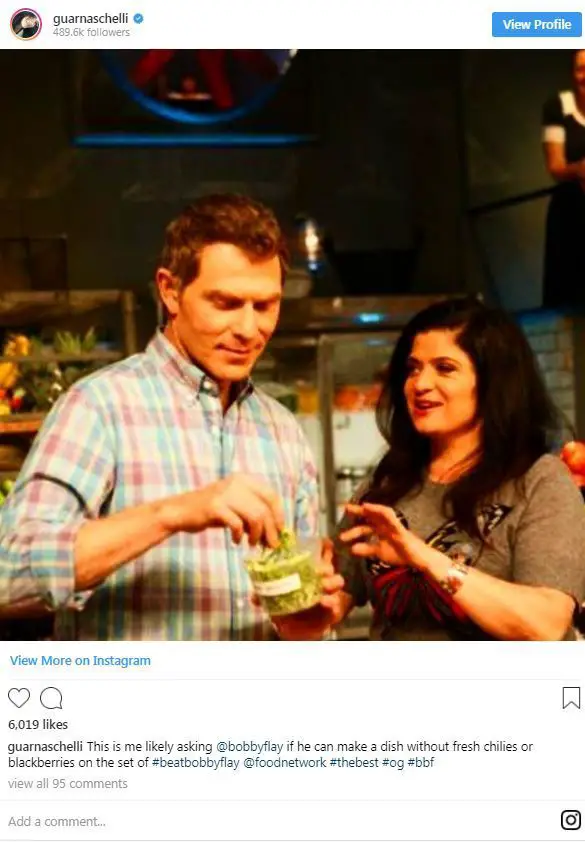 Alex labels Bobby her bff (Photo:- Alex Guranaschelli's Instagram)
To think that Alex hated Bobby's guts at one point is just beyond the public's comprehension. In People magazine's The Stars of Food Network edition, she revealed:-
"I used to watch Bobby Flay because he was on all the time. And I was like, 'I don't like that guy. That guy thinks he's so cool with his grill and spatula.'"
But once the pair got to know each other via their collaborative effort on Alex's Days Off, they became best of friends. In the same People magazine interview, she explained:-
"I couldn't have been more wrong. He's one of my closest friends now. I realized it was probably just jealousy. He's amazing!"
Their budding friendship is often mistaken for a brewing romance. Nothing could be further from the truth as Bobby already has a girlfriend, a woman name Helen Yorke. Booby was previously married to Kate Connelly.
Don't Miss:- Diandra Luker Bio: Net Worth Skyrocketed After Married Life With Michael Douglas Into Ashes
Upcoming Shows As Of 2018
2018 has been a relatively busy year for Alex and due to her hectic schedule ahead, it seems like the end of the year is also not going to bring a much free time for her. The coming month, September, will by far be the busiest for Alex as she will be all over television and web at the time.
After the grand success of Food Network's web series, Fix Me a Plate's opening season; the show along with its lead chef, Alex Guarnaschelli, is returning for a second season this September. The upcoming season will see Alex return to some of her favorite restaurants and show viewers the action going around in the kitchen.
Similarly, Alex is also set to appear in some of the Special Premiere episodes of Cooking Channel's The Best Thing I Ever Ate. Alex will be featured in two special episodes alongside Duff Goldman titled "Awesome Asian," and "Terrific Italian"; which will air respectively on 20th and 27th September.
For the first episode, Alex will be traveling to Maine, New England to try out the famous miso soup, whereas the second one will see Alex and Duff visiting Mangia restaurant where the co-anchors will enjoy some renowned cuisines including lasagna, ice cream, pizza, burger and more.