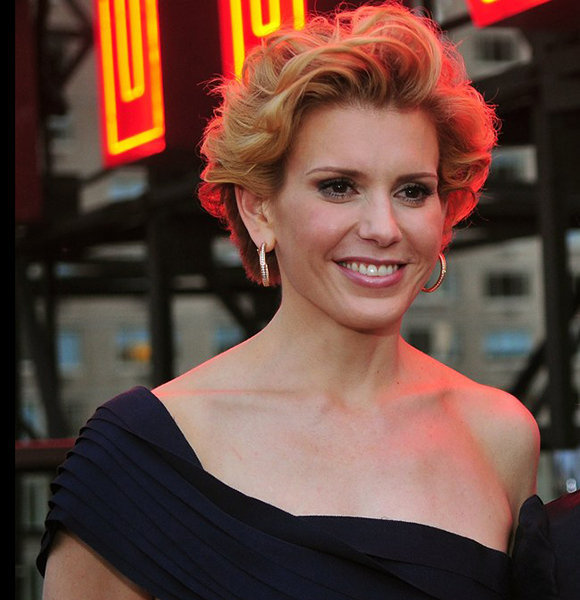 Quick Information
Relationship Status

Single

Instagram

N/A

Twitter

N/A

Facebook

N/A

Hair Color

Blonde

Height/ How Tall? 5 feet 8 inches (1.7 m)
Education

Columbia University

College

Putney School

Net Worth

N/A

Ex-Husband

John Cuti

Divorce/Split

Yes

Date of Birth 27-09-1965
Children/Kids

2

Daughter/s

Jude Stewart

Son/s

Truman Stewart

Mother

Martha Stewart

Father

Andrew Stewart

Zodiac Sign

Libra

Birth Name

Alexis Gilbert Stewart

Profession

TV Host

Birth Place

New York, United States

Nationality

American
Alexis Stewart is widely known as the daughter of the famous entrepreneur Martha Stewart. However, she has made a separate identity for herself beyond her mother's fame. 
Alexis Stewart is famous for being a radio personality known for shows like Whatever with Alexis and Jennifer and Whatever, Martha. 
Apart from being in the spotlight, she has struggled to be a mother to her children. 
Let's find out about her struggle with motherhood. 
Alexis Stewart's Children
Alexis is a mother to two kids; her first child, daughter Jude Stewart, was born on 8th March 2011, and her second child, son Truman Stewart, was born on 6th March 2012. Both of her children were born through surrogacy.
Alexis struggled for five years to have a baby. Finally, she decided to have children at the age of 36, but her fertility had already decreased by that time. She went through many procedures and tried implantation three times but failed.
Another Celeb Couple That Got Married In An Intimate Ceremony:- Rachel Weisz Welcomes Baby Girl, First Child With Husband Daniel Craig!
Adoption was an option, but she preferred to have her own child. As a result, Alexis chose surrogacy, but her surrogates miscarried four times,  leaving her devastated and hopeless about becoming a mother. She even discussed her struggle to conceive a baby on the show, The Orphan Winfrey Show, on 9 October 2007.
However, after struggling for almost five years, she finally became a mother welcoming Jude Stewart. Then, right after a year, she welcomed her son, Truman Stewart. Her son, Truman Stewart, arrived just before his big sister Jude's first birthday. 
Since the birth of her children, Alexis has stayed away from the spotlight and focused on raising them all by herself. 
Alexis shares how she doesn't have any problem raising her children as a single mother without the presence of a father in their life. Her children do not have a legal father. She is afraid that her children might have a father like hers or never be here for them.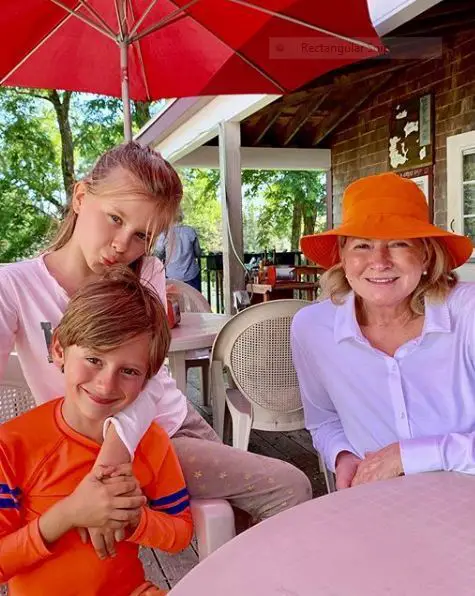 Alexis' kids Jude Stewart and Truman Stewart with their grandmother Martha Stewart in October 2019 ( Photo: Martha Stewart's Instagram)
Alexis didn't have a good relationship with her parents, and it's possible that this has influenced her desire to be the best mom she can be to her children. 
Alexis Stewart's Parents
Alexis is the only child of Andrew Stewart and Martha Stewart. Unfortunately, even though she was the only child, she did not have a delightful childhood. 
A child grows well when their parents give them the required attention and love. However, in Alexis's case, it was the opposite. She had a poor relationship with her parents. She grew up distant from both her parents from a young age because her parents never gave her much of their time. Her parents got divorced in 1990.
More On Alexis' Mother Martha:- Martha Stewart Married, Daughter, Parents
When a child has to face their parent's divorce, the news will surely affect them. It was the same for Alexis; in an interview with New York Magazine, she admitted to taking antidepressants in her youth.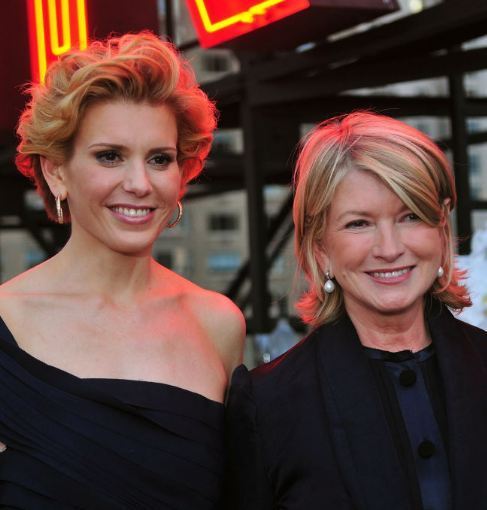 Alexis Stewart with her mother Martha Stewart. (Photo: cheatsheet)
However, her relationship with her mother, Martha, improved with time, but her relationship with her father never got better. But, according to reports, Alexis has not spoken to her father, Andrew, since 1988. 
After seeing her parent's divorce, was she able to date anyone?
Alexis Stewart's Relationship Status
Alexis Stewart is not dating anyone. 
However, she was once married to John Cuti, who served as a lawyer in Alexis' mother Martha's legal cases. 
On 26th September 1997, the two got married in a judge's chamber at the courthouse. Alexis wanted an intimate wedding, so the ceremony consisted of five guests, including her mother, Martha. 
On the wedding day, Alexis had worn a grey flannel suit. Her mother had ordered flowers and cakes and planned the wedding lunch held at Jean Georges on Central Park West.
But the marriage did not last long, and the two separated in 2003 and officially got divorced in 2004.
Interestingly, long after the end of Alexis' marriage, in an episode of The Martha Stewart Show, Martha disclosed that her daughter's wedding was one of the worst days of her life. 
Apart from her personal life, she has made her own name in the industry.
Alexis Stewart's Career
Alexis Stewart, age 56, co-hosted the show named Whatever with Alexis and Jennifer that aired on Sirius Satellite Radio. Then, in September 2010, she was the co-host of the same show but on a different channel; the Hallmark Channel. Alex, alongside her former radio partner Jennifer Hutt talked about subject matter ranging from personal relationships to pop culture. The show was typically based on its title, 'whatever,' as Alex and Jennifer would say, whatever they would think, read, or hear. 
Find More About: 
The show's third season was renamed Whatever, You're Wrong! and got premiered on 8 April 2011 on Hallmark Channel. She told everyone that 10 June (2011) was her last day through a post on Whatever blog. 
Talking about Alex Stewart's net worth, the details remain confined; however, her mother enjoys a hefty net worth of $400 million as per Celebrity Net Worth.   
Alexis has devoted her life to focus on her kids. She is no longer a television or radio talk show host. She is currently living very happily with her children as a proud single mother. 
We will update you more on Alexis Stewart; till then stay tuned.