Entertainment
Ali Wong Turns Husband & Wife Grief Into Baby Jokes & She's Titled Brave For It!
With a twisted sense of humor, Asian American comedian Ali Wong possesses a unique quality of overpowering the so-called weaknesses of women into shameless communicative strength through her comedy. She channeled her frustration into her profession, inspiring millions of women when she performed pregnant on-stage.
Suffers First Babies'(Twins) Loss; Turns Misery Into Humor
Ali rose to fame more so than ever when her Netflix special Baby Cobra released in 2016. She instantly wowed many when she instigated as a pioneer of a pregnant woman performing on the stage while making mischievous jokes about pregnancy, miscarriage, and motherhood.
See more: Tori Brixx Age 27 Wiki: Dating To Net Worth On Model Who Plotted Rich The Kid - Allegedly
She performed on the special with the thought of her past miscarriage in her mind. She thought that she had lost her first baby, but was self-relieved when the doctor flashed the news of the presence of two zygotal sacs in her belly - she mentioned the story enthusiastically in Baby Cobra.
Out of sheer will to prove to her companions who made condescending remarks about how a woman's career goes downhill once pregnant, she showcased a recalcitrant attitude towards conformity which shone her in the spotlight brighter than ever.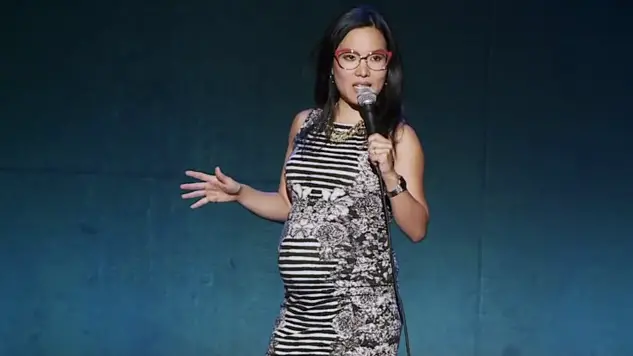 Ali Wong performs her Netflix special Baby Cobra while seven and half months pregnant (Photo: Netflix)
In her special, she explores the double standards of parenting, how fathers get away so quickly with so little being done and how mothers aren't appreciated enough. She also points out how she loves her hedonist nature which arises out of straight men's fear of being gay if they find someone sticking a thumb up their butt pleasurable.
Met Husband After Dating Fails; Two Children
After a long run of dating 'miserable losers,' she knew Justin Hakuta, who is a businessman, was the man for her when she eyed him at a wedding reception in 2010.
They married in 2014, and a year later, she had a baby girl named Mari, who is now at the age of 3, with her husband. As of now, Ali is a mother of two, having given birth to another baby girl in January 2018.
A business graduate from Harvard, Justin seems the perfect guy as one can deduct from the pictures she shares on her social media and the stories she shares in her standup routines.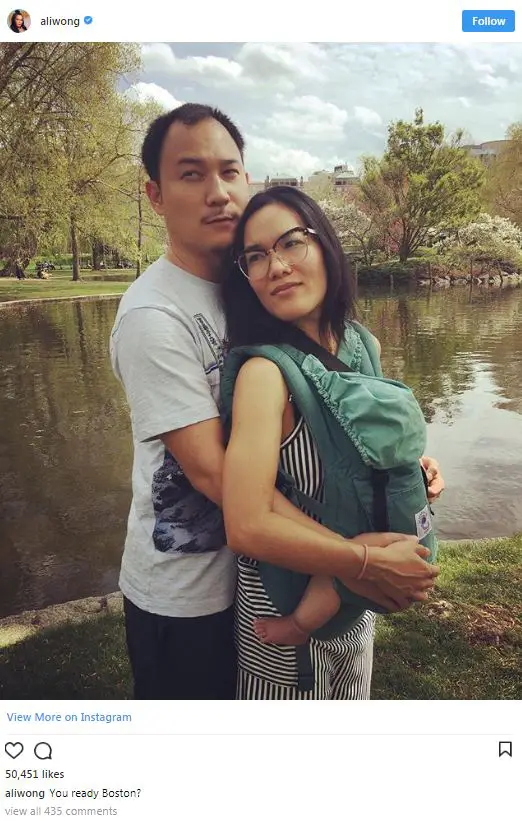 Ali Wong cozies up with her husband Justin Hakuta and her first-born baby girl, Mari (Photo: Ali Wong's Instagram)
The couple is very supportive of each other and shares many similar interests: yoga and meditation for starters. Assumed the biggest fan of Wong out there, Justin frequently helps sell tickets and accessories when Ali is hosting a show.
Ali Wong's Net Worth
The San Fransisco native has been generating revenue mostly from her comedy career. Wong's estimated net worth is around $2 million.
Read also: Camila Nakagawa Bio: Father & Ethnicity Detailed - Personal Life Facts
Best known for her Netflix standup shows Baby Cobra; and Hard Knock Wife; and her role as Doris in American Housewife, she has also made appearances in TV shows such as Are you there, Chelsea?; Inside Amy Schumer; and Black Box. Besides comedy and acting, Ali also served as a writer for the first three seasons of the ABC sitcom, Fresh off the Boat.
American Housewife Actress Proud Of Her Height, Ethnicity
Gifted with Asian genes of kohl black hair which fits in perfectly with her slightly below average height, Ali has a phenomenal presence on stage. Her elfin height of 5'3" serves to promote her eccentricity as a stereotype. Wong even joked about it on Twitter when she mentioned her 5 feet height was no matter of an optical illusion.
Born from parents of Chinese and Vietnamese descents, the eccentric Asian American comedian/actress Alexandra "Ali" Wong is the youngest among her siblings.
Filming Netflix Comedy
While Ali has her blissful life, she now set to appear in the Netflix for the comedy show that is to be released soon. Ali stars alongside Randall Park for the upcoming comedy "Always Be My Maybe."
You may also like: Mark Levin Married and Separated! Personal Life Status Now?
The movie has already started its filming and the locations include Golden Gate Park, Chinatown, Fairmont Hotel, The Palace of Fine Arts. Adding to the list, the movie is planned to shoot at the Contemporary Jewish Museum, UN Plaza along with Central Richmond District and Emnbarcadro.
Well, the film that follows two childhood sweethearts reconnecting after 15 years, Ali portrays as a celebrity chef and her love interest in the movie is a struggling musician, Randall Park.
Ali and Randall are also the writer and producers on the project.