Entertainment
"Fury" Actress Alicia von Rittberg Boyfriend, Dating & Affair History Along Professional Trivia
With the budding fame, the increment in curiosities of the fans to get familiar with their favorite celebrities' personal life is nothing strange.
The same scenario is faced by German actress Alicia von Rittberg, who is famously known for portraying a role of Emma in the World War II film Fury. She has portrayed being a love interest and being a woman in an affair for her on-screen projects.
But the question that remains is if she is dating anyone in real life!
Unsuccessful Affair In Reel-Life!
24-years-old Alicia has been acclaimed for her acting ability and also for her flawless and beautiful looks. Both the factors of the actress can be seen on her on-screen role as Ida Lenze in the Television series Charité.
Don't Miss:- Chris 'C.T.' Tamburello Wiki: Wedding & Wife, Puts Girlfriend Tragedy In Past
The series that documented the medical status of the 19th series also featured the actual clinic in Berlin. The characters of the show are also based upon the real-life doctors, who worked there during the era, and Alicia, playing as Ida was one of the passionate assistant nurses.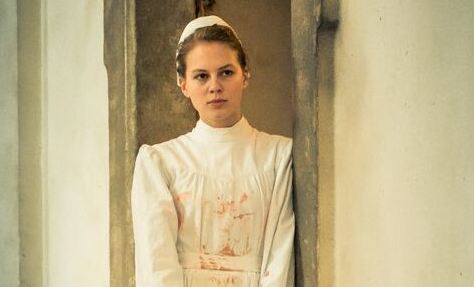 Alicia von Rittberg as Ida Lenze in the Television series Charité (Photo: sueddeutsche.de)
In the series, Ida gets attracted to the wealthy medical student named Georg Tischendorf, with whom she later shares a romantic relationship. But her boyfriend leaves her when she gets too focused on her professional ambitions.
She also suffers an unsuccessful affair with another irascible and depressed character Emil von Behring.
Moreover, Alicia also portrays attractive young women, Emma in the movie Fury, through which she got her big break in the entertainment industry even though it was a minor role. In the film, the innocent Emma is made to have a physical relationship with the inexperienced soldier Norman Ellison played by Logan Lerman.
Alicia indeed had a role that experienced failures in love life, but is that the same case in her real life?
In A Relationship With Boyfriend Or Single?
Alicia has her hands full in case of her professional projects, but when it comes to her personal life, she appears to be empty-handed. She is not romantically linked with any men and is also not rumored to be dating any boyfriend currently.
Her social media account also lacks the presence of any men that can be speculated as for her boyfriend. Moreover, Alicia's dating history or her previous relationships also remains confined to this day.
You May Also Like:- Terry Gross Is Not A Lesbian! Just A Young-By-Heart Personality With A Lowkey Husband Who Likes To Talk About Stuff
So, speculating at all the details, Alicia is reportedly single. Perhaps, she is focusing on her budding career rather than giving time to weave a relationship, which may be doomed to failure.
Moreover, she has been keeping her personal life low-key as Alicia has not been active on Twitter since December 2016 and on Facebook since December 2017, which is why not much about her dating life has been known.
Too Busy To Be Dating!
Alicia has been in the entertainment world since a young age. She started with small film roles since 2000 and grabbed attention via a ZDF miniseries My Wonderful Family in 2008.
Afterward, she got involved in numerous movies like The Mystery Of The Whale, Romy, Hindenburg: The Last Flight. Alicia got her big break from the movie, Fury, where she starred along with Brad Pitt, Logan Lerman, and Shia LaBeouf in 2014.
Later, she landed as the lead role in 2017's TV Mini-Series Charité and the TV series Genius. As for the latest, Alicia will be featured as Petra Wetzel in 2018's movie Ballon.
She was also spotted attending the premiere of the movie alongside her co-stars Friedrich Muecke, David Cross, and Karoline Schuch which was held in Berlin, Germany on 13 September 2018.
More From LiveRampUp:- Hacked? Actress Kelly Rohrbach Becomes Prey of Hackers, Private Pics Posted Online Just Before the Premiere of Baywatch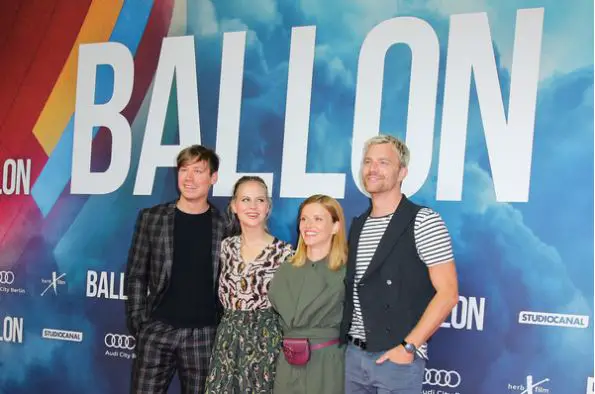 Alicia von Rittberg attend the premiere of Ballon with her castmates (Photo: Zimbio.com)
Previously, she also attended the 2018 summer party organized by the German Producers Alliance on 7 June 2018 in Berlin, Germany.
With the sway of time, Alicia is garnering heavy roles, and also a success in her acting career. With such dedication and consistency in work, she is likely to garner more accomplishments.