Entertainment
Alisha Newton had a Boyfriend When She Was Four?: Horse Lover TV Show Sensation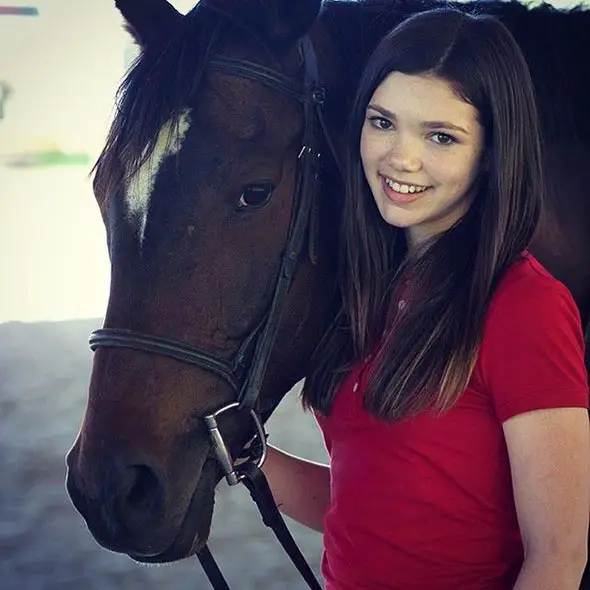 It is surprising how the child actors in the films and television act to an equal level of their experienced senior co-stars like Alisha Newton. At just 17 years of age, this horse-loving actress matches the skills of her co-stars in her series, 'Heartland'. She had spoken of her past relationship when she was 4.
Her Childhood Boyfriend And Suspected Lover
Alisha Newton was asked by a follower on Twitter if she had a boyfriend.
@alijnewton Alisha have you ever had a boyfriend please anwer. Please give advice if you have thanks(Can I ask you questions?) :-) — Lisa Chambers (@LisaCha50163069) February 25, 2014
Newton replied, "I haven't, I'm only twelve." She also replied that she did have a boyfriend when she was 4 and that she was going to get married.
@LisaCha50163069 sorry. I haven't I'm only twelve. I did have a boyfriend when I was 4 though. Lol. We were gonna get married. Haha! — Alisha Newton (@alijnewton) February 25, 2014
Newton's tweet was clear enough to say that she did not have a dating history or at least not a very long one. She also stated that they were going to get married like many kids want to at that age. But, it is clear that Newton has already got her plate full from balancing her life between sets and a horse farm.
Alleged Boyfriend:- YouTuber Nathalie Paris' Young Age Deals Dating Rumors & Alleged Boyfriend
Despite not being linked to anyone in the past, Alisha was rumored to be dating a handsome boy after her alleged boyfriend got featured in several of Alisha social media posts.
The actress has been spending much of her leisure with her supposed lover, whose name is yet to be disclosed.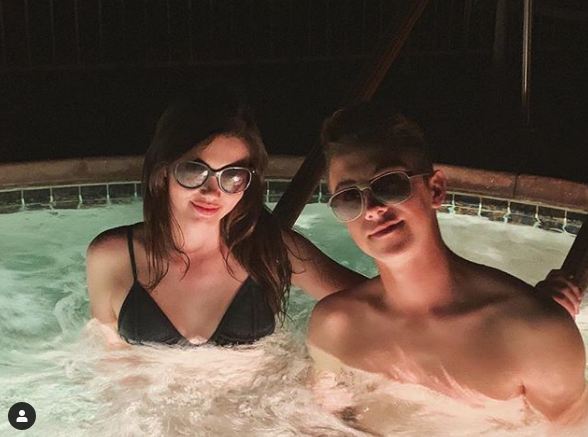 Alisha Newton and her suspected boyfriend enjoy a hot tub in January 2019 (Photo: Alisha Newton's Instagram)
While Alisha identifies the guy as her "bestie," fans can see that there is something more than just friendship going on between the two.
The TV Star:
Alisha had already started to appear in TV commercials at 4 years of age. She began to audition for films and series 4 years later where she discovered her passion. She received her career's boost when she was selected for the role of young Annabeth Chase in the 2013 movie, 'Percy Jackson: Sea of Monsters'.
CBS Reporter's Bio:- Irika Sargent Bio, Age, Husband, Salary
She also got the opportunity to play the lead role in the TV series, 'Heartland' as Georgina Crawley. She plays the role of a smart, tough, and rebellious orphan teenager who runs away from every foster house. But as the TV show progresses she gets attached to the family in the series and starts changing her behaviors.
The Horse Lover:
She is also a horse lover and rider. Just her drama series that takes place in Heartland Ranch, horses are nothing uncommon for the young actress. But she had been accustomed to horses before 'Heartland'. She had learned to ride a horse by riding a horse her grandmother had owned. She likes to keep herself busy in the barn tending and riding her horses. She is disciplined in both Eastern and Western forms and performs jumping and horsemanship. She is targeting to perform a three-day-eventing.
Even Her Twitter and Instagram accounts are flooded with posts related to horses.
Journalist's Horse Farm:- Former "Lou Dobbs Tonight" Anchor Resides on the 300-Acre Horse Farm. What's His Salary and Net Worth?
Alisha also acquired a horse named Diva and has been training it ever since. The horse and its mistress are getting on well which can be known from their terrific performances in the race track.
Happy Father's Day
She spares the rest of the time she has with friends, family and her parents.
Alisha Newton was born on July 22, 2001, in Vancouver, Canada. She is a talented actor who had appeared in an episode of 'When Calls the Heart' in 2015.
She owned a horse called Aflame that she bought in June 2015. Since then she has had a very special bond with him. Further, Alisha is also close to her mother, Diane Newton, and although not much information about Diane is disclosed, she is reportedly a housewife who takes care of her family.