Entertainment
Allen Leech Secretly Married Or Has A Girlfriend? Any Dating Affairs To Clear Gay Rumors?
When you are good looking and as popular as Irish actor Allen Leech, you are bound to get many people's attention...He has been successful in his career thus far and also has been able to make a name for himself in an ample amount...But what is his personal life like? Does he have a girlfriend? Or is he a gay like people often tend to speculate? Let us reach through his personal life...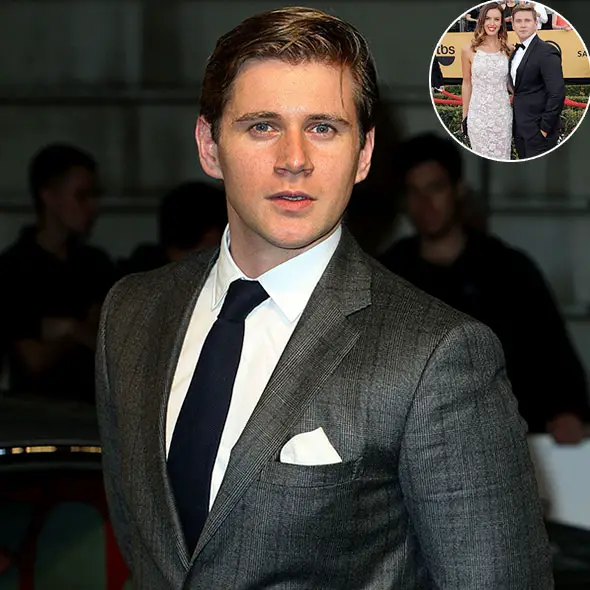 Irish actor Allen Leech has been successful in his career thus far and also has been able to make a name for himself in an ample amount.
But what is his personal life like? Does he have a girlfriend? Is he married? Or is he a gay like people often tend to speculate? Read on through his personal life.
Love Life of Allen; Girlfriend Or Gay? 
Allen has been open about his professional life. But, when it comes to his personal life, not many people are aware of what goes around in it. Nevertheless, those who are big fans of him shall know the fact that he was once in a relationship with Charlie Webster, an English television presenter. 
The two were reported to have met during a charity event back in May 2014, and per Charlie, she did not recognize who Allen was at first.
She said,
 "There is a running joke between us and the Downton cast because I had no idea who he was when I met him. We were at a charity event for Centre Point in May. We were playing table football and I was thinking 'he's really lovely and very handsome and really funny, he's got a good smile."
She further added, 
"We were being really competitive and I beat him. We just giggled so much and had such a good laugh. Then there was a quiz and we were having a lot of banter. I think that's why we clicked because we are really similar when it comes to humor."
That is how the relationship was built, and that led them to be spotted at various places together like BFI London Film Festival, IWC Gala Dinner, and they were cute together with one another as a couple.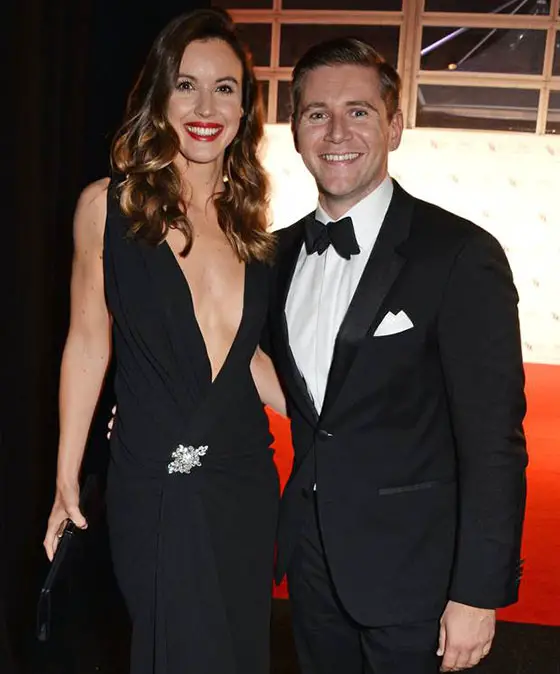 Charlie Webster and Allen Leech attend the BFI London Film Festival IWC Gala Dinner in 2014 (Photo Credit: independent.ie)
But after nearly over a year of dating, the pair broke the hearts of fans when the two revealed that they have indeed broken up and split from one another. The news broke out during the latter half of 2015, and the main reason for the split was termed to be "the wrong time to be in a relationship." 
Heartbreaking Split:- Peyton List Split, What Caused Boyfriend Cameron Monaghan Break Up?
Also, the split was reported to be mutual, and it was time for them to focus on their respective careers rather than bind their lives together. 
Charlie explained, 
"We had an amazing time. There is no bad feeling at all. We are both very career minded. Downton Abbey has just finished and he is going to go on to a huge career. And my career is really exciting. It was the wrong time for either of us to be in a long-term relationship."
She further added,
"I'm single at the moment so we'll see what happens in 2016,"
But fans respected their decision to move ahead in separate paths and kept acknowledging them for the contributions they have made to their respective fields. 
DJ's Girlfriend Revealed:- DJ Akademiks Bio, Net Worth, Age, Girlfriend
And now that light has been shed on his love life involving a female; the gay rumors might as well be just rumors and not reality. Also, when asked if he is gay by saying,
 "Are you Behind the Candelabra or in front?",
Allen replied, 
"I am in front of the candelabra. I am seeing a girl. We have been going out for a year." 
That clears it out for everyone, does it not?
Also, when asked about him getting married, he replied, 
"I'll let you know."
And if everyone was not convinced with his straight sexuality claims, then they must be upgraded with the recent news surrounding Allen, his wedding with the beautiful girlfriend.
Engaged And Married To American Actress
After Allen failed to turn his past relationship into a lifetime commitment, he moved on to a new partner. He started dating American actress, Jessica Blair Herman in 2016 and the pair soon began living together in Allen's home in Studio City, Los Angeles which he bought in 2017 for an astounding price of $1.175 million.
Wedding Fever:- Inside Lauren Burnham Age 27 & Arie Luyendyk Jr. Fairy-Tale Wedding
The couple got engaged in February 2018 as they waited for the arrival of their wedding day, which would come nearly a year after their engagement.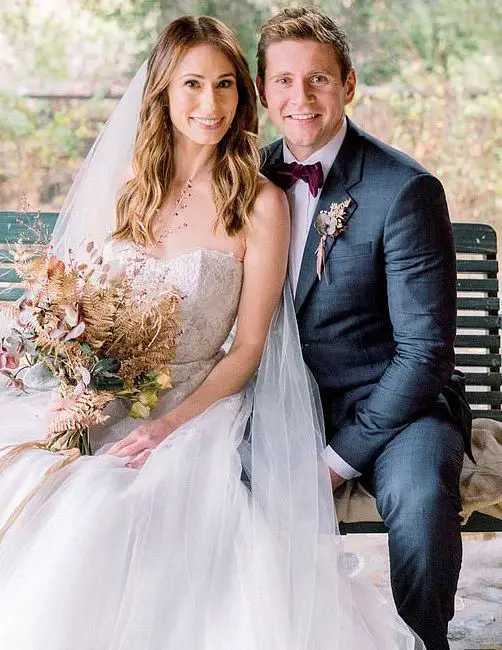 Allen Leen and wife Jessica Blair Herman at their wedding January 2019 (Photo: HelloMagazine.com)
Allen and his fiance Jessica exchanged their wedding vows in January 2018 in an intimate ceremony attended by family and friends including some Michelle Dockery, Rami Malek, Lea Michele, and Darren Criss.
Now, the two are planning to start a family of their own in the near future.
Expecting Baby!
Allen Leech and wife Jessica Blair are walking the path of parenthood.
While many expected the couple to wait a bit before extending their family, the lovers had other plans in mind. Just after a year of their marriage, they are expecting a baby.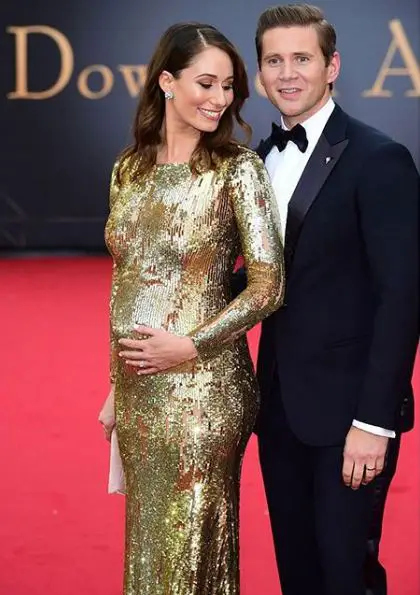 Allen Leech with wife Jessica Blair at Downtown Abbey premiere on 9 September 2019 in Leicester Square (Photo: Jessica Blair's Instagram)
Photos revealing the baby bump were clicked during the Downtown Abbey movie premiere on 9 September 2019. Talking about the arrival of the new member, the happy father-to-be relayed his nervousness and added his wife was facing the opposite emotion. According to Allen, his wife is blooming during her pregnancy.
Not much about the baby is disclosed as of yet, which makes the wait even more interesting for the fans.