A native of Georgia, Alvin Kamara got drafted into the NFL as New Orleans Saints' third-round pick in 2017. He was the 67th overall pick at the 2017 NBA Draft.
As a collegiate athlete, the running back enjoyed a remarkable stint with the University of Tennessee Volunteers. Not only did he win Lindy's Sports' SEC Newcomer of the Year honor but also the Athlon Sports' Tennessee Rising Star award.
After joining the NFL, Alvin's love life and sexuality became a subject of fascination to so many. Read along to learn more!
Gay Or With Girlfriend?
For an athlete, Alvin is quite a good looking guy. Even before getting drafted by New Orleans Saints, rumors of him being gay - solely for possessing attractive physical features - grew rampant.
Facing Gay Allegation:- Ezekiel Elliott Girlfriend, Married, Background
The accusation petered out when media and fans became acquainted with Alvin's dating history. Back in 2017, the Saints' player was head over heels for his then-girlfriend, who went to the same college as he did but was a year or two his junior.
By late-2018, the lovebirds' romance had disappeared as Alvin tweeted about wanting a girlfriend. Five months later, his wish turned into a reality. In April 2019, swirling reports began to circulate that he and a Houston-based stripper named Just Ace were an item.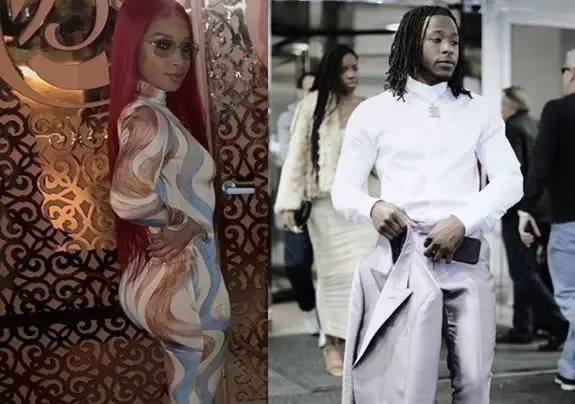 Alvin Kamara and girlfriend Just Ace ignite romance in 2019 (Photo:- sportsgossip.com)
The news of Alvin and his girlfriend recieved confirmation after the two vacationed in the Caribbean.
Bio - Parents & Family
Alvin's mother Adama had fled from Liberia due to a civil war in the country and migrated to the US in 1989. Six years later, the running back was born.
Veteran NFL Star:- Jerry Rice Married, Wife, Family, Bio, Age Parents
The 23-year-old NFL athlete hails from a broken family. Because his parents were never together, Alvin confessed to never talking to his biological father. Even when his dad tried to reach out, he opted not to bury the hatchet — out of respect for his mom, who toiled day and night to provide for him and his younger brother Momolu.
Besides Momolu, the Saints star running back considers godbrother Prince Judah as his family.
Height, Weight & High School
Growing up fatherless as a teenager, Alvin fell into all sort of troubles. He eventually began channeling his anger through football, and it paid dividends. Playing football at the Norcross High School, he recieved "Georgia Mr. Football" honors from the Atlanta Journal-Constitution.
Using his stature of five feet & 10 inches (1.77m) height and 97.5 kgs weight to the fullest, Alvin furthered his footballing career as a college athlete. NFL franchise, New Orleans Saints, took notice of his performances and drafted him in 2017.
Contract, Salary & Net Worth
Signing with the Saints, Alvin penned a 4-year-long deal worth $3.8 million. Per the stated agreement, the running back would earn $972 thousand in signing bonuses.
The contract also guaranteed the Norcross High School Alum an annual average salary of $964 thousand.
Suggested Read:- Tevin Coleman Contract, Net Worth, Dating Status
For making the Rookie of the Year shortlist in 2018, Alvin earned a whopping $1.4 million bonus. Combined his performance incentive with the salary, his net worth should reach multi-million status by 2019.