Sports
Tevin Coleman Contract, Net Worth, Dating Status
Tevin Coleman is an American football player, currently applying his trade at NFL outfit San Francisco 49ers. Actively playing for five seasons now, the star running back was initially fellow NFL franchise Atlanta Falcons' third-round pick in the 2015 NFL Draft.
NFL Stats
In his NFL rookie season, Tevin played a total of 12 games - three of which came in a starting position. He averaged 4.5 yards per rushing attempt while registering three fumbles.
Former NFL Athlete In Our Vault:- Ryan Nassib, NFL Quarterback Stats, Salary & New Contract
As a freshman, his receiving stats saw a significant improvement as he finished the year with 421 receiving yards and also completed eight touchdowns. The following season, Tevin recorded impressive stats of 4.0 yards per rushing attempt, five touchdowns, and 299 receiving yards.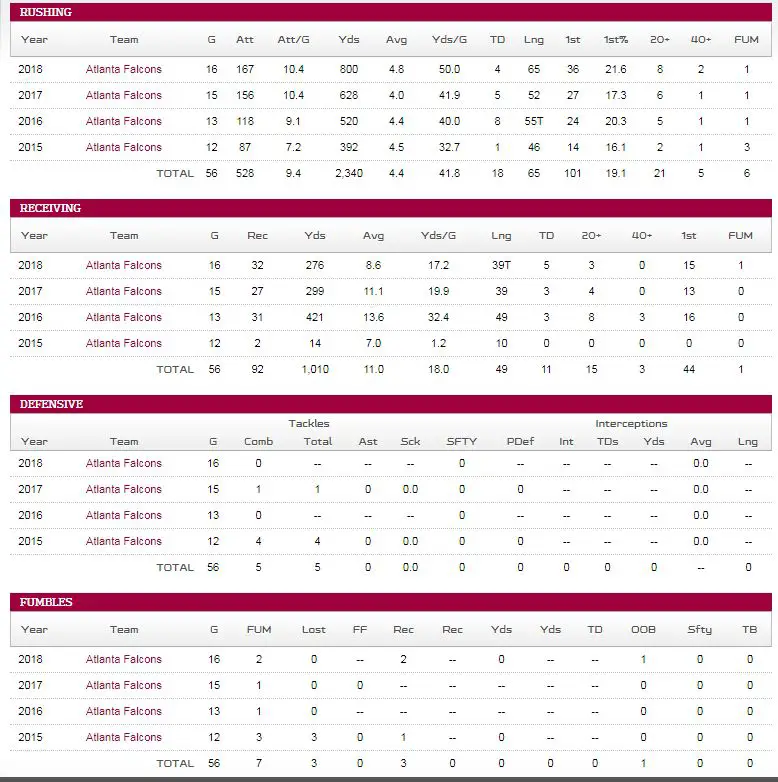 Tevin Coleman's NFL stats from 2015 to 2018 (Photo:-nfl.com)
In his penultimate season though with Atlanta Falcons, the star running back completed the campaign with a career-high 800 rushing yards while also registering five receiving touchdowns.
Net Worth From Multi-Million Contract
Following his four glorious years stay at the Falcons, in October 2018, Tevin signed a two-year contract worth $8.5 million with his current team San Francisco 49ers. Per the deal, the West Coast-based NFL outfit would make $5.25 million guaranteed payment to him.
Back in 2015, when he first got drafted, the Illinois native signed 4-year $3.2 million contracts. Upon penning the agreement, the Illinois native recieved $745 thousand in signing bonus.
Players With Respectable Net Worth:- Kenan Smith Wiki, Girlfriend, Net Worth, Parents
All thanks to his multi-million NFL contracts, Tevin enjoys a respectable net worth - a sum that's likely to surpass the seven-figure mark by ease.
Girlfriend Talks - Who is Tevin Coleman's Girlfriend?
Besides being an exceptional talent on the field, Tevin is also an exemplary father figure to twins he shares with his longtime girlfriend, Ahkeliah Murib.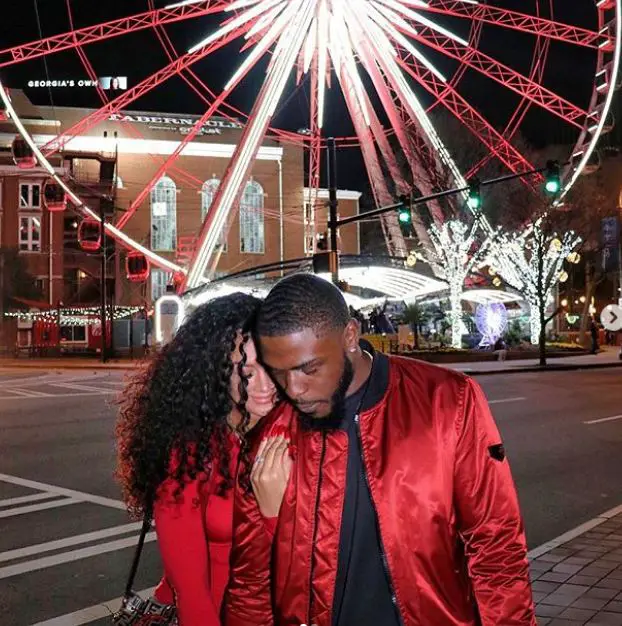 Tevin Coleman with his girlfriend Ahkeliah Murib at the SkyView Atlanta in March 2019 (Photo:- Tevin Coleman's Instagram)
Ahkeliah is a model by profession with African American and Palestinian ancestry. The San Francisco 49ers player and his muse probably met somewhere in 2016 but, didn't offically begin dating until January 2017.
In November 2017, Tevin and his model girlfriend welcomed their first bundle of joys - twins named Nazaneen and Nezerah. Speaking on his fatherhood experience in May 2018, the NFL star said:-
"Seeing those kids every day with a smile. When they see me, they smile. It just brings joy to my heart. It's an amazing feeling."
Now that the Oak Forest High School graduate is already leading a complete family life with his wife prospect & their kids getting married seems like a logical next step, no?
Essential Details: From Age To Height & Weight
Born to Liberian immigrant parents Wister and Adlevia Coleman, Tevin honed his footballing skills at Oak Forest High School. The Illinois native - now age 25 - further developed his sporting talents at Indiana University.
Discover New:- Dacre Montgomery Age, Dating, Girlfriend, Net Worth
Using his six feet and one-inch height and 210 pounds weight, the former Atlanta Falcons player put impressive stats on the board. In his senior college year, he even got named a Unanimous All-American and First-team All-Big Ten selection in 2014.