A fourth overall pick at the 2016 NFL Draft by Dallas Cowboys, star running back Ezekiel Elliott made a promising start to his footballing career. In his rookie season, the Alton Illinois-native registered 1,631 yards while leading the team to a first-place finish.
What should have been an even impressive follow-up ended up in a disastrous note -- His 2017 season got cut short after the skeletons about his relationships surfaced.
Guilty Of Abusing Ex-Girlfriend?
Until 2017, Ezekiel maintained a low-key dating life and for substantial reasons.
Amid the 2017 NFL season, startling truth about his abusive past surfaced. His victim was none other than his former lover, Tiffany Thompson. Tiffany, a fellow Ohio State University graduate, released some disturbing images of the bruises she had sustained via Instagram.
Per reports, Ezekiel physically imposed himself on Tiffany three different times. All the incidents reportedly occurred between 17 July 2016 and 21 July 2016.
Domestic Violence Perpetrator:- Orlando Brown Arrested For Alleged Assualt Against Girlfriend; Call For A Split?
Though his victim identified herself as his ex-girlfriend, the disgraced Cowboys' player claimed that the two never dated. The texts messages leaked afterward told a different story.
Upon learning about the misdeeds, the NFL launched an investigation and found Ezekiel guilty of violating the league's conduct policy. He recieved six-weeks game suspension. The star running back, however, never saw any criminal charges.
In his appeal against the ban, Ezekiel accused Tiffany of using race to threaten him. He then told the NFL authorities that his alleged ex-girlfriend had tried to get back at him by getting intimate with teammate Lucky Whitehead.
Status Now: Married Girlfriend?
Throughout the debacle with his alleged perpetrator Tiffany, Ezekiel recieved unconditional love and support from girlfriend Halle Woodward.
He and Halle reportedly began dating in late 2017. Surprisingly, it was his mother Dawn Dee Elliot who outed the duo's relationship. Taking to Instagram in November the same year, mama Elliot shared an image of her and Halle with a telling caption that read:-
"We love having her around... "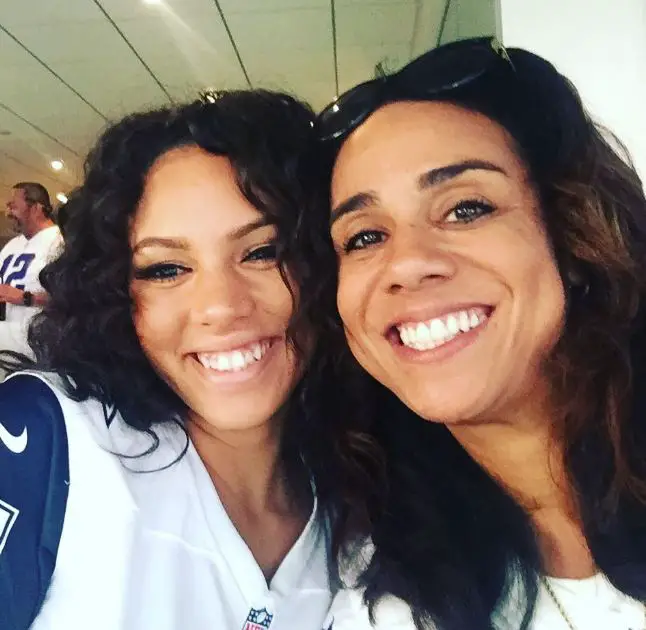 Ezekiel Elliot's mom, Dawn Elliot smiles for a birthday selfie with his girlfriend, Halle Woodward circa November 2017 (Photo:- Dawn Elliot's Instagram)
A very private individual, Halle is a graduate of Iowa University. She works as a registered nurse by day and by night, at a high-end bar in Dallas.
Another Reclusive NFL WAG:- Elaine Alden Bio, Married, Landry Fields, Net Worth
Given how notorious Ezekiel and his wife prospect Halle have been about their romance, it shouldn't come as a surprise if the two turn out to be a married couple.
Background - From Age To Net Worth
Ezekiel was born on 22nd July 1995 in Alton, Illinois. At the time, his hometown housed less than 30 thousand people.
He came from a rich athletic background as both of his parents were college athletes. His father, Dawn Huff played for University of Missouri's football team.
Excelling in every sport imaginable, Ezekiel picked Ohio State University for his college footballing career after graduating from the John Burroughs School. At the University, he helped his team win the inaugural of College Football Playoff National Championship.
Following his draft in 2016, he signed a four-year contract worth $24.9 million with Dallas Cowboys. Upon the signing, the NFL franchise awarded him with a $16 million bonus.
Background Of A Different Kind:- Lisa Nicole Cloud Background: Cheating Husband, Married Life Shaken, Divorced?
On his fifth-year in the league now, Ezekiel - now age 23 - boasts a net worth of $20 million.