Entertainment
CNN's Amanda Carpenter Husband; Wedding Vows Rocky Or Rock Solid?
CNN's Amanda Carpenter is blissfully married to her husband...despite being accused of having an affair with...She is a proud mother of her...children sharing a family of...with her husband. Previously she faced allegations of having affair with...which she denied saying...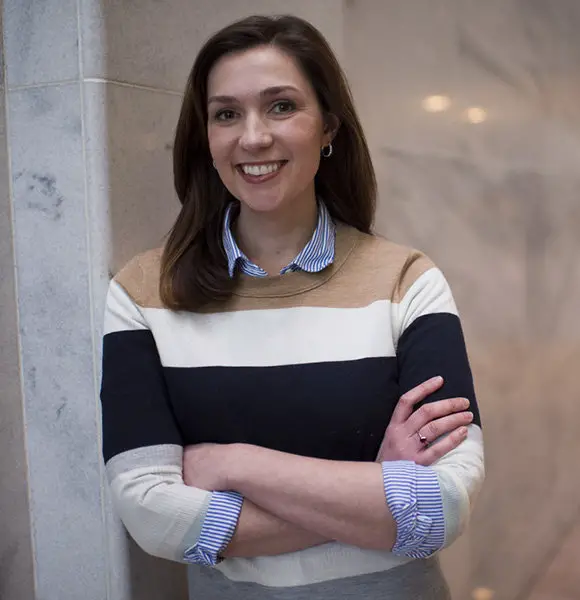 Political Advisor and Speechwriter, Amanda Carpenter previously worked as a former senior staffer to Senators Jim DeMint and Ted Cruz. Adding to it, she often makes appearances on CNN as a political contributor.
Apart from her rising career, Amanda shares a loving relationship with her husband. Not only is she a devoted wife but also a mother of two kids whom she shares with her other half. 
However, her relationship with husband has been questioned as she is one of the faces to have surfaced during the "Ted Cruz Sex Scandal."
Lawfully Wedded To Husband; Happy Family Of Four
Also an author, Amanda Carpenter is a lawfully wedded woman, happily married to her husband, Chris Kinnan for years. The married couple is still going strong with the romance which they share.
Read Also: Piers Morgan, Massive Net Worth Holder Fired By CNN? Here's The Truth
Even though, how the couple met and fell in love is still a mystery, the couple sure seems to share a strong bond. The pair also became proud parents of their two kids - a son, aged 4, and a daughter, aged 6 together. 
Together, they make a small happy family of four, multiplying family moments time and again. 
Despite having a busy schedule, Amada glows every time she gets to spend with her family. First establishing herself as a good mother, she has found her way as a working mom.
The Washington Times columnist, who has total support from her husband, often posts her family moments on her Twitter and Instagram. Her posts on social media include her family moments during family getaways to celebrating her children's birthdays.
Her Instagram is filled with photos of her kids sharing their family moments among her followers. Her latest picture with her family on Instagram dates back to June when posted a picture with her kids and husband as they attempted to take a selfie.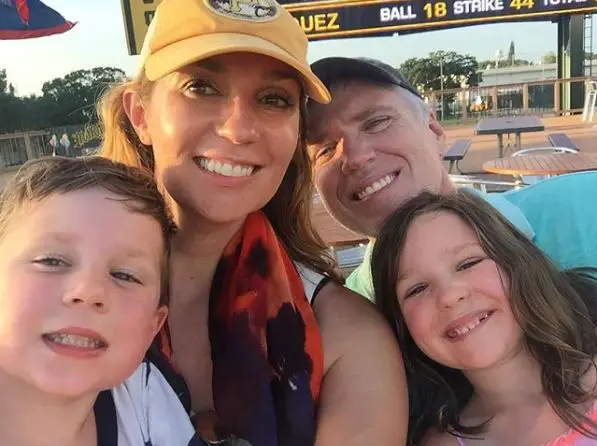 Amanda Carpenter with her husband and kids. (Photo: Amanda Carpenter's Instagram)
You Don't Wanna Miss: Mark Levin Spills the Beans: Shocks Everyone When He Says My Fiance's son. New Wife?
Well, by the looks of Amanda's social media, it seems that she, who completed her education in Communication Studies, is undoubtedly enjoying her family life with her kids and supportive husband.
Denies Sexual Allegations; "Been 100% Faithful To My Husband"
While Amanda shares a strong bond with her husband, it's not that her relationship with him has not been under scrutiny. There have been sexual allegations where her name was tagged along with Ted Cruz during his sex scandal.
Among the five women accused of having a relationship with Ted, Amanda was one of them. The National Enquirer's March 25 issue featured accusations against Ted. There were claims that he had an affair with five different women, whose identity was not revealed then.
But the "internet detective" found three of the women which included Amanda, which came as a big blow to her family. Amanda denied the accusations and divulged that her relationship with Ted was only professional. She said,
"I had a purely professional relationship with Senator Cruz, and I want to go further than that."
Adding to it, she even claimed that she had been faithful to her husband and was more focused on being a good mother. She said,
"I have been 100% faithful to my husband. There is nothing more important to me than being a good wife and a good mother. I hope no one else has to go through this."
More From Liverampup: Michael Avenatti & Wife Failed Married Life; Reason Behind Split? Here's Answer
Well, despite the accusations, Amanda went strong with her wedding with her husband. Looking at them now, they sure share quality time with their kids.