Entertainment
Piers Morgan, Massive Net Worth Holder Fired By CNN? Here's The Truth
There are very few controversial figures working on show-biz today that can out-wit and out-humor British TV personality Piers Morgan. Having started his journalistic career working for some of UK's biggest tabloids, Piers found his foothold as a TV personality which began circa 2000's.
His foray into the world of television as a talent show judge didn't go unnoticed. Despite having little to no experience in the American political scene, CNN hired him to replace the legendary talk show host Larry King.
To everybody's surprise, the current Good Morning Britain host left the network after four years. What is the reason behind his exit? Was it an amicable split? Was Piers, as reported by a various news outlet, actually fired from CNN for his support for regulated gun control policies? Or Did Piers leave the network to spend more time with his wife?
Twitter Savvy Media Personality Piers Morgan Fired By CNN?
Coming into his employment at CNN, Piers faced a daunting task of replacing the irreplaceable.
Interesting:- Ryan Nassib, NFL Quarterback Stats, Salary & New Contract
By 2010, Larry King had become synonymous to the news network CNN. So, when CNN elected him as Larry's replacement, he was already destined for failure.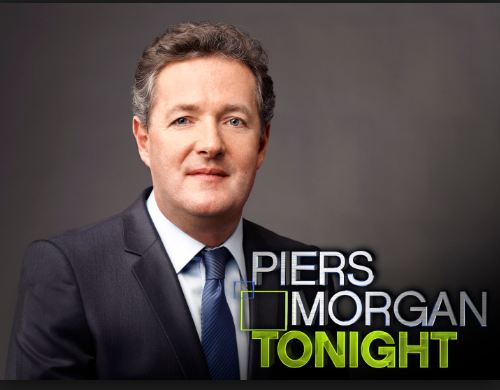 Piers Morgan on the promotional poster of his CNN late night talk show (Photo:- IMDB)
Piers - who has a reported net worth of $20 million - had inherited an audience of around two million when he first took over the late night talk show gig in January of 2011. But by March of 2014, the viewers' number for Piers Morgan Tonight dwindled to 270 thousand, which prompted CNN to cancel the show.
Following the show's cancellation, former Britain's Got Talent judge broke the silence via Twitter after the rumors suggesting that the network had fired him because of his gun control rhetorics began to spiral uncontrollably. He tweeted:
"But after considerable thought, I decided not to accept it - and to try pastures new."
In his earlier tweets, Piers revealed that executives at CNN had lured him into signing two years contract. He quipped:
"I had a fantastic time in my four years at CNN and have huge respect for Jeff [Zuckerberg, CNN boss] and all the people who work there. Great company, great network..."
The pastures Piers was alluding to in the above tweet very could well be his stint at Good Morning Britain as its host.
Discover:- Mix Ethnicity Adrienne Janic, Adventures With Son: Where is Her Husband, Bud Brutsman?
An Arsenal fan since his younger days, Piers, when he isn't busy providing social commentary on Twitter, can be seen entertaining the audiences of Good Morning Britain with fellow female co-hosts Susanna Ried, Laura Tobin, and Kate Garraway.
Given his earnings at both Piers Morgan, Tonight and GMB are the same - $2 million/year in salary - his move feels more like an effort to stay close to his wife and kids than salary driven.
Did Piers Morgan's Wife Inspire Him To Leave CNN?
Under the stoic face, Piers - who's a staunch supporter of gay rights - puts up for the world to see, is a man who adores his wife.
In a rare showcase of public affection, he penned a heartwarming tribute to his current wife, Celia Walden on Instagram by quoting Winston Churchill on the pair's eighth year wedding anniversary.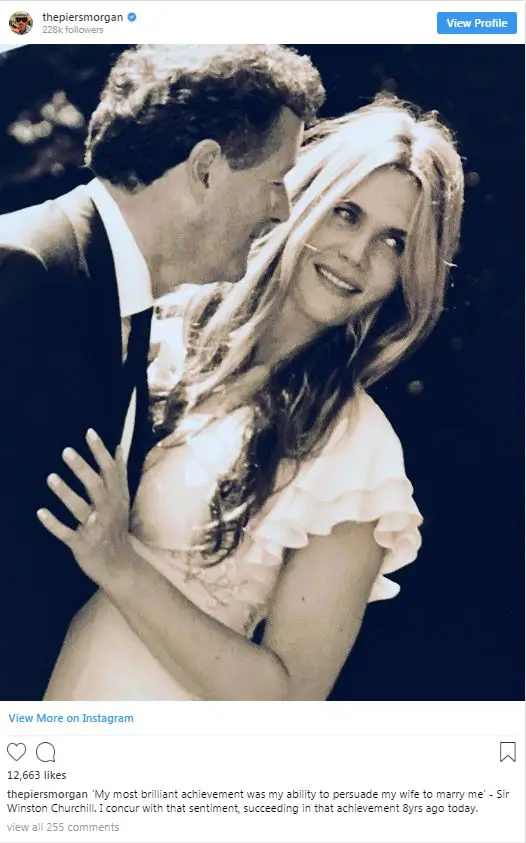 Piers quotes Winston Churchill on a post marking his and his wife's eighth year wedding anniversary (Photo:- Piers Morgan's Instagram)
Piers' wife, Celia, is a feature writer & columnist and the daughter of the former Member of Parliament, George Walden. The power couple, who got married in 2011, shares a 7-year-old child.
Read Also:- QVC's Mary Beth Roe Eternal With Husband | Daughter & Family Status
His marriage to Celia was surprising in so many fronts. Not only did Piers not invite fellow Britain's Got Talent judge, Simon Cowell, but he also went against his own words. He once had professed a desire to never go through another marriage again after his divorce from his ex-wife. In 2009, he told Daily Mail:
"The divorce was a pretty horrendous experience - all divorces are deeply unpleasant."
Later in the interview, the Good Morning Britain host opened up about how lucky he is to have Marion Shalloe as his ex-wife. He and Marion divorced in 2008, after 17 years together as a married couple.
Over the years, the former flames have become a template for good exes, as they helped raise their three children(all boys) in their terms.