The American footballer, Andrew East, started as the team captain for his high school team and then went on to play for the football team of Vanderbilt.
Unfortunately, he wasn't drafted by the NFL in 2015. However, he got signed to Kansas City Chiefs in May of the same year. Playing from the long snapper position, Andrew is proving his worth.
What Is Andrew's Net Worth?
Andrew, along with the athletic ability, posses an academic talent.
While playing for the football team at Vanderbilt, he managed to earn a degree in civil engineering. After completing his bachelor's, he worked towards an MBA and became a graduate in 2015.
Utilizing his education, in2015, he became a managing director of Charmides Capital, which focused on early-stage ventures to provide strategy, operational process, aligned management, and capital to drive growth.
Balancing the position, Andrew found time to play for Kansas City Chiefs, Oakland Raiders, Los Angeles Rams the Jacksonville Jaguars, and the Memphis Express, before finally settling at Washington Redskins.
Multifaceted Andrew also runs a YouTube channel which earns him a salary of $9K - $144.3K per year. Similarly, his job at Washington Redskins pays him an average salary of $525,000 per year.
Courtesy of his various endeavors, he boasts a decent net worth, although not revealed just yet.
Famous Wife
Andrew lucked out in finding a gorgeous and talented wife. He is married to Olympic gymnast, Shawn Johnson.
Well, the couple met through mutual friends in 2012 but didn't start dating till much later. However, once they started going out, things began to fall into place. During a Chicago Cubs game at Wrigley Field on 24th July 2015, Andrew asked Shawn to become his wife.
No points for guessing! She said yes. Soon enough, the engaged couple got married on 16th April 2016 in Franklin, Tennessee. Initially, the marriage was tough due to the crazy schedules of Andrew and his wife. But, the pair stuck through thick and thin.
They supported each other even when Shawn got pregnant and suffered a miscarriage. They announced the news via YouTube in October 2017.
Recommended:- Michael Phelps Wife, Pregnant, Baby
Being fond of children, both Andrew and Shawn were devastated. However, the hard times didn't grow them apart but brought Andrew and his Olympian wife together than ever. Meanwhile, good news also came into their life.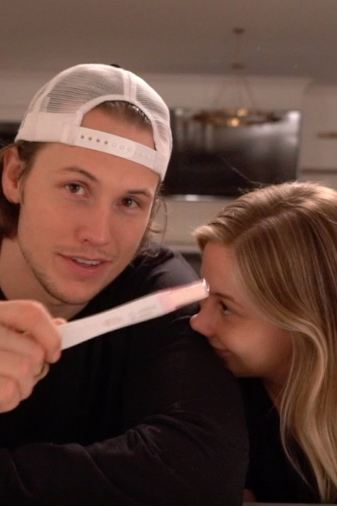 Andrew East shares the happy news of his wife Shawn Johnson's pregnancy on 2nd May 2019 (Photo: Shawn Johnson's Instagram)
Via an Instagram post of 2nd May 2019, the pair shared that Shawn was pregnant again. 
Baby In 2019
On the fateful day of 4 November 2019, Andrew and his wife were blessed with a beautiful baby girl in their arms.
The proud parents announced the arrival of their firstborn via Instagram. With an incredible pic of the three, his wife shared the photo on her handle captioning the photo.
"You are our everything,Welcome to the world baby girl."
It was a moment of pure bliss for the two for sure. The pair had been marking every little moment of their little bundle of joy's progress for months now. Documenting the announcement, ultrasound, and other milestones along the way, the parents compiled much of their pregnancy on their YouTube channel, The East Family.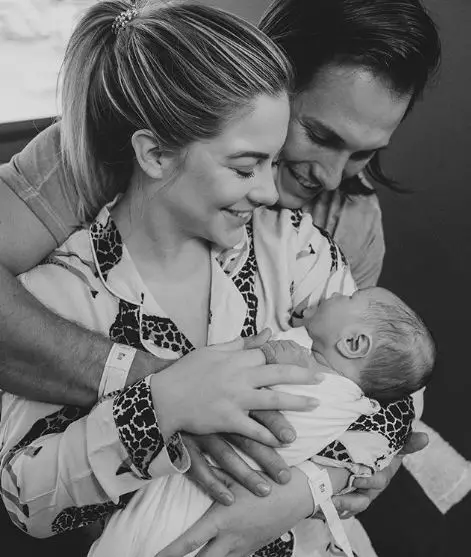 Andrew East with wife Shawn Johnson and their baby girl on 4 November 2019 (Photo: Shawn Johnson's Instagram)
While a reveal of the baby girl birth date and gender was a piece of pleasant news, a name, however, has yet to surface. The couple has just given birth to the newborn so that it can be expected like much of their open attitude towards the info on their baby's other detail a name will also pop up sooner or later.
Andrew's Height, Age, And Siblings
An athlete by profession, Andrew's measurements compliment him; he stands at 6 feet 2 inches (1.87m) with a weight of 108 kg. He is now 28 years of age according to his date of birth, 17th September 1991.
The NFL long snapper was born as the son of parents, Guy and Marsha East. He hails from a big family; his siblings include three brother-Guy, James, and Grant - and a sister named Christine.