Entertainment
Gymnast Shawn Johnson Post Wedding Love & Tragedy With Husband
Walking down the aisle with her NFL husband, Shawn Johnson entered an endless journey to happiness while managing her personal and professional life...... The former Olympics gymnast, who ages ... led a comfortable life after the wedding and even became pregnant with her first kid only to later lose the baby in a tragic...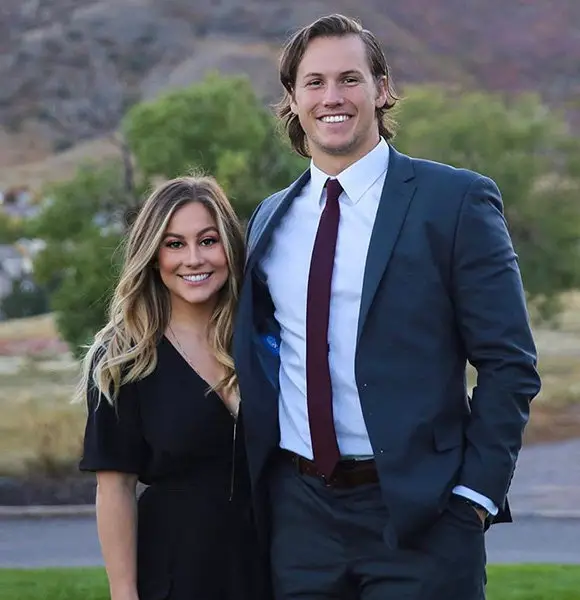 Walking down the aisle with her NFL husband, Shawn Johnson entered an endless journey to happiness while managing her personal and professional life.
The former Olympics gymnast, who won a gold medal at the young age of 16, now happily leads a comfortable life with her beau, but with such a fairytale love story on the go, the couple has a heartwrenching tale to share.
With a miscarriage, the partners battled emotionally for long. But, every night has its dawn, and the duo has emerged stronger than ever. Shawn is pregnant again, and the couple is overjoyed to welcome their first child together.
Ties Knot As Husband And Wife; Rustic-Chic Wedding Details!
The love tale between Shawn and her football player beau, Andrew East, first incepted from the ground of the Olympics. After watching the small spirited blonde jump off the pole and steal the gymnastic performance, Guy East, Andrew's elder brother, knew that the Iowa native and the footballer would make a great pair.
Guy convinced his younger brother to get on the plane to Los Angeles and meet the Gymnast, who at the time was caught up performing in the reality show " Dancing With The Stars."
On Olympian Wedding: Meghan Duggan Married At Age 31, Her "Best Day" With Pretty Athlete Wife 
After nearly six months of going out and dating each other, the duo was sure about their feelings towards each other. Talking about the romantic endeavor and aw-worthy connection, the Dancing With The Star winner said,
"I fell head over heels, I guess."
Posting a clip that left millions of her followers with wet eyes watching her boyfriend bend his knees to her, Shawn, along with her then-fiance, decided to take their relationship one step ahead.
Walking down the aisle to East in a lovely outdoor setting in Nashville, Tennessee, at the age of 24, the Tennessee resident changed both her surname and life around with her husband.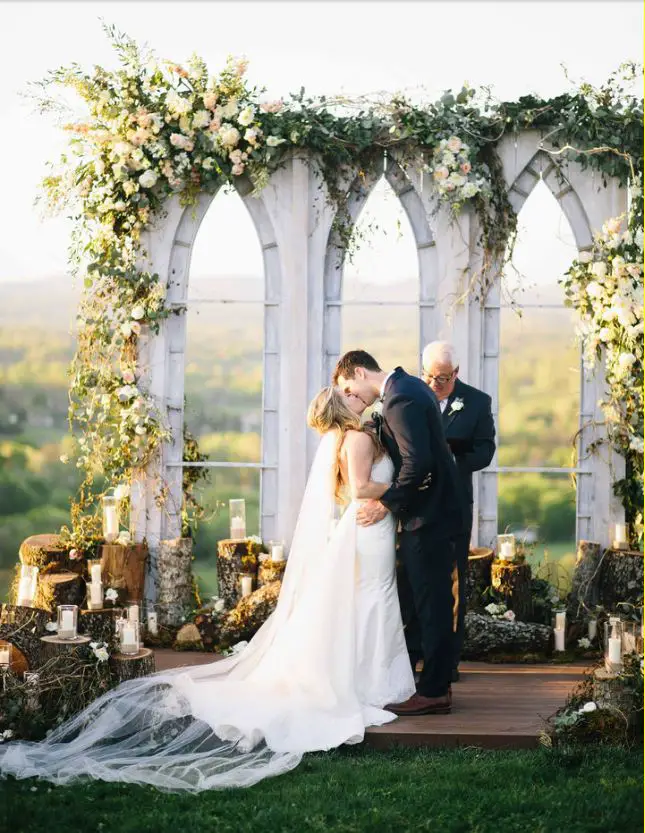 Shawn Johnson kisses her husband, Andrew East at their grand wedding in 2016 (Photo: Huffpost.com)
The 16 April 2016's grand wedding had many beautiful pictures steaming online of the couple, who shared their vows and kisses in front of their family and friends. Shawn, who looked stunning in her Olia Zavozina strapless wedding dress, shared a social media post about her rustic yet elegant wedding with her husband, Andrew.
Miscarriage; Pregnant Shawn Faces Big Tragedy!
After claiming her win at the Olympics and marrying the love of her life, Shawn, who stands at the height of 5 feet 1 inch and enjoys a total net worth of $9 million, didn't hit everything right.
Don't Miss: Taylor Mills Age 31 Is Married, Intimate Wedding Ceremony With Brett Young!
Married with Andrew East for three years now, the athlete broke the tragic news about her miscarriage after spilling the beans about her pregnancy eight months before it.
Expecting her first child on the way, the retired Olympics gymnast had shared the news of her pregnancy,
"When I found out I was pregnant, it was the greatest moment in the world because it was basically God's miracle of, 'Yes, you've hurt your body for so many years, but this can still happen.' "
The 27-year-old, who waited for a week-long to share the good story with her husband about the pregnancy, later lost her baby to a miscarriage, the next day of breaking the news to her beau.
The homegrown gymnast shared her tragedy to the public through a YouTube video saying,
"I had these guilty feelings of if, 'I can't even take care of child for a week in my stomach, I can't raise a child on my own, I felt guilty to Andrew that I had lost his child, and I felt guilty to God that I lost his child."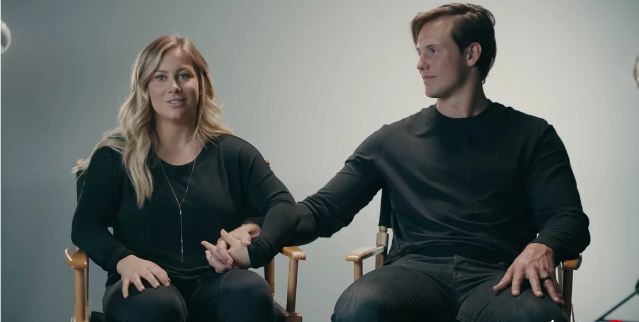 Shawn opens up about her miscarriage to her fans through her YouTube Video (Photo: People.com)
She further explained her emotional torrent opening up to People saying,
"It was just this super emotional time. It was probably the hardest thing I've ever had to go through. I've never felt such loss like that, and I didn't know how that was possible."
Even after going through the misfortune of loss and grief, Shawn still stands firmly with the never-ending support from her followers who have been touched and to a certain extent, share a similar story like her.
Similar Article: Vienna Girardi Reveals Miscarriage of Twins With Husband-To-Be! Tragedy Fall at 18 Weeks
With a husband, who appreciates her despite all odds and supports her in everything she goes through, the former athlete has found a loving partner to share her life.
Pregnant Again
As all tragedy shall pass, the grieving time is over for Shawn and Andrew. The athlete became pregnant again, moving on from her past trauma. 
Shawn shared the news of her pregnancy via an Instagram post on 4 April 2019, where she expressed her excitement to welcome her first baby.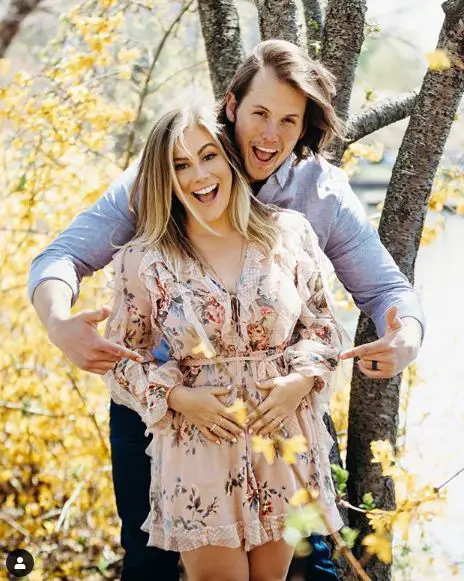 Shawn Johnson alongside husband Andrew East announces her pregnancy on 4 April 2019 (Photo: Shawn Johnson's Instagram)
In her Instagram profile, she also shared a video of her pregnancy test, revealing that the couple was aware of their child's conception since 17 February 2019. 
Welcoming Baby In 2019
Since the news first hit shelves that the gymnast was pregnant, fans and well-wishers were all waiting for the blessed day of the baby's arrival.
The beautiful lady was regular on posting about her baby's development through a page dedicated to the baby. She and her husband even documented their pregnancy announcement, first ultrasound, and other pregnancy compilations and milestone on their YouTube channel.
Shawn and Andrew welcomed their baby girl into the world on 4 November 2019. The pair had waited until the birth of their child to know the gender. The news of her baby's arrival was first made public via her Instagram handle. Sharing a wonderful photo of the three, the pair announced the news, and they could not have looked happier.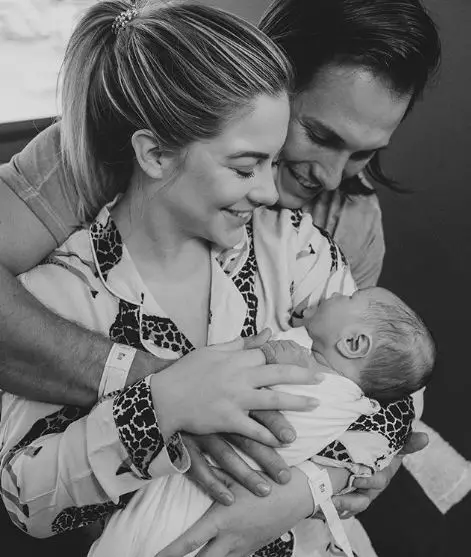 Shawn Johnson with husband Andrew East and their baby girl on 4 November 2019 (Photo: Shawn Johnson's Instagram)
Celebrity gossip soon took the spotlight to make the news spread. As a newborn, the baby girl is already trending on the internet, especially with her own Instagram handle, "theeastbaby." With more tha 216K followers already, the little lady is a sort of celebrity.