Entertainment
Andy Biersack Wife, Wedding, Net Worth & Tattoo Details
Rock icon Andy Biersack is best known as the lead singer of the gothic metal band, Black Veil Brides. Several hit tracks, including Knives and Pen, Fallen Angels, and In The End, were released during his tenure with the group.
Moreover, in 2012, he made it to the fourth position in Kerrang's list of the 50 Greatest Rock Stars in the World. However, in 2014, he started his solo career under the alias, Andy Black.
Andy Biersack's Wife
Andy is married to Juliet Simms. His wife is a pop singer, and 2012 runner up on NBC's reality show The Voice (2011). Apart from that, she was the lead vocalist and guitarist of the band, Automatic Loveletter as well.
The Voice Contestant Katie Kadan Wiki:- Age, Songs, Family Details Of The Voice Finalist
The singer first met Juliet in 2011 during the annual Warped Tour of his band Black Veil Brides.
After dating for a few years, they finally tied the knot on 15th April 2016. Their wedding was held in a private location among their friends and family members.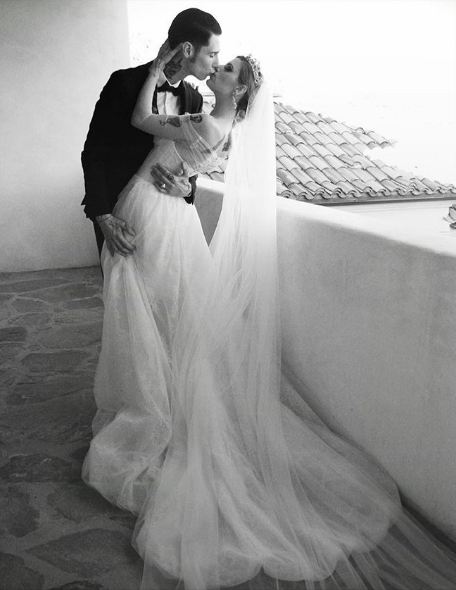 Andy Biersack and wife Juliet Simms during their wedding on 15th April 2016 (Photo: Andy Biersack's Instagram)
He also shared about the experience writing,
I got to marry my best friend, love of my life and soulmate. Words cannot express how I feel right now. Andy Biersack, I will love you forever, my everything, my always.
However, as per the report of TMZ in 2016, the two had already tied the knot legally in 2012. The news source even provided the screenshot of their marriage certificate that dates to 18th March 2012.
Tattoo Details
The rock icon has engraved his skin with several eye-catchy images that serve different meanings. On his right arm, there is an unfinished tattoo of joker that also combines the face of character Alex from Kubrick's movie A Clockwork Orange (1971). And below it is the logo of Batman with mom and dad written above it.
Likewise, on the left arm, a logo of Seagram seven tattoo is clearly visible along with a fallen angel text, one of his songs. Interestingly, right below it, the singer chose to embed a picture of Koala dressed like him and drinking a whiskey.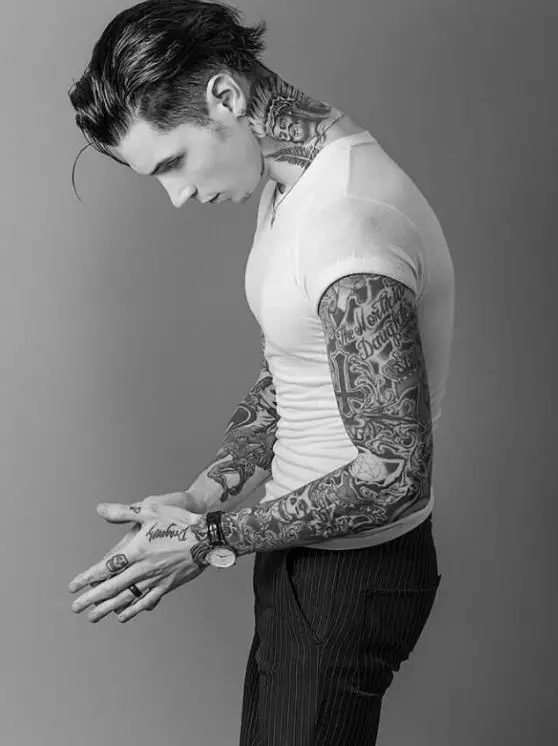 Andy Biersack's displays his tattoos during a photoshoot (Photo: weheartit.com)
Furthermore, right above his left hand, his first tattoo can be visible, which is the logo of Alkaline Trio. Also, the picture of Laura Jane Grace, wife of Against Me track singer, is apparent on his left biceps.
Molly Burke Dating Status Now:- Facts On Boyfriend, Blind & Tattoo
The back of his neck contains a tattoo of Jesus Christ dressed as a native American. As per the artist's interview with Pitcam in 2014, the image serves as the symbol for American roots.
Moreover, on his right hand, the word "dragonfly"(his wife's nickname) is engraved.
Facts About Andy Biersack Including Age, Height:
Andy Biersack was born on 26th December 1990 in Cincinnati, Ohio, USA.
As per the site Celebrity Net Worth, his net worth is $4 million.
He stands 6 feet & 4 inches (1.93 meters) tall.
The singer's parents are Chris Biersack and Amy Biersack.