Entertainment
Gymnast Angel Rice Age 19 Bio: Olympic Desires To Height & Parents Details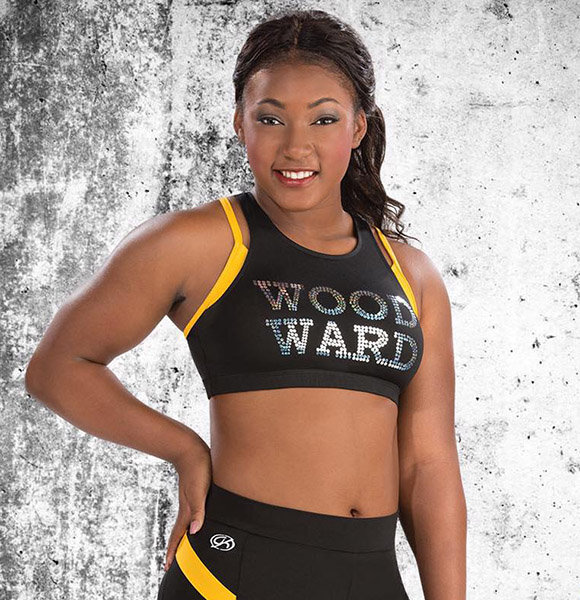 Considered as one of the potential gymnasts set to represent the US in the Olympics shortly, Angel Rice has experienced the taste of victories at a young age. Having won numerous domestic championships, Angel is a young athlete to have a Guinness Book Record to her name. 
In her young age, the gymnast has already witnessed the highs and lows of life. Her struggle days was to such extent that her parents could not afford her formal training!
From all the highs and lows, Angel was written a success all on her talents and might. 
Continue with this article to know more about Angel's bio, net worth, and career stats along with the details of her parents and family!
Bio Includes Guinness Book Records With National Trophies, Olympics On The Way
Angel, aged 19, is a professional gymnast known for representing the U.S. in the junior division of both national and international competitions. 
Her bio suggests that she started to train in tumbling at the age of three.
Further, she was also selected as a power tumbler and got the chance to perform with the All-Star Cheerleading. Till date, Angel has won the World Cheerleading Championship twice; once with the Stingray All-Stars in 2012 and the second time with California All-Stars in 2015.
Additionally, she has also won numerous National Championship titles working as a cheerleader.
You May Also Find Interesting:- Melissa Rycroft Wedding With Husband Turned Out To Be The Best Decision! A Look At Her Family Of Five With Three Kids
Angel has even appeared in TV shows including the Steve Harvey Show and theToday Show. She is also the recent holder of the Guinness World Record for the Most Double Twists in One Minute, which completes a shinning bio.
An expert in tumbling, Angel has remained undefeated in the So You Think You Can Tumble competition held by Cheer Sports which she has won six times to this day. 
As a gymnast, Angel has competed in several national championships including the USA Gymnastics Championships, the Elite Challenge, the Winter Classic, the U.S. T&T Championships, and more.
Further, she has also participated in international tournaments like the Canada Cup in 2017, the  World Age Group Competitions in 2013 and 2014, and so on. 
Angel, who stands at a decent height, recently completed her high school graduation in May 2018. She even shared an Instagram post to unleash her achievement.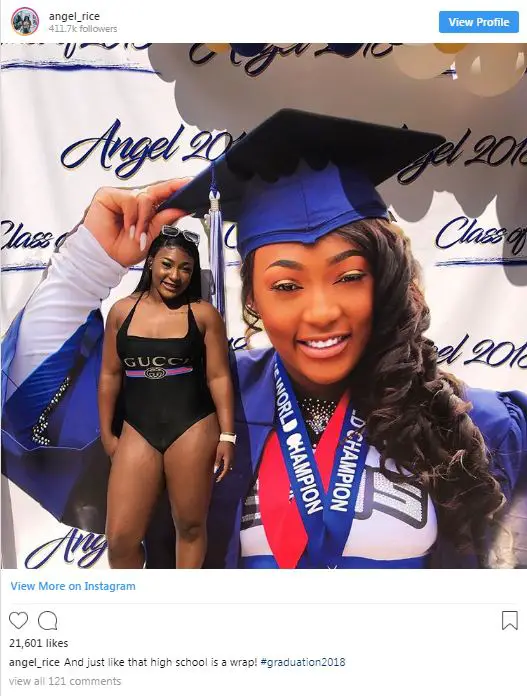 Angel reveals the news of her graduation on 13 May 2018 (Photo: Angel Rice's Instagram)
Angel, who has shown her skills in both domestic and international competitions, is looking to compete in the Olympics soon. Back in 2016,
Don't Miss:- Paul Hamm Wife & Married | Did Olympic Medalist Have Secret Wedding?
Angel had mentioned that she was preparing for the Junior Olympics, but seeing that she currently ages 19, Angel is probably preparing for the 2020 Summer Olympics set to be held in Tokyo, Japan.
Parents Too Poor To Afford Formal Training; Net Worth In Millions Now
Born in Atlanta, Georgia, Angel was raised among her siblings, older sister De'kiera and brother Jaden. 
Due to some financial difficulties, Angel was initially unable to join a formal class for gymnastics. She was first trained by her mother, who had learned the art of tumbling by watching Angel's elder sister during her tumbling lessons. Angel's parents could not afford formal classes for two, so they had enrolled only one of their daughters.
However, the Rice family doesn't have to worry about saving money now as Angel enjoys a healthy net worth that could well amount to a few million due to all the brand endorsements and sponsors the 19-year-old gymnast possesses.
Angel is very close to her family, and the walls of her social media sites are filled with contents dedicated to her parents and siblings. On 27 April 2015, she shared a tweet in which she thanked her father and her coach for their support and their faith in Angel. She wrote on her Twitter,
"The best dad.Gad and coach I love you thank you for all your support and most of all thank you for believing in me"
While her parents are both critical to Angel, she has a special spot for her mother in the heart. On 30 March 2018, Angel post an Instagram picture of her high school graduation in which she could be seen alongside her mother.
With the photo, Angel also shared a heart-melting message in which she called her mom as the greatest source of inspiration.
More From LiveRamp Up:- Who Is Allyson Shapiro's Father? College Graduate With 9-5 Job & Famous Parents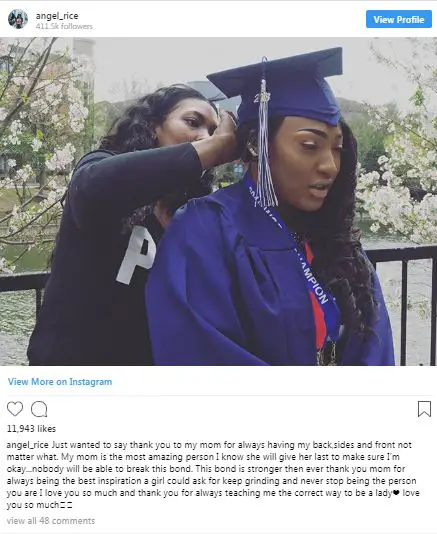 Angel along with her mother on her high school graduation day (Photo; Angel Rice's Instagram)
Apart from her parents, Angel is also close to her siblings. Her elder sister, De'kiera is a gymnast like Angel while her brother Jaden generally keeps away from the spotlight.