Entertainment
Yovanna Ventura Bio: Age To Family - Model Who Dated Justin Bieber
Even today pop sensation Justin Bieber's 2014 escapades remain fresh in people's memory!
The whirlwind of a year saw the Sorry singer repeatedly make the news for his antics that ranged from drug abuse to arrest for being involved in an illegal street race to being charged with assault against limousine driver.
The only saving grace one could ever pull out from the Candian's mess of a year is the fact that the world got introduced to Yovanna Ventura through him.
Since gaining popularity as "Justin's Bieber hot girlfriend," Yovanna has managed to hold her own. Nothing solidifies her social media influencer status more than her 4.4 million Instagram followers and ever-so-increasing net worth.
To get acquainted with Yovanna, let's delve into her biography including her age, height, family & net worth!
Yovanna Ventura's Bio Including Age, Height, Family & Net Worth
Fitness junky Yovanna first caught the eye of the modeling world as a teenager when she began posting selfies online. She would eventually sign a modeling contract with Wilhelmina Models, one of America's most coveted agencies.
Physical attributes aside, she is also revered for her activism against the animal cruelty. Her dog Tatum even has his own Instagram account and also makes regular appearances on her Instagram posts.
Discover:- Retired Christian Ponder Contract & Salary That Shapes His Net Worth
A graduate of Miami Senior High School, Yovanna - who stands 5'9'' in height - is proficient in both English and Spanish, all thanks to her Dominican lineage.
Born on 24 November 1995 in Miami, Florida, the Instagram star's mother and father parted ways when she just a little young girl. Her mother would later marry her step-father.
Both her biological father and step-father mean a lot to her as suggested by her 2018 Father's Day Instagram post.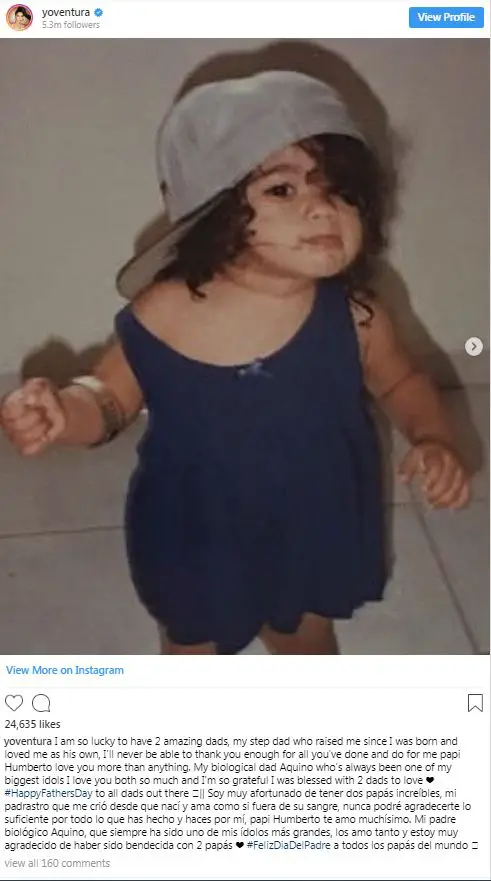 Yovanne wishes her fathers' a happy father's day (Photo:- Yovanna Ventura's Instagram)
Of all her family members, Yovanne, age 25, seems to hold her mother in the highest regard, mainly because of the education she had instilled in her. In March Instagram appreciation post, she thanked her mother by writing:
"My mom always told me to know your worth and how you want to be treated, be humble but never let any man or anyone have control or power over you, work hard, never expect anything from others and if you want something you go get it yourself."
Unbeknowest to Yovanne, she would need her mother's wisdom when she began dating Canadian pop star, Justin Bieber.
Interesting:- Sam Boik Age 34 Wiki Unfolds: Married Status, Height, Parents & More Facts
Yovanne Ventura's Dating History With Boyfriends Justin Bieber & Weeknd
Unsurprisingly, it was via Instagram that Justin, age 25, first took notice of Yovanne. He would later reach out to the Miami Senior High School alum in March of 2017.
By May that year, the pair were already making public appearances together; most notably their date on Venice Beach Broadwalk. An eye-witness described them as behaving "like a couple."
A source close to the situation chimed in by saying:
"Their relationship is blossoming. I wouldn't be surprised if they have now started dating."
Talking to E! News, the supposed source also went on to reveal how Yovanne and her alleged boyfriend had partied in Las Vegas after initially meeting in Miami.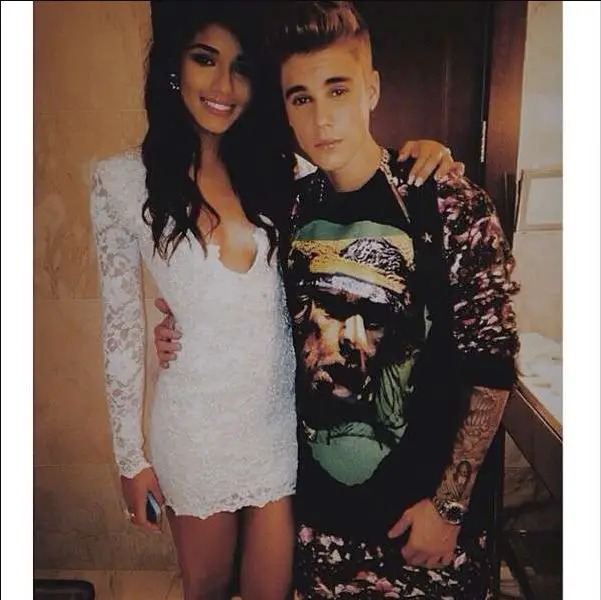 Yovanne and Justin Bieber posing for a photo (Photo:- E!News.com)
While in Las Vegas, then 18-year-old Yovanne had put up an Instagram by calling Justin "mi amigo." But according to the E! News' source, she had hots for the "baby" singer.
The said source's claims would prove to be true when less than a month later when the Instagram star dedicated a post to Justin - who has a reported net worth of $265 million - with the caption:
"mcm [man crush Monday] looking great in that suit."
Like many young loves, Yovanne and Justin's relationship too eventually ran its course. The pair had reignited their love a year later,  but only to part ways weeks later.
Read Also:- Lateysha Grace Dating Drake; Rumor Or For Real? Enjoys Quality Time Together
Since her split from Justin, the 22-year-old Florida native has been in one high profile relationship with R&B singer Weeknd. She and the Starboy hitmaker - was fresh off of his breakup with Selena Gomez - looked cozy holding hands in 2017 at French Montana's birthday bash in LA.
Many thought Yovanne and Weeknd's date was a ploy to get back at their exes Justin and Selena, who were reportedly seeing each other at the time.