Entertainment
Anna Botting, Partner Blessed With Children! Plans On Getting Married?
Anna Botting, the anchor of the UK based TV show 'Sky News' is seen as a shining example of women empowerment. Anna, who also involves herself in daring activities like mountain climbing and Fastnet Race; however, seems to be afraid of a life-long commitment to her partner.
But does she ever intend to get married? Read on to find out!
Anna Botting On Tying Knot
Back in 2012, when a fan sent an engagement ring for Anna Botting, age 50, and her partner along with a bill for £550 to show how much he had paid for it, Anna revealed that she had no immediate intention of getting married.
You May Find Interesting:- Sarah-Jane Mee Can Totally Get Married - Just Needs A Boyfriend Now! Inside Her Life
Even after five years of the incident, Anna still doesn't show any interest in walking down the aisle but seems pretty content with her companion and their two children.
Anna has been in a long-term relationship with Nicholas Purdue, a headhunter with recruitment firm CPB Partners. According to UK Daily Mail, the couple met about 11 years ago in the French Alps where Nick was working as Ski guide. The pair has been together since.
Meanwhile, Anna became pregnant with her first child in 2012. It was the same year that Anna was named as the Royal Television Society's Presenter of the Year. In late 2012, Anna gave birth to her first child; a daughter, whom they named Gracie.
After her return to Sky News from maternity leave in 2013, Anna was asked about her child in a tweet, to which Anna replied,
"@kriskuz62 had a little girl called Gracie, 8lbs 12oz on arrival, a real smiler, with a wonderful sense of humour! Now 8 months old, a joy."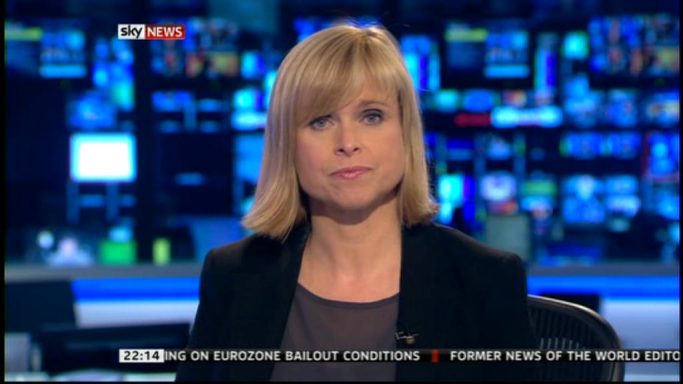 Anna Botting returns to Sky News after Childbirth (Photo Credit: TV Newsroom.org)
Anna shortly became pregnant with their second child. Three years after the birth of her first daughter, Anna and Nick welcomed their first son. Anna was 47 years old at the time while Nick was 48. The name of the child has not been disclosed.
See Also:- Garcelle Beauvais Shuts Cheating Husband For Children; Family First - Actress Reveals
As of 2015, Anna lived with her partner and children in Surrey, England. However, even after 11 years and two children later, the couple seems in no hurry to address each other as a husband and wife. Maybe for the couple, an official ceremony does not hold any importance as long as they are happy as a family.
Anna, who is generally identified as a cat lady, had to bid farewell to her cat, Lucy. On 8 August 2018, for the occasion of International Cat Day, Anna shared a heartfelt tweet dedicated towards her deceased cat, which had died after remaining a loyal friend to Anna for nearly 19 years.
Further, she also expressed her undying love towards her pet and mentioned that Lucy would always be in her memory.
More On Anna Botting
Anna Botting (Anna Elizabeth Botting) was born on 4 November 1967. Her mother, Louise was a radio reporter for Radio 4's Money Box in the 1980s. Anna studied Geography at St. Edmund Hall, Oxford University before pursuing her career in journalism.
More From LiveRampUp:- Reham Khan Life After Divorce With Husband! Children Settlement On Go
She joined Sky News in 1995 as a reporter and presented 'The Sky Report.' As a reporter, she covered some major stories like the death of Pope John Paul II and Princess Diana, the US election in November 2008 and the Iraq war.
Anna later got promoted to the studio as an anchor. Anna has been working as an anchor ever since. Although Anna has been consistent and firm in her profession, her salary and net worth are confined to herself.
She has presented various other programs on Sky like 'Sky News Today,' 'Sky News at Ten,' 'Live at Five,' 'Sky News Tonight.' She has also acted in movies like 'The Ghost Writer (2010),' 'Alex (2017)' and 'Edge of Tomorrow (2014)' in which she appeared as herself.
Most recently on 19 May 2018, Anna along with her co-presenter Kay Burley reported on the Royal Wedding of Prince Harry and Meghan Markle. Anna, who covered the ceremony live for Sky News, was one of the senior journalists covering the event.
The live coverage of the wedding ceremony was broadcasted by Sky News and Sky One in Ultra-High Definition from 9 am to 3 pm on the day of the marriage.