Anne de Paula first collaborated in her boyfriend's music video for the song...started dating him in 2015 after they...inches in terms of height whereas her weight is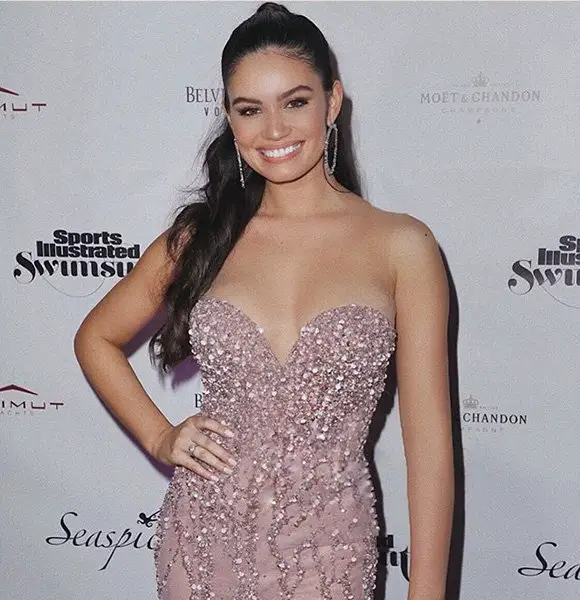 In the life of high profile personalities, it's always a challenge to either maintain or end a relationship without a few touches of controversies and public speculations.
Just take a look at the dating life of the famous swimsuit model Anne de Paula, and the fact becomes apparent. Best known as the winner of the 2017 Sports Illustrated Swimsuit Model Search contest, she ended up being criticized heavily throughout her known relationship. But, did things work out eventually? Let's find out.
Dating History & Feud
Anne's first known relationship was with a high profile Irish singer-songwriter Danny O'Donoghue, known from the band The Script. She started dating him in 2015 after they first collaborated in Danny's music video for the song, No Good In Goodbye. In it, they played the love interest of each other, and interestingly, their love for one another started to develop slowly off-screen as well. 
Although the duo dated for almost four years, the model didn't seem to have made a good impression on Danny's sister Andi O'Donoghue. And, it turned out that it was partly due to the age difference between the two as Anne was 18 and Danny was 25 when they started dating. Moreover, her partner's sister had a hunch that Anne was using her brother to uplift her fame.
With the feud continuing, Anne received a negative comment after she posted a picture of her and Danny citing him as "Bae." But his sister Andi was quick to criticize the image and caption, also citing the age.
"Looking at BAE? Are you for real? How disrespectful can one person be to publicly say what you have... This is where your age comes in!"
After the incident, Anne allegedly blocked Andi from her Insta handle. But, the series of unfortunate hostility seemed to have a significant effect on the two's relationship. So, in 2018, the actress split ways with her singer boyfriend without disclosing the split. But by the looks of it, their breakup doesn't seem to need an explanation.
New Athlete Boyfriend
In October 2018, Anne was spotted together in Shanghai with basketball player Joel Embiid ahead of NBA China Games. So, media outlets romantically linked these two, although the duo didn't comment or confirm their relationship.
More About Her Boyfriend :- Joel Embiid Dating Game Is Real Strong! Engaged With Super Hot Girlfriend?
However, Michael Rubin, owner of the Philadelphia Sixers team, later confirmed their relationship. Interestingly, he made the reveal by congratulating the lovebirds on their engagement that had taken place in October. The unexpected news did come as a surprise to her fans as not only did it confirm their relationship, but she had already accepted his proposal for marriage.
Soon, Anne started featuring her athlete boyfriend in several of her photos, and the two spent several occasions together. On Valentine's day 2019, she even posted an image of featuring her muse, quoting,
"I wish I could explain your eyes, and how the sound of your voice gives me butterflies. How your smile makes my heart skip a beat and how every time I'm with you, I feel so complete"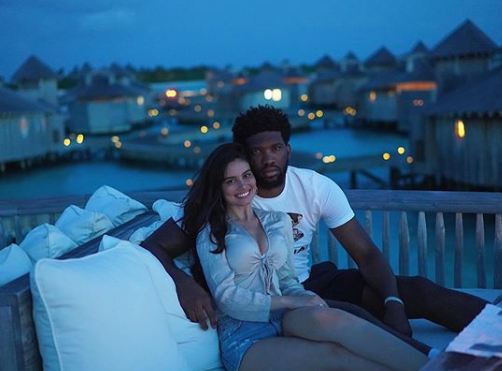 Anne de Paula and fiancé Joel Embiid spend a lovely evening in the Maldives on 12 July 2019 (Photo: Anne de Paula's Instagram)
As of now, the pair are going stronger than ever. In fact, in July 2019, they even spent some lovely evenings together during a vacation near the Indian Ocean, Maldives. So, it seems that the beauty is looking forward to spending the rest of her life with her boyfriend, whose net worth stands at an astounding $35 million.
Age, Family, Measurements
Although Anne is mostly active in the US today, she is originally from Rio De Janeiro, Brazil, where she was born on 31 March 1995. Her mother is a radiographer, whereas her father Rod De Paula works as a nurse.
Her mother played an important role in inspiring her to pursue modeling from a young age by involving her in glamorous photoshoots. She also gave the artist her first high heels and encouraged her to undergo photoshoots, which Anne ended up liking too.
Posed For Calvin Klein Photoshoot:- ASAP Rocky Girlfriend, Gay, Facts
Talking about her physical attributes, she indeed possesses a lovely figure accompanied by beautiful dark brown hair and eyes. Likewise, she stands 5 feet and 9 inches (1.5 m) in terms of height, whereas her weight is 57 kgs.