Ashley Darby And Her Husband Will Not Divorce! Not After That Intimate Wedding Ceremony Many Wish For. Similarly, Ashley Darby's marriage with her husband was one of those which many would wish for. But the differences between them nearly turned their marriage into a divorce. Nevertheless, she opted to give divorce a second thought.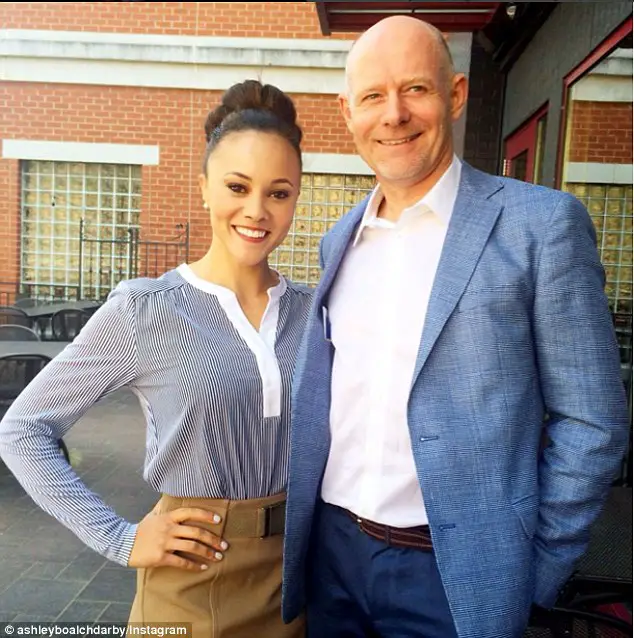 Relationships are delicate; it needs to be handled with care and nurtured with love. Every relationship has its share of ups and downs, and the argument can even reach a point when one feels it's better to walk away from the marriage. However, some couples prefer giving their relationship a chance, prioritizing their relationship.
Ashley Darby has done something similar! Although she and her husband enjoyed a beautiful married life, the differences between them nearly turned their marriage into divorce. Nevertheless, she opted to give love a second chance, which worked out pretty well for her.
Ashley Darby's Romance Which Blossomed Into Marriage
Ashley Darby met her husband Michael Darby when she was just 18 years old. Shortly after meeting her husband Michael, who is 29 years senior to her, she won Miss District of Columbia pageant in 2011.
The couple started dating each other as girlfriend and boyfriend, and soon Michael lavishly proposed Ashley. Michael took Ashley on a helicopter ride and surprised her with a proposal in New York City. Ashley shared a picture of the romantic moment via Instagram.
See Also: Chris Bassett Gets Married! Wife Of Age 31 Is A 'Real Housewives' Star
The couple exchanged wedding vows in May 2014. Ashley was looking perfect for her big day; she opted for natural makeup and accessorized her head with a piece of headgear while taking a pre-nuptial selfie. 
The couple looked happy at their wedding and cherishing the beautiful moment, Ashley shared a picture via Instagram, quoting it as the 'Best Day of her life.'
Moreover, on the occasion of their wedding anniversary, Ashley shared a throwback picture from their wedding day, captioning it as,
"On this day 365 days ago, I married the love of my life. We have had a HEALTHY combination of highs and lows, but we always manage to learn from every experience. I am so thankful to have you as my TV-binging, Corona Light-drinking, Bonchon-eating, Sunday-morning-cuddling, constant-adventure-seeking, partner in crime. I love you, Mickey Ducks ?? #happyanniversary #cheers#manymoretocome #ifyouactright#justkidding ????"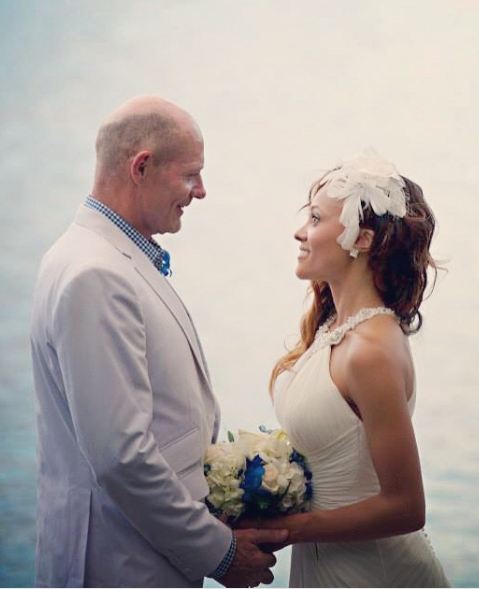 Ashely Darby with her husband Michael on their wedding day. (Photo: Ashley Darby's Instagram)
They shared a remarkable bond indeed; however, their relationship's been a rough ride, because of which they were even on the verge of getting divorced.
Differences That Lead To Separation But Not Divorce, Couple Back On Track
Ashley shocked everyone when she confessed that she has decided to separate from her husband in an episode of Real House Wives of Potomac in July 2017.
"It is a very small town, so we have common friends and we go to the same events. The only difference now is we just retreat back to our separate quarters. It took me this long to talk about it because I wanted to deal with it in private, since it was something that I wasn't really comfortable with or sure how to explain at first."
Ashley and her husband were caught on camera fighting when they appeared on the hit Bravo TV show surrounding their restaurant, OZ. Ashley even threatened her husband of divorce then!
Don't Miss:- RHOP's Monique Samuels Is Pregnant, Expecting Third Child With Husband At Age 34
But, despite the differences, Ashley said that she loved her husband and was finding a way to work their relationship out.
"He's my person. We're taking the time to evaluate exactly what we expect from our relationship and if both of us can give each other what we need. We still really care about each other, so the foundation is there. It's just a matter of repairing some of the faults in the foundation."
Ashley and Michael were living separately since February. Ashley, who enjoys a net worth of $ 5 Million, was living in her apartment in Arlington, Virginia. Although they didn't share a romantic equation, they still were partners in their restaurant and were working together closely.
"We are 50-50 partners. We both share in everything that goes on there and that's not going away, like a child. You can't just get rid of your child. We're co-parenting!"
Ashley's husband Michael also spoke on their separation and highlighted that the vast age gap was a factor for the dispute.
 "She's in her 20s. She's feeling out who she is going into her evolving life and future. And I'm at my age, coming through the end of my career, looking to all kinds of things that are very different from some of the things I am looking for."???????
But Ashley stated the more significant issue; which even crushed the plan of having children as,
"It was definitely an emotional roller coaster. All the trials and tribulations one goes through with opening a new business? It was challenging. It took a toll on me personally and on our marriage. Being in business with your spouse is certainly not for the faint of heart."
She added,
"Businesses, they come and go. They're not permanent. So, like, maybe in five years if it's doing better or we decide to not have it anymore, then we'd be sitting back thinking like, "Oh my gosh, we let something so temporary affect the connection that we have with each other.' That's the reason that I didn't put the gas pedal on getting the divorce immediately."
Furthermore, Ashley shared that she wanted to give her marriage a second chance and is trying to work things out.
"Relationships take a lot of work, especially when you have tribulation. And if you feel there's an inkling of possibility, it's worth investing your time to see if you can make it work. I would much rather take the time to see if its possible for us both to be happy. I can't just throw it away because I'm connected to [Michael] in a way I can't explain or put into words or even fully understand myself."
Well, with their efforts the couple now seems to be back on track after their hard days in their relationship. Ashley and Michael seem to have patched up from their separation as she often posts lovey-dovey pictures with her husband.
Ashley also cherishes the romance on social media and has even expressed her love through captions. She mentioned that she "married the right man" for her while thanking her husband for all the love that he showers upon her.
Baby On Its Way
Ashley and her hubby had been trying for a baby for a long time. The pair even went on to reveal that the reality star had a miscarriage in the season RHOP Season 3 reunion.
Poor Ashley had only carried the baby for two weeks before the pregnancy got terminated. The harrowing episode bought the couple together more than ever, and Michael realized that he wanted to become a father once again.
Well, the restaurateur boasts two adult children from his previous marriage.
More Baby News:- Annie Smith Is Pregnant & Expecting Baby With Lil Xan
Thus, the pair kept on trying and got blessed with another pregnancy. The Daily Dish gave an exclusive sneak-peak into the new parents-to-be's life preparing for the imminent guest. Before the arrival of the baby due in June 2019- Ashley left no stone unturned to celebrate her pregnancy. She went on a babymoon with hubby and celebrated her preggo-body on Instagram.
Interestingly, the expecting parents kept the gender of the baby a surprise while guessing about it via its heartbeat and skin of new changes of Ashley.
It's A Boy!
After a long wait, Ashley's first bundle of joy finally arrived in July 2019. By welcoming the newborn into her life, she became a first-time mother.
The reality star took to Instagram to deliver the joyous news. Sharing a snap of her baby son and husband from the hospital, she penned a lengthy monolog detailing her experience.
Per the post, Ashley felt surreal when she gave birth to her firstborn. Further, she stated:-
"And when the day finally came that this sweet child came into our world, it felt like the sunniest day after a sky filled grey... "
Admittedly, she and her husband Mickey were savoring every moment with their little one.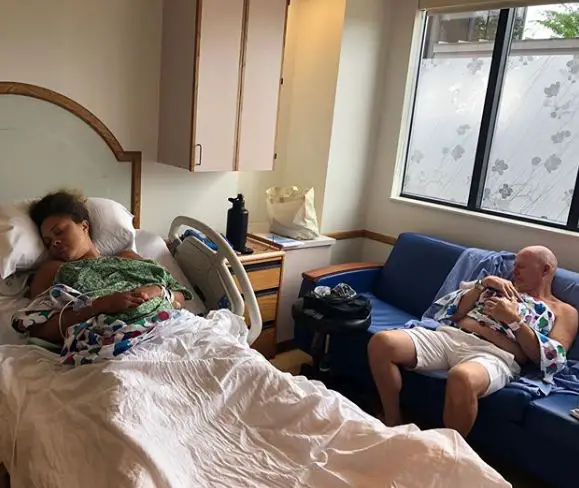 Ashley Darby rests as husband Mickey Darby embraces their newborn in July 2019 (Photo:- Ashley Darby's Instagram)
Five days before giving birth, Ashley wrote a heartwarming message on Instagram. In it, she professed excitement over the prospect of becoming a mom.
Husband Faces Sexual Allegation, Shows Total Support
Apart from their loving relationship, they even show support for each other. Ashley's husband Michael recently faced sexual allegation from one of the crews of  Real Housewives of Potomac.
Michael got charged with a felony assault and misdemeanor sexual conduct. The charges came after a cameraman of the show claimed that he'd been grabbed and groped by him during the filming of the show. 
Adding to it, it also got reported that Micahel gave 'a flirtatious look' after the grope. The cameraman asked Michael to stop, later informing the supervisor of the act. The immediate action got taken by Bravo and production company Truly Original.
You May Also Like: Charrisse Jackson Jordan Wants Husband Till Old Age! But Bickering Might Just Not Make It Possible
They suspended Michael from filming scenes until the company investigated the allegations. However, Ashley denied the suspension and divulged that there were no charges filed while showing support for her husband at the same time through an Instagram story.
Nevertheless, the charges later got dropped due to insufficient evidence.