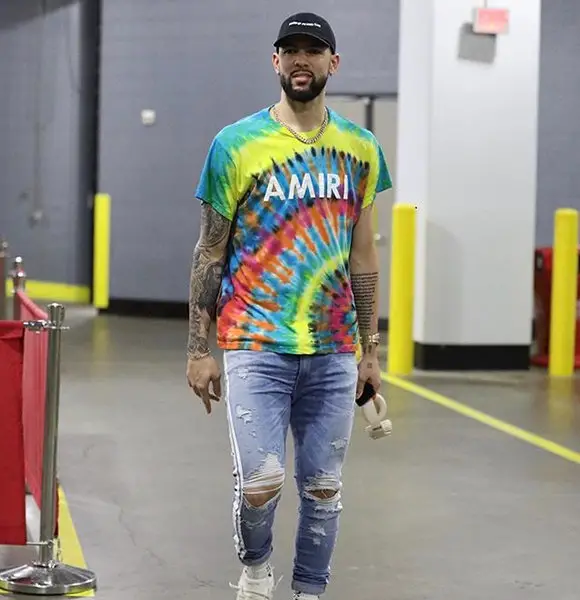 If you think Austin Rivers' surname sounds familiar, you're probably thinking about Doc Rivers, his father. However, Austin is on his path to making a legacy in the NBA, different from his father's.
Austin is a guard for the Houston Rockets and has been playing for the team since 2018.
A tattoo enthusiast, son of an NBA legend, and a great player - there is a lot of exciting stuff to know about Austin.
Does Austin Have A Wife? About Relationships
While his fans would love to see Austin walk down the aisle, they might be disappointed to know the athlete is not a married man.
However, he does have a girlfriend-fiancee named Brittany Hotard, who is no less than a wife to him.
Austin and Brittany started as best friends. But, they chose to take their relationship to the next level sometime around June 2012. Meanwhile, the athlete also publicly acknowledged his love for Brittany via Instagram.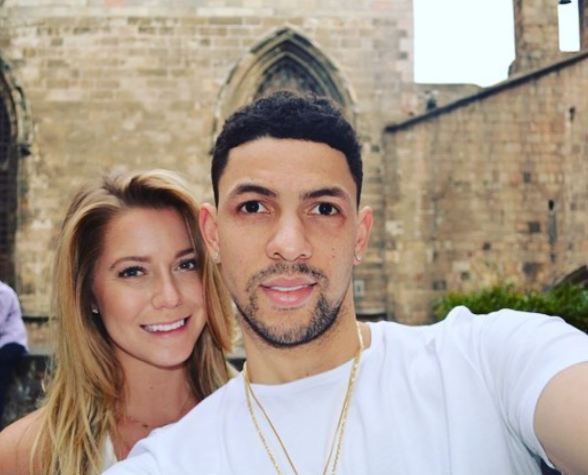 Austin Rivers and Brittany Hotard in June 2016 (Photo: Austin Rivers's Instagram)
The relationship took off instantly, and the lovers are still together. They even have a child together.
The couple's son, Kayden James Rivers, was born on 28th August 2018.
But, no relationship is free from troubles. And, neither was Austin and Brittany's time together free from chaos. Just after one year of their son's birth, Austin was caught cheating on his partner.
There have been no reports of them separating over this incident. However, the cheating evidence had surfaced in June 2019, right before the wedding date that the pair set for 19th July 2019. So, Austin's adultery could have led to the couple postponing their marriage to a further date.
Family And Background
Austin comes from a family with a sports background. His father, Glenn "Doc" Rivers is a former basketball player who played for the Atlanta Hawks during his days as an athlete. After his career as a player ended, Doc transitioned to coaching and has coached Austin during his stint with the LA Clippers.
On the other hand, Austin's mother is Kristen Rivers. Doc and Kristen tied the knot back in 1986. They have four children together.
You May Also Like:- Tyus Battle NBA Draft, Career, Injury, Parents
Austin is the third of four siblings, who are all involved in sports. His oldest brother Jeremiah played briefly in the NBA. His sister Callie, who is now married to Dallas Mavericks player Seth Curry, played volleyball while at the University of Florida. His younger brother is Spencer, who also plays basketball at UC Irvine.
Sadly, Austin doesn't have a healthy relationship with all his family members. It is known that Austin does not have a great link with his father. The Rockets player revealed in a post-game press conference in 2016 that he and his father Doc are not close to each other. The father-son duo knows each other strictly in terms of basketball.
Wiki-Bio Of Austin Rivers
Austin Rivers (full name - Austin James Rivers) is 24 years of age, according to his birth date on 27th June 1995. He was born and also grew up in Santa Monica, California.
Standing at the height of 6 feet 3 inches (1.9 meters), Austin weighs about 90.7 kgs. The NBA star went to Winter Park High School, and that was where his interest in basketball peaked.
Upon completing his high school education, he started his college basketball career at Duke University. However, he played for the college team for only one season.
Recommended:- Justin Holiday Wife, Girlfriend, Brothers, Family
After his college basketball days, Austin was drafted 10th overall by the New Orleans Hornets in the 2012 NBA Draft. Since his debut, he has played for four teams in the league.
Along with his career progression, the number of tattoos that he has on his body has also increased. A tattoo enthusiast, Austin has 12 tattoos, and each of them means something significant for him.