Entertainment
Meet Doc Rivers Wife & Family, Has Bitter Relationship With Son - Why?
Even before the 2018/19 NBA season could kick off, the Rivers family plans to give continuity to father-son dynamics recieved a severe blow after American basketball coach Doc Rivers' son Austin got traded to the Washington Wizards.
Viewers might not remember, but the duo didn't always enjoy the best of times while working together as coach and his player at the California-based NBA outfit, Los Angeles Clippers.
Besides Austin Rivers, NBA athlete-cum- coach Doc (real name Glenn Rivers) also shares two more sons and a daughter with his college sweetheart wife of more than three decades.
Family With College Sweetheart Wife: Three Sons & One Daughter
Not only did Glenn's time at Marquette University as a college basketball player earned him the title "Doc" but it also served as a platform, where he would meet his future wife, Kris Rivers (Campi).
Coach In Our Vault:- Here's How Dawn Staley Won Second Basketball Coaching Award 2018
The former Boston Celtics coach and then-girlfriend maintained contacts even after he got picked by Atlanta Hawkins in the 1983 NBA Draft. Three years into his NBA career, Doc and Kris got married on 31st May 1986.
Together, the college sweethearts would go on to have four children, who like their father are heavy into sports. Their firstborn Jeremiah, who was conceived a year after the couple's wedding, previously played college basketball for the Maine Red Claws.
Meanwhile, Spencer, the youngest of the four kids, played for UC Irvine. On the other hand, the married pair's daughter, Callie - who welcomed a girl child with Seth Curry in May 2018 - was a volleyball enthusiast during her time at the University of Florida.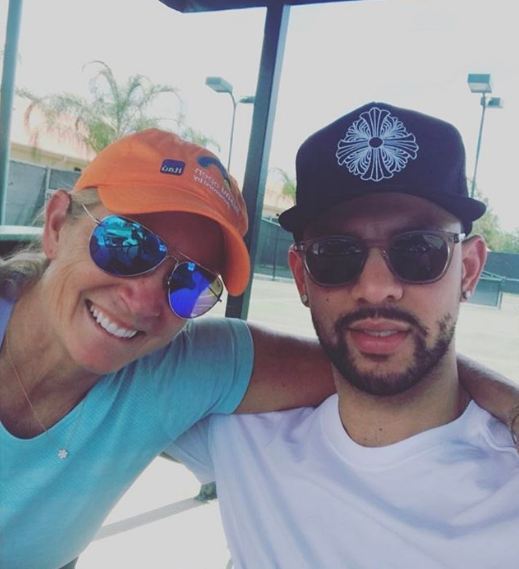 Doc Rivers' wife, Kris Rivers poses with their middle son, Austin Rivers circa 2018 (Photo:- Austin Rivers' Instagram)
However, none of Doc's kids have entirely managed to transform themselves into a genuine pro-athlete except for his second son, Austin Rivers.
Explore More:- Anthony D'Amico Welcomes Baby Girl With Wife Ashley Petta
Currently displaying his hooping skills at Washington Wizards, Austin's move to the outfit from rival Los Angeles Clippers send shockwaves throughout the NBA nation amid hair-raising revelation.
Bitter Relationship With Son; Salary & Contract Revealed
Under Doc's tutelage, his son enjoyed two mediocre seasons with LA Clippers between 2015 to 2017.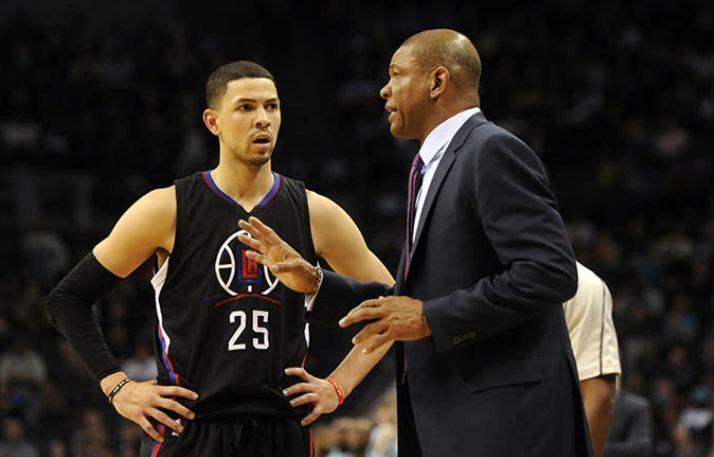 Doc Rivers provides guidelines to his son Austin Rivers in their LA Clipper days (Photo:- Complex.com)
When the rumors accusing Doc, age 57, of using his influence in the organization to hand his son $35 million NBA contract gained traction, the duo kept on asserting that the two maintained a professional relationship and nothing else.
Contrary to the gossip, the father-son duo doesn't even get along outside of the court. In a 2016 interview, Austin revealed the strenuous relationship between them mentioning that he and his dad have never shared empathy for one another. 
"He and I don't know each other like that. We know each other as strictly basketball. A lot of people on the outside don't understand that because people think we have a relationship like every other father and son. We just don't. That's because he's been gone my whole life, and that's fine."
Despite agreeing to trade his offspring to Washington Wizards, Doc - whose height measures 6 feet and 4 inches (1.93 m) - is keen on staying with the California-based NBA outfit.
Althlete You Might Know:- Ryan Nassib, NFL Quarterback Stats, Salary & New Contract
As a means to commit to his current team, the 57-year-old veteran NBA coach signed a contract extension in May 2018, which saw him earn upward of eight-figure sum in salary.
Longterm Contract Extension
Less than a year after penning the stated contract, in April 2019, Doc agreed on a long-term extension with the Los Angeles Clippers.
Though neither he nor his team divulged the pertinent details, insiders argued that the deal would see a significant increase in salary. The agreement boosted the potential to make him one of the highest paid coaches in the NBA.
The extension came in light of what had been an over-achieving 2018/19 season for the Clippers. Without the former ace Blake Griffin, Doc's side managed to collect 48 wins and made it to the playoffs.
Back in March 2019, he doused the rumors that he had agreed on a deal to take on rivals Los Angeles Lakers as its coach. The veteran NBA coach reiterated that he wouldn't leave his post until Clippers' owner, Steve Ballmer ordered so.
From Rival Lakers' Team:- Kyle Kuzma Girlfriend, Parents, Ethnicity
His reverence among the Clippers fanbase is tremendous. Case in point: In April 2019, Doc accidentally dropped $2 thousand from his pocket. Later, a stranger - arguably a fan - returned the money.