Entertainment
Who Is Ben Simmons Dating After Split With Kendall Jenner?
Ben Simmons is an NBA player who has been linked with many gorgeous women...he has been involved in many high-profile relationships and hookups... the first girlfriend dates back to 2016...dated a number of women before his time with Kendall Jenner...was with Kendall for approximately a year...seen together again...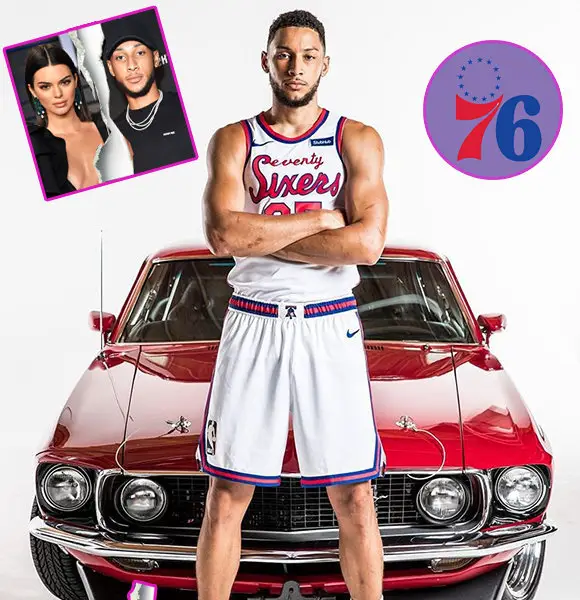 Ben Simmons is an American basketball player playing for the Philadelphia 76ers. He has made a name for himself in the NBA through stunning performances.
However, that's not the only reason Ben remains in the news. He tends to make as many headlines with his dating life as he does with his on-court performances.
Ben has been involved in many high-profile relationships over the years, including a brief time alongside Kendall Jenner. But, after his split with Kendall, who is he involved with now?
Ben Simmons' Dating History
Before we talk about the present of Ben Simmons, let's take a quick look at his dating past. 
Looking for the first woman that Ben was involved with takes us back to 2016. Ben was reportedly dating the Instagram model, Brittany Renner, from May to December of 2016. However, their relationship was never officially confirmed, and the relationship rumors about them died off quickly.
You Might be Interested In:- Blake Griffin - The Dating Affair Of The Young Athlete Who Has The Most Desired Woman As His Girlfriend
After Brittany, Ben dated Dylan Gonzalez-a former women's basketball player. Their similarity in their profession might've been the reason for them getting together. The couple started dating from June 2017.
However, Ben and Dylan split around November 2017.
The third woman in this list is a singer-songwriter, Tinashe. But Ben and Tinashe's time together was confusing and short-lasting.
The first rumors about them going out surfaced around February 2018, and they seemingly confirmed their relationship in March. Both of them posted pictures with each other on their respective Instagram accounts. However, the ex-couple separated at the end of May 2018.
Split With Kendal Jenner
Finally, Ben's dating story comes to a point where Kendall Jenner can be talked about. And this part of the story is quite fascinating.
The first time Ben and Kendall's dating rumors started popping up were around May 2018, right after Ben's split with Tinashe. They were spotted having lunch together, and also shopping and spending time with each other.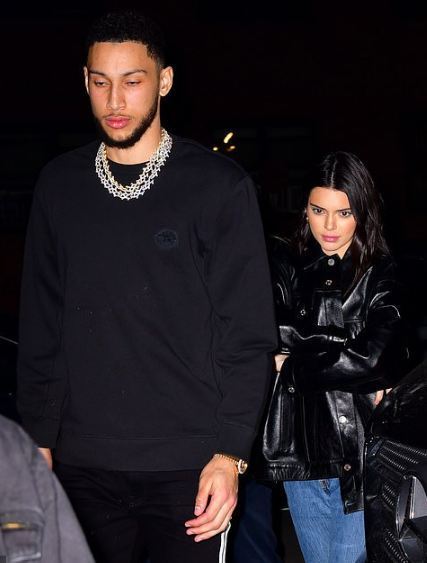 Ben Simmons with ex-girlfriend Kendall Jenner in March 2018 (Photo: Daily Mail)
However, it took Kendall a long time to confirm her involvement with Ben. And she did so in February 2019, during her appearance on The Ellen Show.
But the relationship took an unexpected turn in May 2019 when the couple decided to take a break. Before this, they were reportedly living together in a house in Los Angeles. The couple even took a vacation together to Mexico. The reason for them taking a break was due to both of their work schedules.
Nevertheless, Kendall and Ben couldn't stay apart for a long time, and following a short break, Kendall appeared courtside at one of Ben's games with the 76ers in November 2019.
However, the courtside appearance didn't seem to suggest that Ben and Kendall had got back together.
Did the Ben Simmons Get Back with Kendall Jenner?
Fast forward to December 2019, and the on-again-off-again couple is again seen together. News broke in mid-December 2019 that Ben and the supermodel got back together, again.
But, Elle, one of the magazines that broke the news, also went on to say that the couple was choosing to be very low-key about their reconciliation.
It was said that Kendall had spent a lot of time together with Ben over the weeks before December.
In addition to this, TMZ also reported that they were spotted at The Weeknd's New Year's Eve party. This was their first spotting after their mutual break from each other in May.
Another Guy Kendall Has Dated:- Chandler Parsons Dating, Gay, Family, Net Worth
However, looking at their jagged dating timeline, it isn't sure whether Ben and Kendall are back together for good this time or they are just spending some time together during a special occasion as just friends. 
Ben's Other Partners: Dating Life With Women Other Than Kendall
Ben isn't the one to wait around when it comes to relationships. And this is proved by his spotting with another woman, right after his split with Kendall.
The NBA star was spotted with a mystery woman in June 2019, right around the time when he and Kendall decided to take a break. He was seen going out with another woman at the Delilah Resturant in West Hollywood.
And amidst this mystery woman reports, another speculation surfaced around July 2019 about Ben dating supermodel Duckie Thot. However, the player was quick to deny these rumors.
Around the same time, in August 2019, Ben was spotted with Australian model Talia Richman. She was seen alongside Ben at an AFL game in Melbourne.
As of November 2019, no additional rumor about Ben and his possible connection have surfaced. And his state of involvement with Talia is also not entirely clear.