Entertainment
Bianca Lawson Talks Playing A Lesbian Role; Married In Real Life Or Just On-Screen?
Bianca Lawson, an American TV and film actress, has been in the spotlight for her scintillating roles in several TV and movie projects. Also, she has been linked with famous pop star Beyoncé Giselle Knowles in an unlikely manner when her father married Beyonce's mother. 
But it's the other aspects of her personal life that people are keen on having some extra knowledge. Those other aspects being her sexuality and dating/marital status. So let's take a look at those very aspects.
Married Onscreen, But Does She Has Husband Offscreen? 
Many of her fans have one question on their minds, whether or not Bianca Lawson is married. Well, it is safe to say that Bianca is married in reel life as she has portrayed in her TV project "House of Secrets" (2014). 
You May Also Like: Laura Kuenssberg Is Married! Meet Husband, A Prominent Consultant
A picture on her Instagram feed shall help shed more light on this.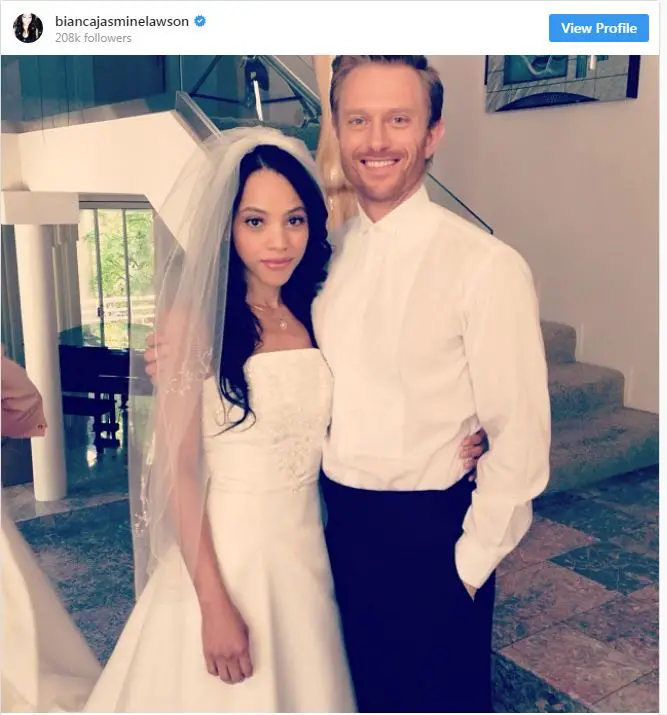 Bianca Lawson with her on-screen husband. (Photo: Bianca Lawson's Instagram)
Here's a picture of her on the sets of House of Secrets where she plays a married girl opposite her on-screen husband, Neil Jackson. But it is less likely that she is married in her real life, and as per that, her marital status is unmarried.
On-Screen Lesbian; Dating In Real Life?
In a long and illustrious career, Bianca has done justice to many characters on screen. One such character was that of a lesbian in Pretty Little Liars where she kissed her co-star, Shay Mitchell. Talking about her on-screen lesbian roles in an interview with Afterellen in 2010, the actress revealed further details.
"Well not really! It's really funny because Elodie who directed the party scene where Emily and I have our first kiss, she actually, the last time I saw that director was when she directed me on a television show called For the People, and I played a lesbian – well, I was a college student, very Type-A — kind of like Spencer's character on Pretty Little Liars — and my roommate ended up being murdered. So they end up arresting me because think think I murdered her out of competition or something but really we were lesbians and we were in love and she had to break up with me and I guess it was a murder of passion."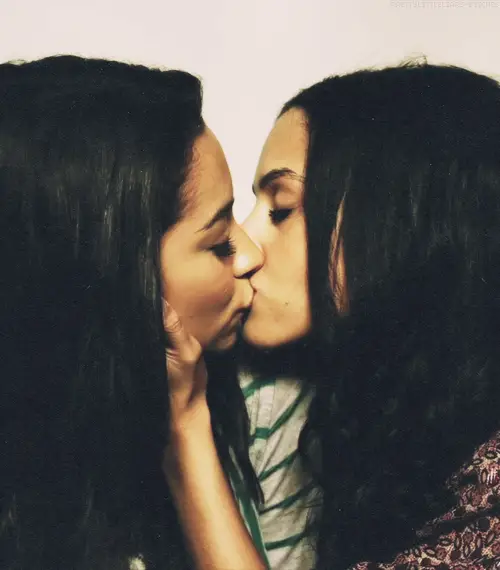 Shay Mitchell and Bianca Lawson share a kiss together in Pretty Little Liars. (Photo: rebloggy.com)
Apart from her headline-grabbing lesbian roles in reel life, the actress remains straight in her real life. She was involved to be in a relationship with Spanish actor Ness in 2005. The duo dated for almost four and a half years before issues culminated in their relationship leading them to split the year 2009.
Don't Miss: Young M.A Dating Girlfriend At Age 26? Lesbian Rapper Real Name & Facts
Besides a single leak into her personal life, Bianca has successfully managed to keep her private life under the curtains with not much revealed about her dating status. Thus, it would be safe to assume that the actress is currently single, with all her focus towards her professional endeavors.
New Addition To The Family
Who wouldn't want to be associated with Beyonce? Not a lot of people.
Bianca had this lucky chance in 2015 when her father Richard Lawson married the pop star's mother Tina Knowles, making Beyonce her step-sister. Going by the social media, it seems Bianca has a step-mother who seems really fond of her in the form of Tina.
Praising Bianca's works on her current series Queen Sugar,  Tina took to Instagram to sing praises about her 'bonus daughter' in February 2017,
"My Gorgeous bonus daughter Bianca Lawson❤️@biancajasminelawson. She kills the role of Darla on Queen Sugar. "
Born as Bianca Jasmine Lawson in 1979, the actress has been most famous for her roles in some hit series like "The Secret Life of an American Teenager," "The Vampire Diaries," "Pretty Little Liars" and "House of Secrets." The work Bianca has done so far and the hard work and determination she has put in her works have paid her a good dividend which can be seen through her net worth which is estimated to be around $2 million.
Read Also: Gabriella Papadakis Has A Boyfriend? Dating Status Of The World Record Holder
However, she did face one tiny setback in her professional career after suffering from a wardrobe malfunction at one of the auditions, which she mentions to be the 'worst moment' of her career. 
Apart from the little hiccup, Bianca currently is doing justice to the role of Darla in her series Queen Sugar and is all set to stay at the peak of her career with her never-aging good looks.