Bill Maher boasts a long list of girlfriends that includes...Never faced a shortage of wife prospects in his life...Instead of getting married, they opted to part ways...May not identify as a gay man, but he doesn't refrain from fighting for pro-LGBTQ...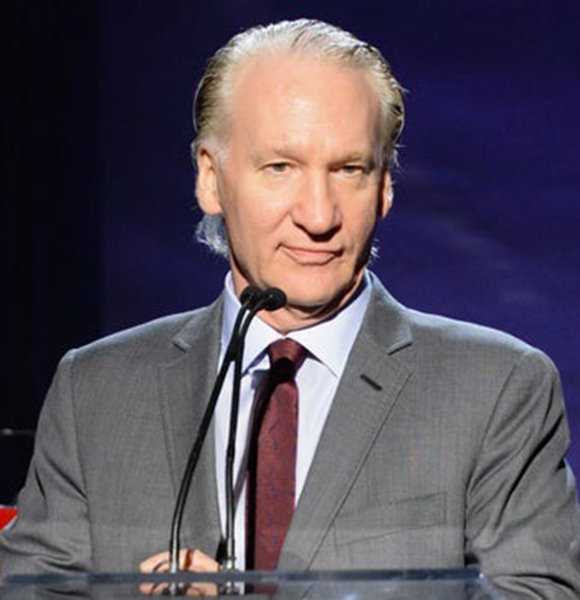 Born to a radio announcer father and a mother who worked as a nurse, Bill Maher rose to national fame ridiculing people in power. Anyone from President Donald Trump to political commentator Tucker Carlson has butt heads with the New York City native in the past.
Earning notoriety as a stand-up comic, Bill pivoted to TV appearances in the 80s. As he landed the late-night show gigs and acting parts, his repertoire grew. Impressed by his wits and on-screen charisma, Comedy Central offered him to host Politically Incorrect in 1993. The roundtable series ended in 2002.
Returning to TV a year later, he began hosting HBO's talk show Real Time With Bill Maher. In subsequent years, he got involved in numerous projects including House of Cards, True Blood, Religulous, and Iron Man 3.
Beyond his life as a foremost left-wing political commentator and a beloved talk show host, Bill - now age 63 - is a playboy at heart. Read along to learn about his love life!
Married Or With Girlfriend?
A hit among the ladies, Bill is witty, charming and personable. Therefore, it shouldn't come as a surprise that he boasts a long list of girlfriends.
Canadian pop sensation Anjulie Persaud was one of Bill's notable flings of the 2010s. The once-lovebirds reportedly commenced dating in 2014. Paparazzi even photographed them enjoying the 2015 New Years Day in Hawaii.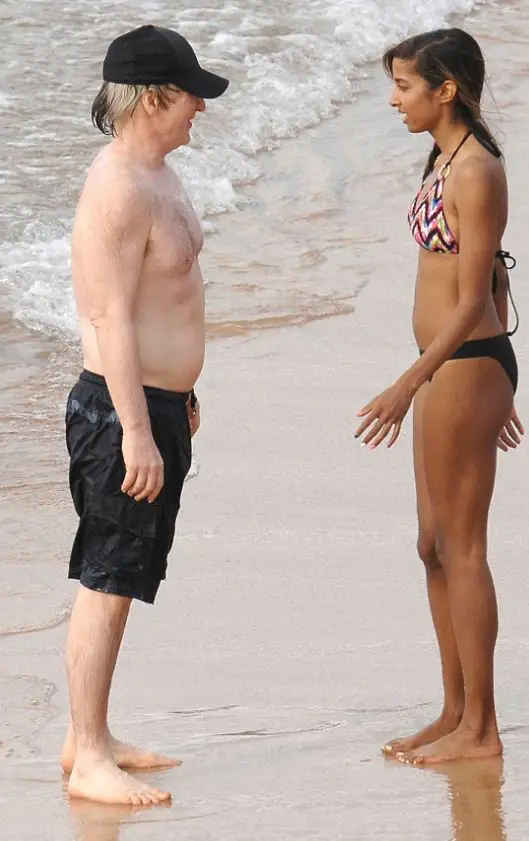 Bill Maher and girlfriend Anjulie Persaud celebrate New Year's Day in Jan 2015 (Photo:- dailymail.co.uk)
Before Anjulie, he was in a longterm relationship with American journo Cara Santa Maria. Between 2009 and 2011, Bill and his ex-girlfriend Cara looked a formidable pair. But, instead of getting married, they opted to part ways.
Other women whom Bill dated but never married include ex-girlfriends blogger Jasmine Boussem and video vixen Karrine Steffans. His other high-profile romances included flings with actress Thora Birch, Canadian broadcaster Rochelle Loewen, and singer Kaya Jones.
Other Wife Prospects
Bill may never walk down the aisle, but he never faced a shortage of wife prospects in his life.
Of all his wife hopefuls, none is more notorious than Coco Johnsen. The comedian and the former Playboy model dated for 17 months, before parting ways in 2004. Following the separation, Coco sued Bill for dumping her.
Coco Now:- Coco Austin Living The Life With New Born Baby; Currently Having Problems With Husband?
Before the debacle with Coco, the former Politically Incorrect host enjoyed brief flings with Bia Ling and Aiko Tanaka. Delving further into his dating history: Bill was in a year-long relationship with model Vanessa Kay.
Running down the list of his wife prospects from the 90s: Bill once shared romantic ties with model Karin Taylor in 1997. Also that year, he ignited a romance with Arianna Huffington.
Meanwhile, in the early- and mid-90s, the House of Cards alum dated the likes of adult superstar Heather Hunter, author Tracy Richman, and actress Amber Smith.
Is Bill Maher Gay?
With such an illustrative dating history, there remain very few questions about Bill's sexuality.
The veteran late-night show host may not identify as a gay man, but he doesn't refrain from fighting for pro-LGBTQ causes. A staunch supporter of gay marriage, he uses his platforms to speak on the burning issues that plague the LGBTQ community.
His approach to educating the viewers about gay rights, however, doesn't always seem right. Back in February 2019, Bill recieved criticism for the "homophobic" rant while defending Bohemian Rhapsody.