Entertainment
Karrine Steffans Claims She Is Married But Her Alleged Huband Denies It; Has A Son But With Whom?
Well, there's lots of dramas to unfold in this turmoil of relationship. On the one hand, there's a woman saying she's married and on the contrary, she assumed husband is saying that they aren't married! So what's the drama here of Karrine Steffans? We'll reveal it all!
Are They Legally Married!
Karrine Steffans took to Instagram on January 14, 2016, to confess her love for Columbus Short, and also confirmed that the two of them were legally married.
First of all, she posted a quote with the hashtag #MeetTheShorts:
"I want you. And not just for today or tomorrow. I want you for the rest of my life, and even that seems a little too short."
Moreover, she posted an image of Short with this caption:
"He is I and I am him, slim with the tilted brim…" ? See, that's the thing about underdogs…those that overstand don't stay under too long. Then, when you put two battle-tested soldiers together, and when these two touch and agree, no man can stop them. No woman, either. This man is my #MCM, my #MCE, and so much more. @officialcshort #MeetTheShorts."
Shorts cheating Steffans!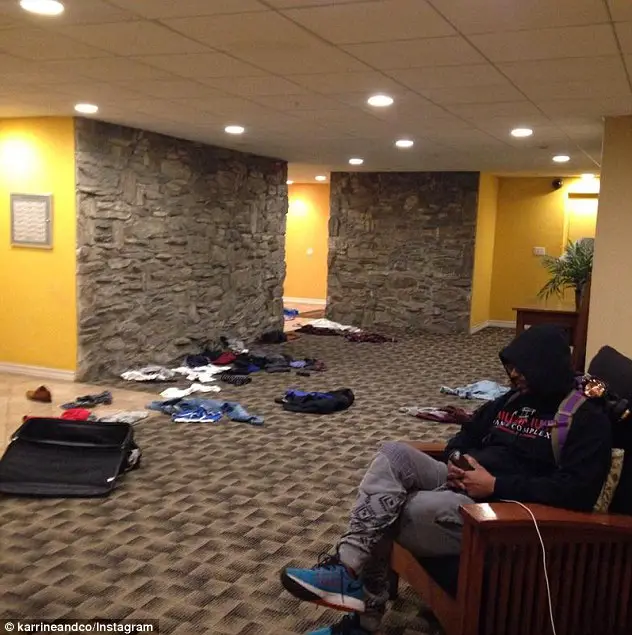 Caption: A photo posted by Steffans which showed that both had a terrible argument.
Photo Credit: dailymail.co.uk
On March 29,2016, Karrine "Superhead" Steffans claims that her husband Columbus Short has been unfaithful in their new marriage which was held on January of 2016. Steffans captioned a photo of Short's clothes strewn about the lobby of a building, she wrote:
"Somebody come get @officialshort cheating ass and all his s–t. "What about you @aida006… still want him? And @candicernb… you f—ed my husband… want him?"
The women Steffans called out, named Aida (who doesn't use the last name on social media) as well as Candice Boyd, have not commented on the matter.
While the photo shows the aftermath of a terrible argument between the couple, former "Scandal" star appears to be seated quietly charging his phone.
Not Married? Really?

Caption: A legal photo of Karrine and shorts getting married.
Photo credit: centrictv.com
After getting kicked from the house out for allegedly cheating on his wife, Karrine Steffans, actor Columbus Short has revealed during a radio interview that he and the former video vixen, Steffans were never legally married.
Short's revelation comes after months of speculation that their marriage was a sham and after rumors indicated that the former "Scandal" star was still legally married to his former wife, Tanee McCall.
Moreover, LoveBScott.com also published various alleged documents which proved that Short was still in the divorcing process and not divorced officially as recent as February, despite Steffans publicizing their "marriage" in January.
On the other hand, Steffans quickly took to Instagram and denied Short's claims that they never married, posting an image of their marriage license which was filed in the state of California. She wrote:
"IN RESPONSE TO STATEMENTS MADE BY @officialcshort ON SIRIUS RADIO: Drug and alcohol addiction is a serious issue that affects families and marriages worldwide. It breeds violence and lies, resentment and hate,"
Moreover, she added:
"It hurts. I love my husband and as always, I will and do forgive him for all his poor decisions. Some addicts refuse treatment at the urging of family and friends when done in private, and only seek help when brought to task publicly--when the public charade has been unveiled."
She has a son with rapper Nathaniel Wilson after she started dating him. Being an American model as well as actress and being an author for several books, she has a net worth of $8.5 million.