On 16th May 2019, the whole world went into a frenzy when superstar Selena Gomez posted pictures of her Cannes debut and wrote captions along the line of getting engaged to be married on Instagram! The potential groom in question was Bill Murray...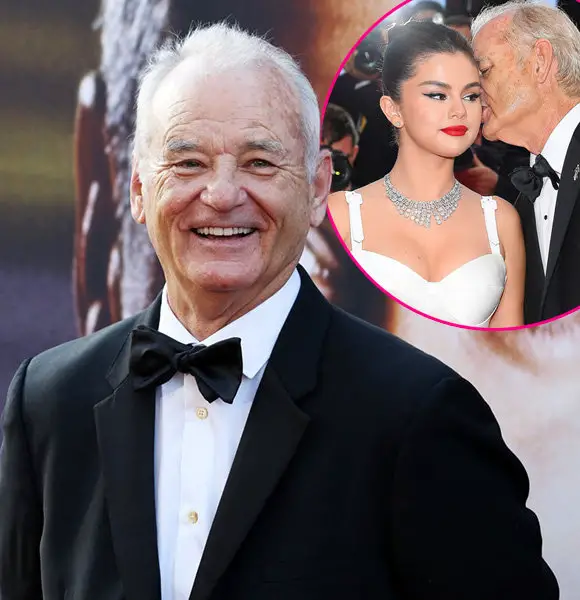 On 16th May 2019, the whole world went into a frenzy when Selena Gomez posted pictures of her Cannes red carpet debut on Instagram.
While the diva's appearance anywhere was newsworthy - let alone the most prestigious film festival in the world - it was the captions she wrote along the line of the images that caused quite a stir.
The caption read,
My first time in Cannes! I'm so honored to have been a part of this movie with Jim and the whole cast. By the way Bill Murray and I are getting married.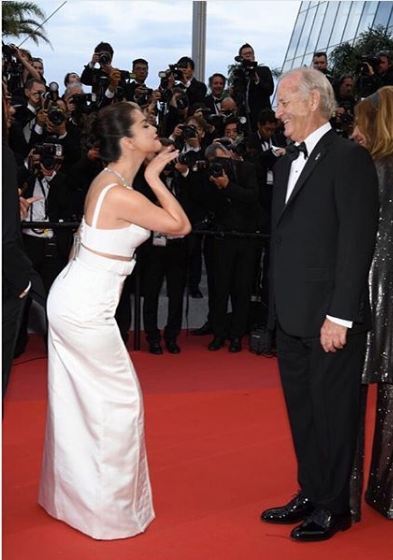 Bill Murray laughs as Selena Gomez goofs around in premiere of The Dead Don't Die on 16th May 2019 at 72nd Cannes Film festival (Photo: Selena Gomez's Instagram)
With the groom in question being 68-year-old Bill Murray, Selena hinted on getting engaged to be married.
Truth Behind Romance
As soon as the image was dropped, Fans and the whole media started supporting the unconventional union - 42 years of age gap - between the Oscar-nominated actor and the songstress.
Selena's Famous Ex:- IMG models' Hailey Baldwin ENGAGED To Justin Bieber; Soon To Get Married!
However, the news about their reunion and potential wedding plans was just a joke. Selena and Bill Murray were together at the prestigious 72nd Cannes film festival to only promote their movie; The Dead Don't Die alongside other crew members.
Bill Murray's Failed Marriages
While the Golden Globe winner is a Hollywood veteran, his personal life seems to be quite shabby in comparison. Bill got married a total of two times, but both matrimonies ended in divorce.
His first wife was Mickey Kelley; the pair got married on 25th January 1981. Then, they extended their brood to four with the arrival of two children, Homer Murray (1982) and Luke Murray (1985).
But, even the arrival of children couldn't hold Bill's married life together. Thus, with a heavy heart, the couple ended their marriage on 29th January 1994 after 13 long years.
Fast forward to 1997; the veteran actor got married to his Groundhog Day co-star, Jennifer Butler on 4th July 1997. The loved-up pair's companionship was going well. While Bill was reaching heights in his career, the actor's doting wife supported him through and through the whole journey.
Bill became a happy man as he fathered four children with his second wife. His four sons are Caleb James(b. January 11, 1993), Jackson William ( 1995), Cooper Jones (1997) and Lincoln Darius Murray ( 2001).
Sadly, issues like alcoholism and domestic abuse clouded his second marriage.
While Jennifer accused Bill of indulging in alcohol, reportedly she was also not immune to the charms of the addictive drinks. Allegedly, she was known to drink to oblivion and mistreat her children. After a decade of a problematic relationship, Jennifer filed for divorce on 12th May 2008. The marrige was finally dead after judges ruled the legal end of their marriage on 13 June of the same year.
Another Failed Hollywood Marriage:- Will Arnett Dating Again, Who Is Girlfriend After Divorce? Kids, Age, Height
While taking to Huffpost in 2017, Bill revealed that although the divorce was hard, he ended up getting close to his sons than he ever was before.
A dad to a total of six boys, he went on to give tips on parenting. The Olive Kitteridge star shared that, although he didn't know much about parenting, he did like talking a lot about it.