Entertainment
Billie Jean King, Lesbian Player Who Once Had Husband Plans Wife | A Bio
Billie Jean King, the American tennis player, was once married to husband...They tied the wedding knot back in...After they crossed paths in...As their relationship grew, the athlete found herself attracted to a woman named...whom she met at...They shared an affair which came out in...after Billie's lesbian partner sued her for her property...Today, Billie shares...years of romance with partner...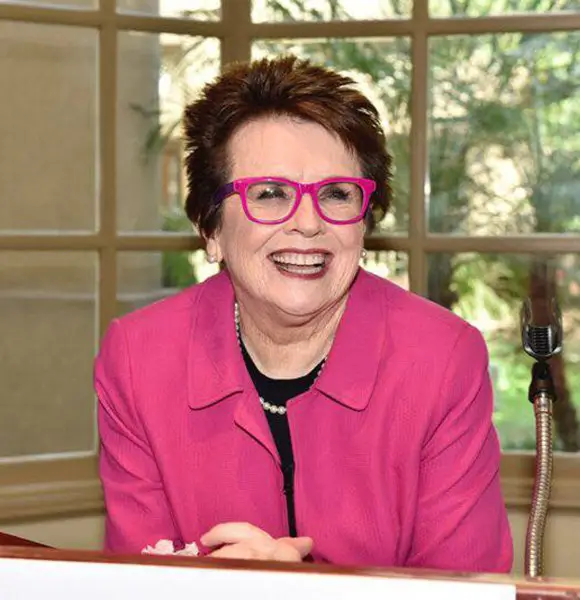 Former World No.1 tennis player, Billie Jean King has numerous titles that fill her resume. She doesn't hold only 39 Grand Slam title but has an equally roaring love life.
Indeed, her romance was once a topic of gossip among her admirers as she was compelled to come out revealing her sexuality. Despite being married to her husband for years, she shared romance with a lesbian partner back those days when homosexuality was not gracefully accepted.
But establishing herself as a gay advocate and a successful tennis player, Billie has been able to make an impact in today's world with almost four decades of romance with her partner.
Wondering who her long-time lover is? Here is what her bio reveals.
Infidelity With Husband, Lesbian Scandal 
Billie Jean King, age 74, was once a happily married woman.
The Long Beach, California native previously shared a marital bond with her ex-husband, Larry King, whom she first crossed path during her college days.
You may like: Juan Martin del Potro Silent Girlfriend Rift! Dating To Get Married Now?
The former couple first encountered each other at college in Los Angeles where Larry had enrolled as an engineering student but later moved into law. Just as their stars entwined, they fell in love. 
By 1965, Billie had already exchanged the wedding vows with Larry. At the time, the California native was 21 while her husband aged 20. The couple spent very little time together even after the marriage.
It turned out that the 1999 Arthur Ashe Courage Award recipient had all her energy invested in tennis while Larry controlled her business affairs as he made deals traveling around the world. Some outlets have even claimed that Billie underwent an abortion because she did not want a baby disrupting her career.
For Billie, her life changed as her battle against Bobby Riggs neared. Shortly before the event, she visited a salon and found herself unexpectedly attracted to a woman named Marilyn Barnett.
Even though both women had male partners back then, Billie invited Marilyn to join her on her tour which brought the two closer as they eventually became secret lovers. For eight years, the athlete's husband was unaware of her extra-marital affair.
The truth came forth in 1981 when Marilyn sued her partner for a share of her property. With the unexpected turn of events, the gender equality-activist had no choice but to confess her infidelity.
Don't Miss: Grigor Dimitrov Ends Dating Girlfriend Nicole Scherzinger? Possible Split Situation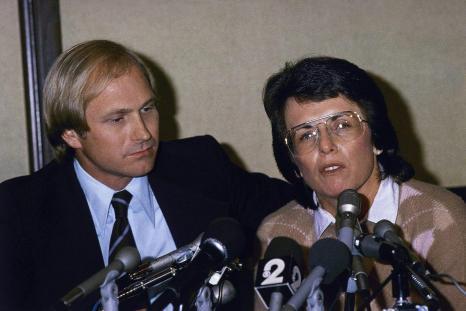 Billie Jean King with her former husband, Larry (Photo: newsweek.com)
Billie came out through a press conference in which she sat beside her husband Larry while resting her head on his shoulder. She apologized to him for the wrong step she took while adding that she did not "feel homosexual" and still loved her husband dearly.
However, their marriage came to an end in 1987 when they signed the divorce papers. Larry revealed that their relationship did not come to an end due to the lesbian affair but because they had grown apart.
Romance With Long-Time Partner, Soon-To-Be Wife?
As Billie and her ex-partner moved their separate ways, they found their special someone in their life. Larry remarried while she found romance with South African-born former tennis player, Ilana Kloss.
As of today, the former tennis player and her lesbian partner IIana have been together for 39 years. They haven't yet exchanged the wedding vows, but the couple is looking forward to tying the nuptial knot.
More from liverampup: CNN Manu Raju Family Goals With Wife; From Married Life To Net Worth
Speaking with New York Post, Billie opened up about the relationship which she shares with her lover, saying,
"We've been together for 39 years and we have been discussing getting married, but I have felt married to her since Day One. If and when we do get married, we want former NYC mayor David Dinkins to marry us,"
Well, the loving couple of almost four decades is sure looking forward to being married as they share their life. The lovers are also business partners as they partly own the Los Angeles Dodgers team.