Entertainment
Billie Lourd Boyfriend, Married, Parents, Net Worth
Billie Lourd gained fame as an actress when she made her debut in TV and movie simultaneously in 2015. She starred as Chanel #3 in the TV show, Scream Queens, and essayed the role of Lieutenant Connix in Star Wars: The Force Awakens.
The actress reprised the latter role in Star Wars: The Last Jedi in 2017. Billie will return as the beloved character in the 2019 movie, Star Wars: The Rise of Skywalker.
Dating Status
Billie's dating life gained alot of buzz when she started dating tabloid's darling Taylor Lautner in 2016. As the Scream Queens co-stars relationship was going for strength to strength, a tragedy struck in Billie's life. She went through a devastating time when her mother Carrie Fisher and grandmother Debbie Reynolds died one day apart in December 2016.
During the actress' tough time, Taylor was by her side. However, the couple's relationship couldn't stand the test of time. And, they parted ways in July 2017, after eight months of dating.
Taylor Moves On:- Taylor Lautner Dating New Girlfriend & It's Official | Announced With A Kiss
Post the relationships' demise, Billie found comfort in the arms of her boyfriend, Austen Rydell. The pair dated in 2017 but parted ways shortly. However, their relationship was far from over.
The American Horror Story actress found her way into her ex-boyfriend's arms, and the pair rekindled their romance in January 2018.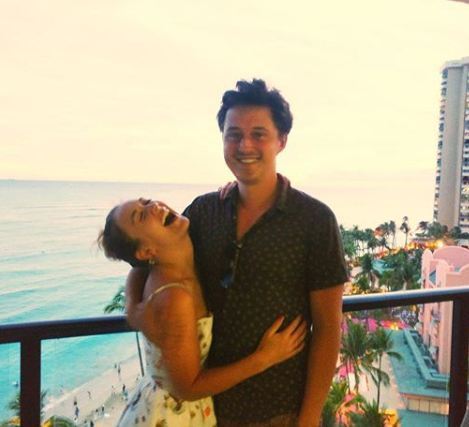 Billie Lourd laughs with boyfriend Austen Rydell in June 2019 (Photo: Billie Lourd's Instagram)
Post the reconciliation, Billie and her NFL GameDay star boyfriend continue to remain inseparable. The lovebirds flaunt their love regularly on social media to date.
However, the actor pair are yet to get engaged or married as they remain busy enjoying their dating life.
Famous Parents
Billie is a Hollywood royalty in the real sense. Her mom was the legendary actress Carrie Fisher - who portrayed the iconic role of Princess Leia Organa in the original Star Wars trilogy. Further, her father Bryan Lourd is a Hollywood insider, who has worked as a talent agent for A-list stars, like Robert Downey. Jr and Natalie Portman.
Star Wars Actor:- John Boyega Not Gay; Reveals Girlfriend Qualities, Getting Married On Cards?
However, her famous parents never married despite in a three-year-long courtship. Instead, Billie's father left her mother to be with a man. Despite their break-up, the Scream Queens' star's guardians co-parented her.
When Billie was aged 24, her father got married to his boyfriend, Bruce Bozzi in October 2016. As the talent agent adopted his husband's daughter Ava Bozzi and Billie gained a step-sister.
Billie's Net Worth
The actress was the sole heiress of her mother's assets, after her demise in 2016. Courtesy of inheritance, Billie boasts a net worth of $20 million. The actress of height 5 feet 1 inch (1.55 m) is now the owner of her later mother's most luxurious possession, a home in Beverly Hills.
Further, her father also boasts a net worth of $50 million, and she is his only biological child. Thus, the 27-year-old actor is fortunate in the net worth department.