Entertainment
Billy Gilman Getting Married; Boyfriend/ Partner Moments Scream Yes!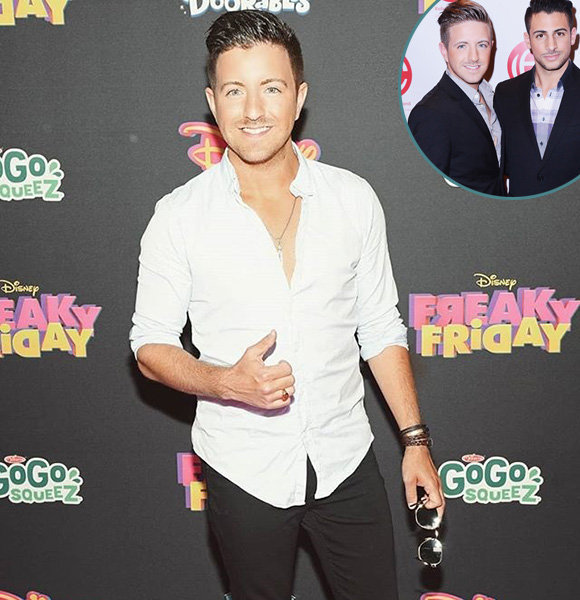 After being one of the most successful and popular children singing sensation, Billy Gilman has found it hard to replicate the success he found in his early years. However, blessed with a magical voice, the singer is not giving up just yet.
Billy, along with his career struggle, has also had to face a huge storm regarding his sexuality in his still early career days. Coming out openly as a gay, he has had to face some bizarre consequences. His mentality remains unaffected, however, with the support of his boyfriend through every step of the way.
Sharing a blissful relationship with boyfriend, Billy has found the extra motivation required to revive his career. And with a relationship so smooth, everybody can't help but imagine when the duo will finally get married!
Was Threatened To Expose His Gay Sexuality; Dating Partner All Along
Billy Gilman, at the age of 30, has had to go through some extreme highs and lows in his relatively young career. The lowest moment of his career came in 2014 when he had to face the blackmailing of a reporter, who threatened to put his sexuality out in open.
You May Also Like: Openly Gay James Charles, Exceptional Makeup Artist Boyfriend | Dating?
Troubled by constant blackmail, the singer then decided to come out openly about his sexuality in November 2014. Coming out on the same day that fellow country singer Ty Herndon had claimed to be gay, Billy took to Youtube to confess his sexual preferences.
"It's difficult for me to make this video, not because I'm ashamed of being a gay male artist or a gay artist or a gay person.  But it's pretty silly to know that I'm ashamed of doing this knowing that because I'm in a genre and industry that is ashamed of me for being me."
Despite the fear that the One Voice singer mentioned in his coming out video of the music world not accepting him, he has always had support in the form of his boyfriend Chris Meyer. The duo started going out since 1 June 2014 have been inseparable ever since.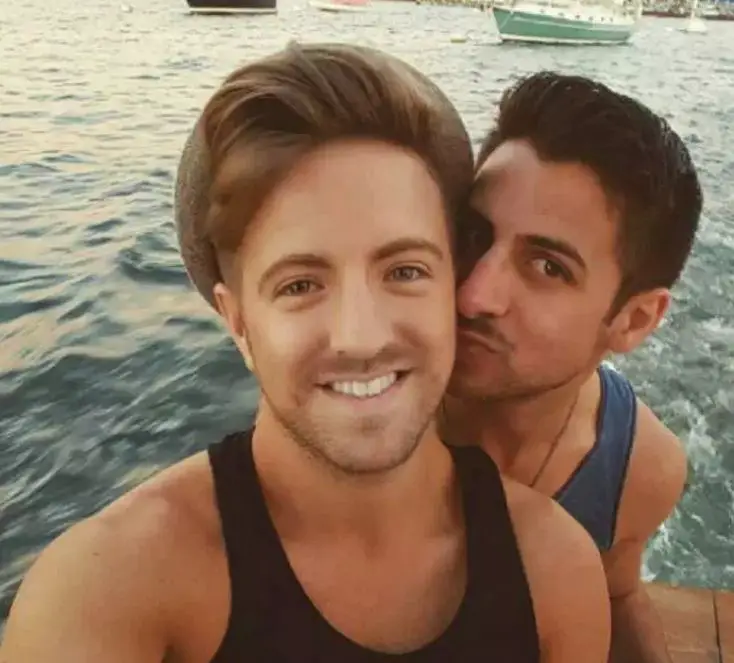 Billy Gilman alongside his boyfriend Chris Meyer. (Photo: heavy.com)
Don't Miss: Openly Gay Johnny Mathis Married? Bio Reveals Addiction, Ethnicity & Facts
Billy, ever since coming out as openly gay, has gone on to be a finalist of season 11 of the reality singing show The Voice. And with his engineer boyfriend by his side, a singing career that once looked all but over seems to be reviving one step at a time.
Future Husband? Blissful Couple Might Get Married Soon
Inseparable and madly in love, Billy Gilman and his boyfriend Chris have recognized themselves as 'couple goals' for the others to follow.
With the duo fearless of expressing their love for each other in Interviews and social media posts, they have produces a string of 'aww' moments during their relationship tenure.
In an interview given to Out and About Nashville in 2015, the former Grammy-nominated country singer mentioned his love for his partner in crime,
"I was in my twenties before I really started to soul-search and get to know more about me. Then when I met my boyfriend Chris [Meyer] I thought, 'This is it,' and that's when I really got that love is love ... I have a fantastic family. My parents never missed a beat. When I met my boyfriend, I fell into such a wonderful extended family, they all just let us be us!"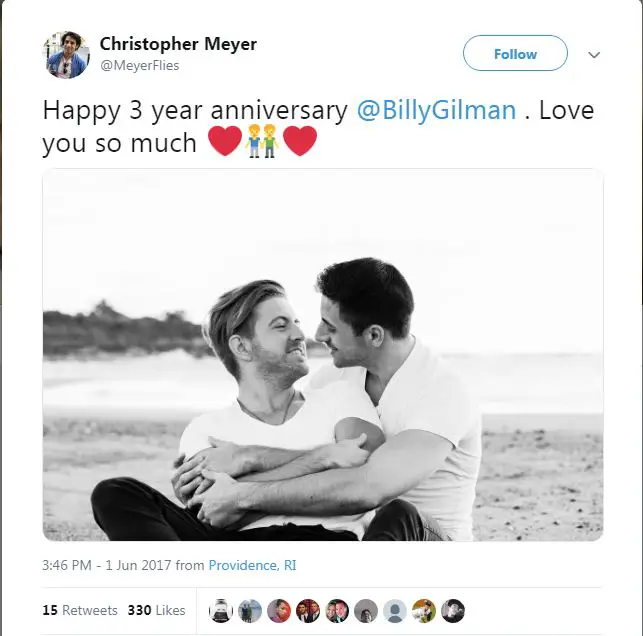 Chris Meyer wishing his boyfriend Billy a happy anniversary on their 3rd year together on 1 June 2017. (Photo: Chris Meyer's Twitter)
Read Also: Boy George, 'The Voice' Judge Married In Secrecy? A Different Kind Of Gay
Self-defining themselves as 'partner in crime for life', Billy and Chris are thus showing every possible sign of getting married.
While there has been no information regarding their marriage, it wouldn't be a surprise if the announcement comes soon with the duo passing the four-year mark as well.