Entertainment
Bitsie Tulloch Turned Actor Boyfriend To Husband; Married & Pregnancy Talks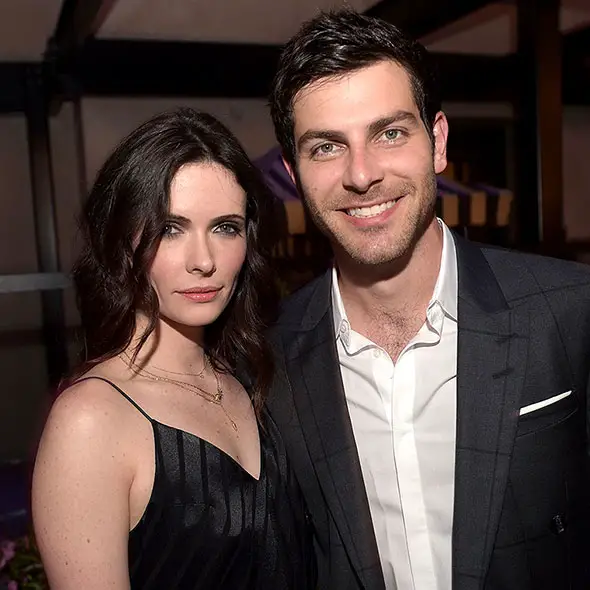 Sometimes onscreen love gets translated into real life too. Similar is the case of Bitsie Tulloch and David Giuntoli who met on the sets of Television series Grimm which embarked a beautiful relationship and then culminated into engagement. 
The couple is now happily married and is even expecting their first child as life-partners. Let's find out all about the beautiful duo's from their dating times to becoming husband and wife along with the expectant baby news.
Engaged With Boyfriend With Intention Of Marriage:
Bitsie and David Giuntoli met on the shoot of Television Show "Grimm" which premiered in October 2011. David and Bitsie portrayed onscreen lovers and this onscreen romance transformed to be off-screen love as well.
You May Also Like:- Actor Billy Miller And His Off-Screen Dating Life; A Step Closer To Getting Married Or Just A Hoax
The couple even revealed their relationship in December 2014. And in an interview, Bitsle said,
"It's pretty public now that I'm dating David, so that's kind of out of the bag,"
Further Bitsle said,
"We were hiding it for a long time, but now everybody knows."
Betsie and David appeared in San Diego Comic-Con 2016 and went live on Facebook chat with ET's Leanne Aguilera on July 2016.
Video Caption: Bitsie and David made a public announcement of their engagement
In the interview, ET's Leanne Aguilera noticed a sparkling diamond ring on Bestie's hand and asked curiously about the ring and the engagement. And Betsie excitedly replied,
"It's over a hundred years old. The diamond is from the 1890s, and the setting is from 1915, which is the year my grandfather was born."
Further, David joked and said,
"I had to dig it out of the grave, it's fine..."
The pair made the engagement announcement in July 2016, but they revealed that they had got engaged back in April 2016 and were enjoying their engaged status. David said,
"We've just been quietly enjoying it,"
Moreover, Bitsie added,
"We did decide that Comic-Con ... I was going to wear the ring out in public for the first time so." 
Further, David laughed and said,
"My little joke was because we were boyfriend and girlfriend on the show, everything in the marriage will be a tax write off."
After getting engaged on April 2016, Bitsie and David were found exploring a town in Portland in July 2016 and documenting their adventures, and Betsie shared adorable pictures via Instagram.
Don't Miss:- Fredrik Eklund & Husband, Perfect Gay Couple! First Vacation For Twins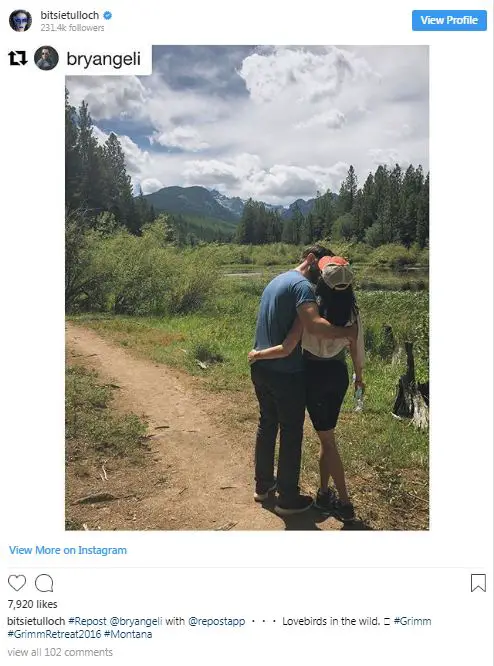 Bitsie and fiance David Giuntoli enjoying their vacation in Portland in July 2016 (Photo: Bitsie Tulloch's Instagram)
Even on the occasion of Christmas 2016, Bitsie shared a picture with David via Instagram wishing followers Merry Christmas.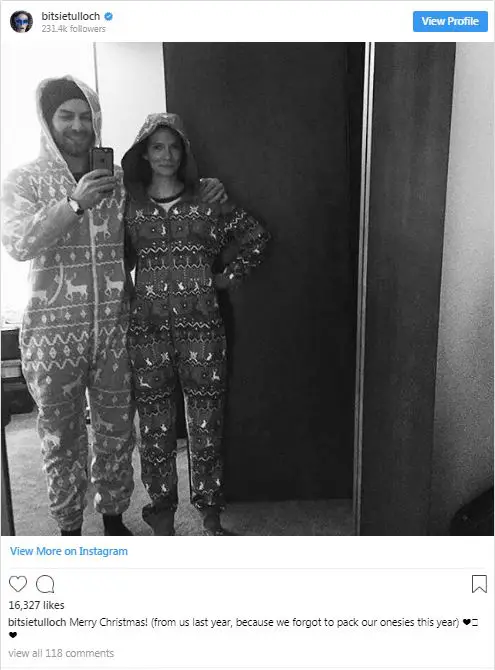 Bitsie along with fiance David on Christmas 2016 (Photo: Bitsie Tulloch's Instagram)
Bitsie and David enjoyed their engaged status for a while before finally tying the knot. And now, the couple is about to even welcome their first child together.
Wedding Pictures Shared On Instagram, Expecting First Child
After remaining engaged for more than a year, Bitsie and David finally got to pronounce each other as husband and wife in an intimate wedding which was held in June 2017. 
See Also:- Comedian Steve Byrne Secret Wedding To Wife; Stand Up Comedian Details
Bitsie first broke the news of her wedding via an Instagram post containing a picture of the newly married couple on 7 July 2017 and mentioned that the pair had been married in Montana, the month before.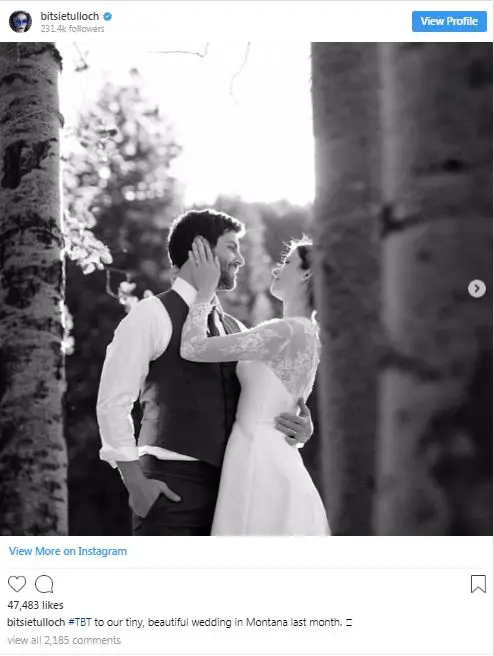 Bitsie on her wedding day with husband, David Giuntoli (Photo: Bitsie Tulloch's Instagram)
The same day, Bitsie's husband also shared another portrait of the couple's wedding thus expressing his love and showing his excitement for their upcoming married life.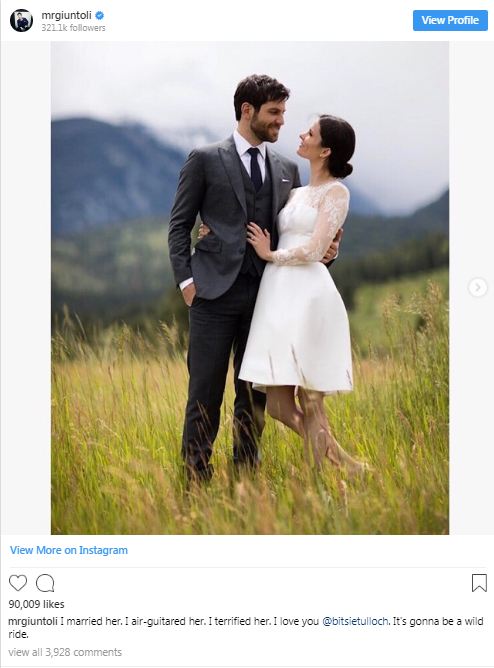 Bitsie and husband David on their wedding day (Photo: David Giuntoli's Instagram)
The partners are currently enjoying a happily married life and the news of Bitsie's pregnancy has further multiplied their happiness.
Earlier in October 2018, Bitsie shared the news of her pregnancy via Instagram and mentioned that although both the husband and wife tried to hide it, the secret was finally out in the open. Bitsie wrote on her Instagram,
"We kept this quiet as long as we could but the secret's out ???? Cc babydaddy @mrgiuntoli"
However, neither Bitsie nor her husband shared the due date of the upcoming child. And judging by her belly, the baby might take a few months before witnessing the world beyond its mother's womb.
More About Bitsie Tulloch
Bitsie Tulloch was born in San Diego, California on January 19, 1981, and grew up in Spain, Uruguay, and Argentina. She graduated from Harvard University with a double major in English and American Literature and Visual and Environmental Studies.
More From LiveRamp Up:- Angel Brinks Wiki: Boyfriend/ Baby Daddy Doesn't Care, Craves Love
Her film credit includes "Dead Draw," "Park Land," and"The Artist." Also, her television credit includes "The West Wing," "Cold Case," "Quarterlife," "Tyranny," and 'Outlaw,' but she gained popularity from detective police procedural drama series "Grimm" as "Juliette Silverton."
Betsie earns a good amount from her acting projects, but her net worth is still under review.