Entertainment
Blair O'Neal Age 37 Married: How Boyfriend Turned Into Husband, Story!
Blair O'Neal is a golfer, model and a famous television personality known for winning... Extremely good looking, Blair broke the hearts of many posts her marriage to husband...Blair, after marriage, has also...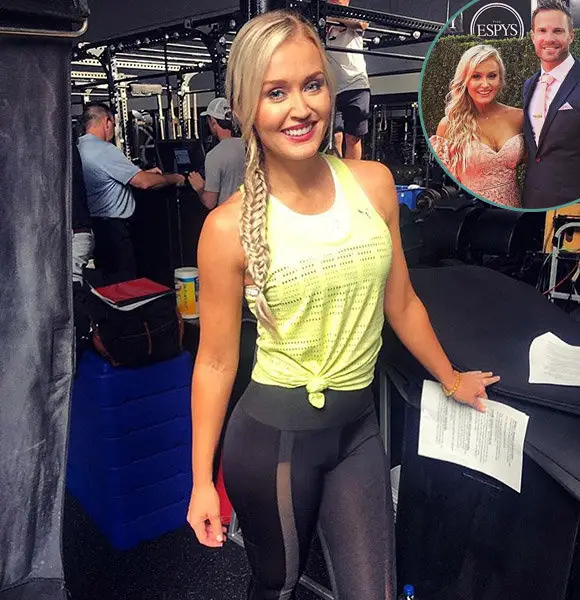 Blair O'Neal, a golfer, and a famous television personality remain the heartthrob of millions of fans all over the world with her extreme good looks well supported by her charming personality. However, not everything good is available. Same goes in the case of Blair.
The golfer, melting hearts throughout her career broke the hearts of many after she decided to marry her longtime boyfriend. One of the most famous television personality, Blair sent quite a few shockwaves when she announced her marriage news with her relatively lesser known husband.
However, the duo, set in their path to happily ever after seems to have a beautiful story behind them.
Apart from her glorious relationship with her husband, Blair has also proved to be a family girl remaining in touch with her family roots. Further, Blair's pursuance towards multiple career ventures is a fascinating story of its own.
Happily Married At Age 37: Boyfriend Turned Husband
Earning her fame through golf, and her love for modeling, Blair has been one of the most well-recognized celebrity in both the sport of golf and the world of fashion. However, despite constant spotlights upon her, she had managed to maintain a well-kept secret about her longtime boyfriend Jeff.
You May Also Like: Paige Spiranac Engaged To Boyfriend! Dating Affair Elevates - Meet Husband-To-Be
The golfer got married to her husband Jeff Keiser on 27 April 2013, breaking the hearts of her massive fan following all over the world.
With not much information revealed prior to their wedding, Blair has been quite open in displaying her love towards husband Jeff ever since her marriage, following a string of social media posts.
An Assistant Athletics Director for Creative Services at the University of Minnesota, Jeff stands today as one of the most envied men because of his wife. And it seems, he is leaving no effort to keep Blair happy, with the couple seen vacationing on regular occasions.
The duo, who seem too perfect for each other, seems to steal the hearts of people wherever they go with their love for each other. The duo who enjoyed their holiday on Reynolds Lake Oconee had even the hotel members praise their chemistry in their tweet on 2 October 2014.
"We enjoyed a little time with @BLAIRONEAL and her husband Jeff Keiser this afternoon. What an amazing couple!"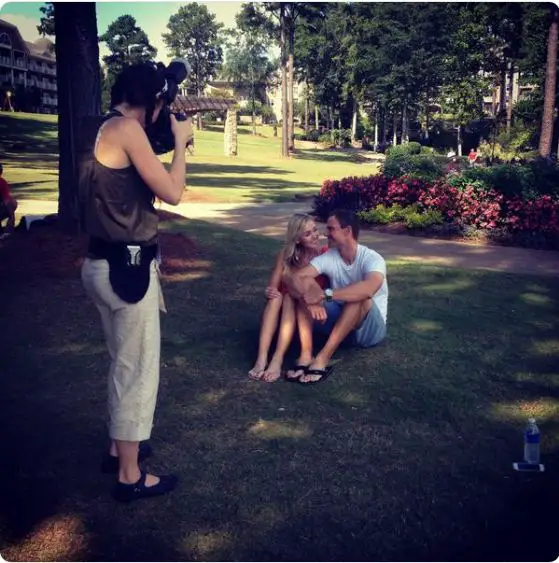 Blair O'Neal holidaying alongside her husband Jeff Keiser on Reynolds Lake Oconee. (Photo: Reynolds Lake Oconee's Twitter)
Post the wedding, Blair has faced the consequences of her fame, after her name was linked up with several renowned personalities. She was said to be dating Canadian pop star Justin Bieber in 2015 and with golfer Bubba Watson.
Don't Miss: Brandel Chamblee Talks Life & Tragedy Before Wedding To Wife Bailey Mosier
However, Blair has since then silenced all the rumors with her Instagram post where she is seen enjoying her 5th anniversary alongside husband Jeff in Mexico.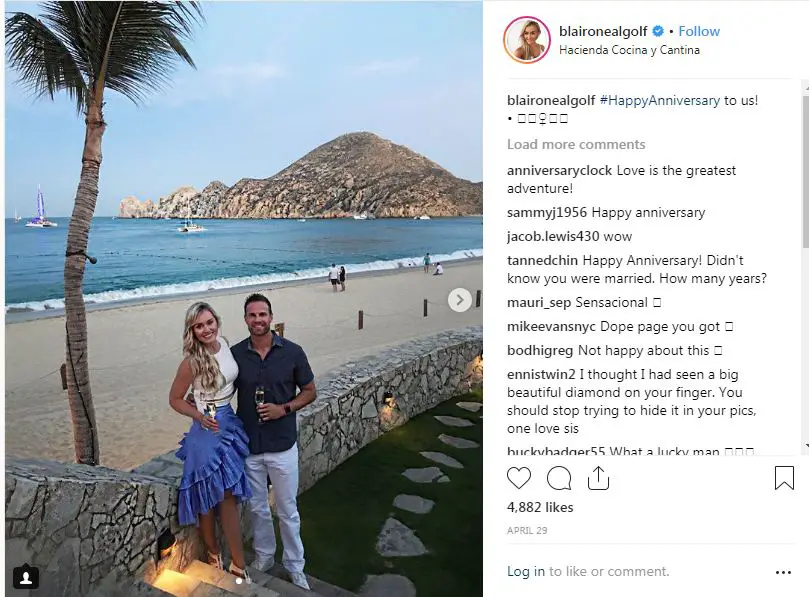 Blair O'Neal and her husband celebrating their anniversary in Mexico. (Photo: Blair O'Neal's Instagram)
A heartthrob of millions, Blair, at age 37,  this seems to be set for happily ever after as she looks ever-so-happy in her married life with Jeff.
Bio Reveals Career Details and Love For Family
Born in Macomb, Illinois, Blair spent most of her childhood alongside her family. Her golfing career began at the age of 11 after her father enrolled her in a local junior golf clinic. She has never looked back since.
Blair in her golfing career has since gone on to win several junior and senior accolades including her 2010 victory of Big Break: Dominican Republic.
With a beautiful face, supported by a height of 5'9", Blair also pursued modeling as a career. She has gone on to appear on the cover pages of several sports magazines and has also been listed as one of "The 18 Most Beautiful Women in Golf" by Golf Magazine.
Read Also: Michelle Wie Secretly Announced Boyfriend, No One Noticed; Earnings, Net Worth & More
Now, set in her path as a famous television personality, Blair has managed to accumulate a net worth of $1million. However, throughout her journey from rags to riches, Blair has not yet forgotten the contributions of her family and remains a family girl to date.
When asked by a fan about her biggest role model in life on Twitter, she replied back with, "My Dad". similarly, the golfer is also seen remembering her family on their special occasions in social media, highlighting her love towards the family.