Brad Wanamaker is the dark horse of the NBA. His journey to landing the point guard position at Boston Celtics is one for the books.
In stark contrast to his position now, Brad went undrafted in the 2011 NBA Draft. Post the setback, he headed to Europe, Italy, France, Turkey, and Germany to play pro-basketball. Finally, after seven-seasons overseas, he came home and fulfilled his dream of playing at the NBA.
Brad Wanamaker Married Life With Wife, Family
Brad is a happy man in his personal life. He is married to Michelle since 19 July 2015. The athlete and his wife started dating back in 2007 and continue to be in love with each other.
In today's time, when relationships don't last for months, their decade long relationship is an inspiration to many. Along with each other's support, the couple has managed to build a family of their own.
Explore:- Lou Williams Girlfriend, Parents, Siblings, Ethnicity
Brad is a father of two children: a son and a daughter. The athlete has been vocal about his wife taking care of the children while he was away playing basketball across Europe. In 2016, he couldn't make it back even during the Christmas holiday season, and Brad's wife was the one to take care of everything in his absence.
Interestingly, Michelle managed to visit her husband on New Year. Despite work commitments, the pair makes it work.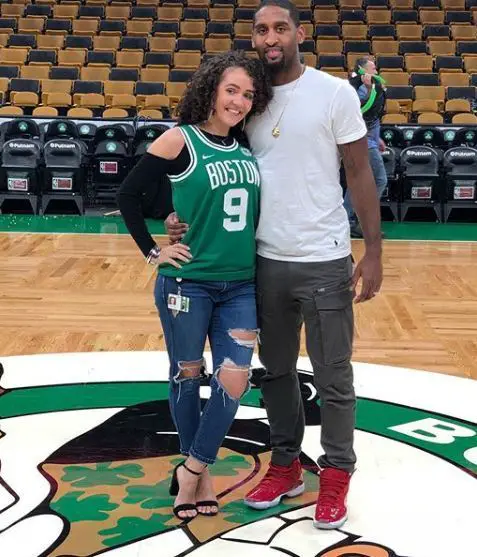 Brad Wanamaker with wife Michelle in May 2019 (Photo: Brad Wanamaker's Instagram)
Further, a complete family man, Brad regularly posts about his growing children and what they are upto via his social media handle, Instagram.
Along with his growing family, Brad doesn't forget to post about his immediate family. He is quite open about his parents: Bradley Wanamaker, Sr. and Deborah Samuel, and their support in his career. He especially mentions his mother and her sacrifices for the family.
Along with his parents, Brad's family consists of his two sisters named Latisha & Crystal Samuel and brothers called James Samuel and Brian Wanamaker. Interestingly, Brian is the athlete's twin.
College, Age, Height & Weight
Brad was a star basketball player at his high school. Given his athletic abilities, he was offered not one or two, but thirteen scholarship offers from various universities. Among the pool of opportunities, he chose to go to the University of Pittsburgh, where he played for four years. While focusing on basketball, he managed to major in Communications.
Post his college and Europe stint, Brad signed a one year contract with the NBA team, Boston Celtics, in July 2018.
Now, the athlete of height 6 feet 3 inches (1.9 m) and weight 95.3 kg is set to prove his mettle in the upcoming NBA season. Fans are definately going to look out for the 30-year-old flaunting the jersey number nine.