Brody Jenner was previously married to...his wedding took place in Indonesia...engaged to the ex-wife in 2016...however, split up after one year of marriage...started dating another woman after the split...dating for three months before breaking up...had a girlfriend despite the gay rumors...doesn't consider his step-siblings Kim, Kourtney and Khloe, and brother Rob as a part of a family...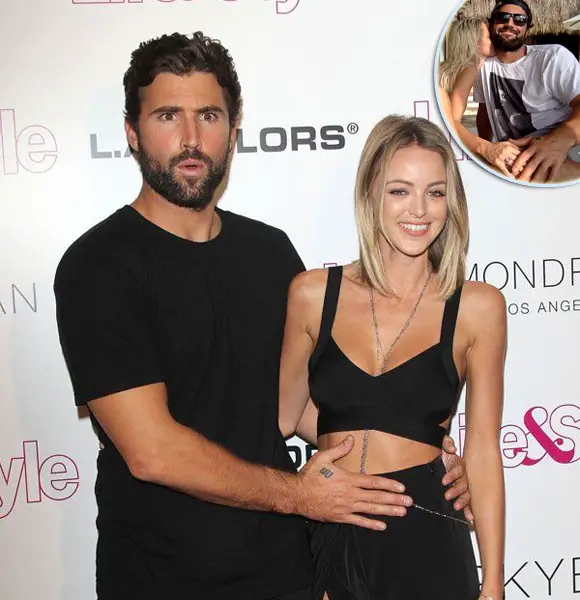 Most people search for a companion who honestly loves them for who they are. To find such a companion, a person tries out different people. And when they succeed in finding their so-called perfect partner, they can't stop themselves from imagining their paradise with the love of their life.
The Princes of Malibu star Brody Jenner was also planning a paradise with his lady love, as he was stepping closer to their "together forever."
Let's have a look at his once-blissful relationship with his girlfriend-turned-wife, with whom he was planning his future.
Engaged To Girlfriend
Handsome hunk Brody was fortunate in love, as his proposal got accepted by his best friend-turned-girlfriend, Kaitlynn Carter, on 4 May 2016. They were dating for two years.
A month before, Brody's step-brother Rob Kardashian and his long-time had girlfriend Blac Chyna announced their engagement.
Brody, who fell victim to false gay rumor once, shared an image with his lady love Kaitlynn. In it, the two were sharing a kiss while the latter flaunted her engagement ring. Brody wrote-
"On May 4th 2016 I got engaged to my lover and my best friend Kaitlynn Carter. I couldn't be more in love with this woman and I can't wait to spend the rest of my life with her."
Later that month, the duo organized an intimate dinner to celebrate their engagement. According to a source, Brody revealed how excited he was to get married to his lover.
Though the wedding date didn't get announced immediately, the then-engaged pair did talk about their wish to get married somewhere near the ocean.
Discover:- Amanda Balionis, 32, Engaged To Boyfriend? Here's The Fact!
In May 2017, Brody Jenner enjoyed his first engagement anniversary with his fiancée, Kaitlynn Carter. The Sex with Brody star posted an image of a well-decorated bed of Nihiwatu Resort Sumba in Indonesia.
After being in multiple relationships and dating a handful of gorgeous women, Brody seemed to have met his soul mate.
Siblings & Family
The Bromance host Jenner now enjoyed a straight and straightforward love life at the time, but his family seemed to be quite complicated.
The actor, who shares the same father as Kendall Jenner and Kylie Jenner, doesn't consider his step-siblings Kim, Kourtney, and Khloe, and brother Rob as a part of a family.
In an interview with Yahoo! Style in 2015, Brody revealed that he enjoyed complete separate lives than his step-siblings and didn't see them very often. He explained-
"Everybody ties us in together as the Kardashians and the Jenners, but now what's interesting is they got a divorce so they're not even technically my family anymore."
Well, despite the complicated family tree, fans hoped that Jenner would make Kaitlynn his wife and allowed them to peek his blissful married life.
Married At Last! Wedding Info
Two years after getting engaged, Brody and then-fiancee Kaitlynn finally tied the knot in the summer of 2018. The duo's wedding took place on the island of Nihi Sumba in Indonesia.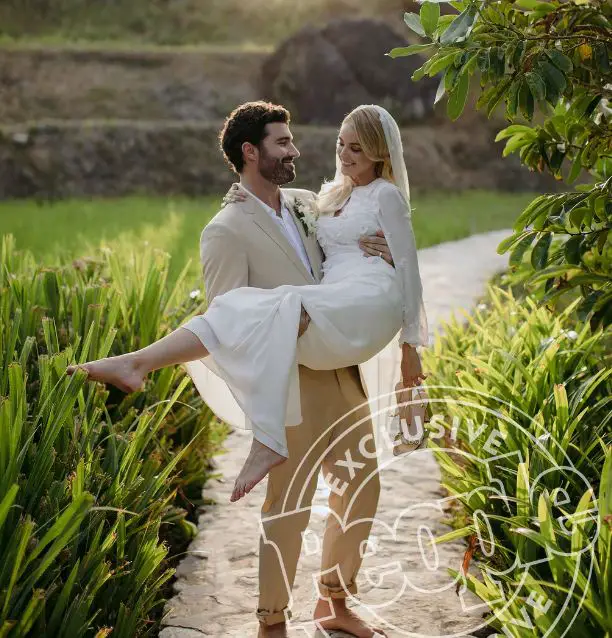 Brody Jenner and Kaitlynn Carter on their wedding day circa June 2018 (Photo: People.com)
Family and friends surrounded the pair as they shared the vows. The groom's family, including mother Linda Thompson and brother Brandon Jenner, were the notable attendees. Meanwhile, his step-siblings failed to make the guest list. So did his father, Caitlyn Jenner.
Equally Majestic Wedding:- Emily Ratajkowski Wedding, Ring, Boyfriend
On the big day, Born wore a custom tux from the STITCHED boutique. Meanwhile, his better half dazzled the crowd in the attendance with a long-sleeved wedding gown.
Before getting married officially, Brody and Kaitlynn organized a pre-wedding bash in Bali, Indonesia.
Split From Wife
Returning from their honeymoon, Brody and once-wife Kaitlynn moved to a mansion in Malibu, California. Together, the duo starred in the reality series The Hills: New Beginnings. 
But after one year as a married couple, they split in August of 2019. While acknowledging the separation, a close source claimed that the two were never an officially married couple.
Another High-Profile Split:- Cole Swindell Girlfriend, Split, Songs
Before the divorce, Brody and now-former wife Kaitlynn didn't have plans to raise children.
Brody's Second Relationship
Interestingly, after the split with his wife, the DJ didn't stay single for too long. 
During his 36th birthday celebration at Harrah's Resort in Atlantic City in New Jersey August 2019, Brody was spotted sharing an intimate kiss with his rumored girlfriend, Josie Canseco, an American model. On top of that, the two reportedly accompanied each other the whole night and couldn't keep their hands off each other.
The event created quite a buzz, and soon it turned out that the two were seriously in love with one another. A month later, on 14 September, the pair made their relationship official through their respective Insta handles.
He and his newfound love spent time in the countryside in Montana, enjoying horse riding and hunting. Likewise, a picture of them kissing each other during the horse ride further made it evident that these two were getting fond of each other every day.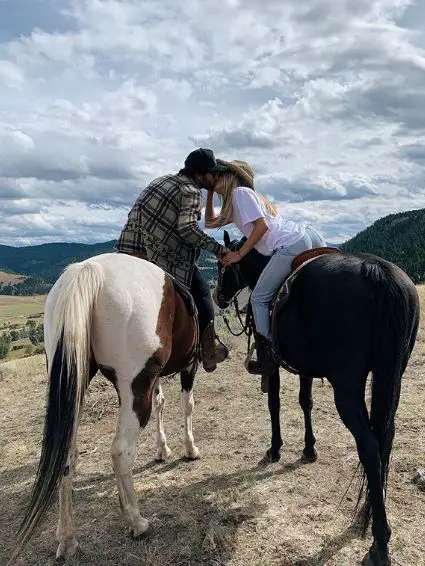 Brody Jenner kisses girlfriend Josie Canseco during horse riding trip in Montana on 14 September 2019 (Photo: Josie Canseco's Instagram)
But, this relationship wasn't meant to be, either, as Brody and Josie split up after three months of dating. This break up happened around the beginning of October 2019.
It was Brody who reportedly broke off the relationship because it was getting too serious. According to E! News, "Josie wanted a lot from Brody and was eager about the relationship. Brody has been busy traveling for his music and is trying to focus on himself. He wasn't ready for a big commitment and wants to have fun."
In addition to these reasons, it is also rumored that Brody and Josie struggled with complications regarding their age gap.
The same source also said that Brody had also been in touch with his ex-wife Kaitlynn Carter, but the communication was not very extensive. There also isn't any chance of reconciliation for the ex-couple.
Sounds like Brody, by his own choice, is single for now and also not interested in dating anyone.