Entertainment
Maya Jama Traumatic Parents Memory! Hate On Ethnicity & Boyfriend Reconnection
British TV and Radio presenter, Maya Jama was a former journalist for MTV and also hosted Trending Live! and Cannonball with a successful career on her side.
However, the Somali and Swedish descent media personality had a terrible past of being bullied for her ethnicity in her school. And bullying made her mentally unfit and she spills her anger on her tweet about the black-skinned woman. Well her tweet made the whole controversy that she had to give up on her social media account.
Well, during this, her boyfriend was always supportive of her and also shared to get married in the near future.
Here, we present the bio of Maya Jama which includes her childhood stories to a relationship.
Boyfriend's A-Class Drug Scandal; Best Present On 22nd Birthday
A former MTV's broadcast journalism, Maya Jama is dating Big For Your Boots rapper, Stormzy since their first meeting at the Red Bull Culture Clash in 2014. After their meeting, the pair had been inseparable ever since. He recalled that they met in October and started going out by January.
Related: Johny Vaughan: Divorced His Wife in 2013, But What About Children? Past Drug Issues
Jama, who grew up in Bristol, recalled the awkwardness of their relationship in an interview with Vogue on January 2018:
"You know, if I'm really honest, I knew I fancied him from the start. But I didn't want anything yet, because, you know, you're trying to do the whole friend situation first, and then I'd do, like, obvious hints that I fancied him and then take it back because I didn't know if he definitely liked me. It was a childish phase."
Well, she was not aware whether he likes her or not, but the first kiss cleared her confusion. She further added:
"And then one day we just kissed, and that was that!"
However, the news about their split surely hit the headlines, after Stormzy unfollowed Maya on Instagram following a day later. However, they grasped their relationship stronger and are chasing their dream together.
One of the hottest celebrity couple, Maya and Stormzy's relationship has faced many difficult situations. He was accused of taking Class A drugs after he shared a video "showing drugs paraphernalia" in 2018 but Maya stood beside her supporting her beau.
Watch also:- Cancer Survivor Sarah-Jane Crawford Romancing Boyfriend; Dating On Different Level
Since they have four years of dating history, their understanding and trust have been witnessed by the world. Despite their good relationship, it seems she is not on the way to tie the nuptials. When she was asked about her marriage, she disclosed her marriage plan to Evening Standard Online in July 2018:
"When I was younger I used to think, "No, I'm not going to get married or have kids I'm just going to be a career woman and a rich aunty and be really fun". 'That was probably because subconsciously I thought that was the option."
Maya is a career-oriented girl and wants to concern her career rather than being married. Though she is not ready to get married, her boyfriend of four years expressed her keen interest in getting married to Maya in the near future. He also said:
"I'm still so young but I want to propose, it's going to happen and I will do it right. She is so sick, she is the best."
Since he expressed his desire of getting married, Maya has become the favorite personality of tabloids but, she doesn't intend to be eclipsed by him.
"I never wanted my name to be overshadowed by a relationship. I try to keep it as low-key as possible, but what can you do? He's doing amazingly well. For the first two years of being together, they kept their relationship a secret."
Since Jama has steadily built a reputation as a frontwoman on TV and radio, she had also interviewed him on her radio show. They have also worked together as she has appeared in the singles of Stormzy's Big for Your Boots and also he dedicated the song, Birthday Girl to his love on her 22nd birthday. And Maya appreciates the present as the "nicest present."
Though the couple lives together in West London, they hardly reach the place at the same time as both of them have their rising career. So, when she was asked about their ingredient to maintain their relationship despite busy lives, Maya responded that their love for each other has maintained their relationship alive.
Father Got Arrested; Hate On Ethnicity
Maya, who is born as half-Somali and half-Swedish, had a very horrible childhood. When she was just a child, her father was arrested from home. And she stopped talking with her father after she aged to 12. But she is still unknown about the crime her father committed.
Jama, who moved to London at 16, was raised by her mother along with her brother, Omar. Aside from having havoc during childhood without parents, she was again bullied by her friends at her school due to her heritage.
Read Also: Kristen Johnston Still Not Married? Or Struggle with Drugs And Disease Didn't Let Her Have A Partner Or A Husband?
She described her horrible childhood as the most disgusting one that still haunts her. She appeared on Receipts Podcast as a guest in June 2018 and revealed:
"There were these boys and they were so horrible to me when they found out that I was Somali."
She also used to hide and lie about her ethnicity and background. So, when her friends used to ask her about her background, she used to remarked herself as a Spanish and Jamaican. She recalled:
"When they asked me where I'm from I used to be like 'yeah I'm Spanish and Jamaican' or something like that. And just made a whole completely new background because I didn't want people to judge me from where I was from."
She further added:
"So I get it. It's not the same thing, but I understand the feeling of people being rude and taking the p*** out of where you are from, or your race or skin colour. When it's something you can't change."
Well, she was so upset that, she threw up her painful experiences on social media. The Radio 1 presenter made a comment about the dark-skinned girls on her Twitter account in 2012. She wrote:
"Dark skin bitches shaving their head expecting to look like Amber Rose, when really they end up looking like Micheal Jordan." Looooooooool."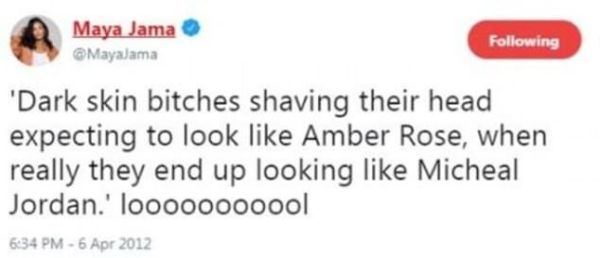 Maya Jama Tweets about Dark skin woman in 2012 (Photo: Maya Jama's Twitter)
She was so upset at that time, she even used to lie about where she was from in order to avoid cruel comments.
"I was definitely an ignorant person that was trying to make people laugh and not understanding the seriousness of a joke like that."
Following this, she was criticized and unacceptable backslash by many people which had mentally affected her. So for her own goodness and mental health, she was forced to give up on social media.
You may like:- Michael Dorn Secret Married Life And Wife Revealed! Also, Shares How He Overcame Cancer
In April 2018, she shared a tweet of apology, writing:
"A tweet has been brought up from 2012 where I quoted an insensitive joke that I saw a comedian say on my timeline."
She further noted:
"It was a stupid joke that I shouldn't have made light of - especially as it's offensive to a group of women when who I know constantly deal with disrespect. My genuine & sincerest apologies go out, not just to dark skinned women but to ALL women. I know this was completely wrong, whether it's a joke or not, it's not ok."
Following this, she apologized twice for her tweet of 2012. She took to Twitter on 20 April 2018 with the long message.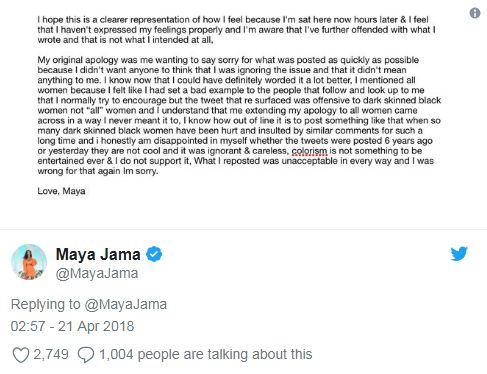 Maya Jama apologizes for her tweet of 2012 (Photo: Maya Jama's Twitter)
Well, when Stormzy was accused of having A-Class drugs, Maya sat by his side and similar support is witnessed by her boyfriend to Maya.
Her popular boyfriend was also supportive towards her when all the world turned against her for her tweet. Though the rapper accepted what she did was not good, he also lightened the fact that she has already apologized.